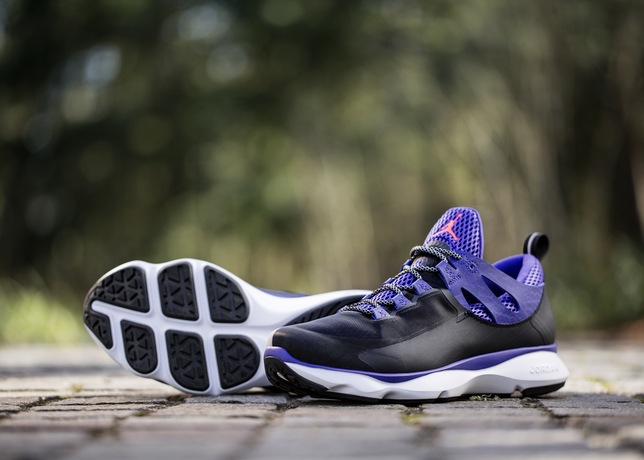 BMF Training: Being a baller isn't just about what you do on the court – it's about how you prepare to ball when you're away from it. BMF Training is about bringing you the latest in training footwear and apparel that can help you raise your game and also give you insight into what the best players are wearing in preparation for their battles on the NBA stage.
Courtesy of Nike:
Athletes of all ages know there is no off-season and maintaining top physical condition is crucial. With the introduction of the Flight Runner, the Jordan Brand expands its arsenal of training products for elite athletes. Sharing heritage, DNA and Global Headquarters with the world's foremost running company allows Jordan Brand to leverage decades of running technology, research and leadership to create a shoe designed to serve all members of the Jordan Brand family.
The Jordan Flight Runner combines ultra-supportive Dynamic Fit technology and iconic Nike Zoom cushioning. Providing the ultimate ride for training and conditioning, the Jordan Flight Runner helps prepare top-flight athletes of any sport.
This versatile running shoe features an advanced heat-and-pressure fusion process — creating a strong, exceptionally lightweight bond. Fused mesh in the forefoot provides ventilation, while the welded shroud creates a sleek, streamlined look. With an emphasis on heel support and responsive cushioning, the Jordan Flight Runner helps keep the foot in place upon landing and provides comfortable stability for bigger, stronger athletes.
The Jordan Flight Runner is already appearing in the sports world, debuting on the feet of Jordan Brand's NCAA teams – University of North Carolina, Georgetown University, Marquette University, and University of California at Berkeley – before their conference tournaments this past weekend.
The Jordan Flight Runner will be available at select retail stores and Jordan.com on May 1 for a suggested retail price of $110.