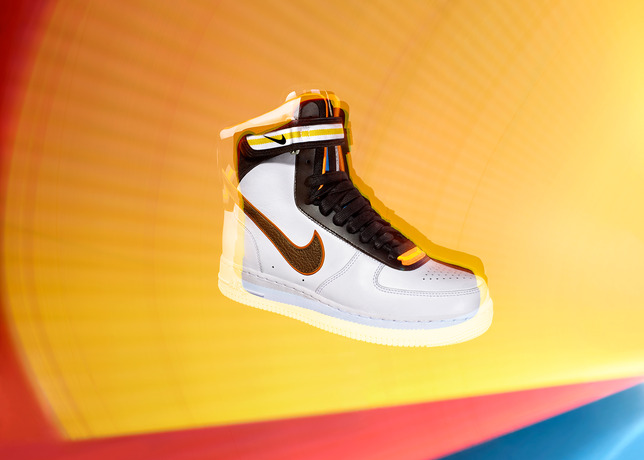 Courtesy of Nike:
"It was not work.  It was a celebration — a celebration of life in the sense of a celebration of something.  I believe it, I wear it, and I love and I respect it." – Riccardo Tisci
Riccardo Tisci's love of the Air Force 1 runs deep. The shoe is an everyday staple for the noted couture designer and it is emblematic of his childhood. During his early years in Italy, from the ages of 7 to 15, basketball was the only sport that Tisci — a self-proclaimed devotee of overseas cultures – connected with. Play acted as a kind of freedom and aspiration to a world beyond his surroundings and served as his earliest expression.
Always in demand, Tisci became one of the most respected creative directors and designers in the industry, overseeing couture, womenswear and menswear for one of the most prestigious luxury houses in the world. Basketball's deep influence is apparent in Tisci's presentations that juxtapose sport and fashion. Shows featuring women in couture beneath a basketball hoop and menswear showcased using the curvature of lines on a ball as a source of inspiration attest to his reverence for the game and its aesthetics.
Tisci's love of the game and the brand created an emotional link to Nike from the very start, making the Nike + R.T. AF1 collection deeply personal.
"I have been lucky because I have been allowed to express myself 100 percent in everything," says Tisci. "For me this was like a 'wow' project because the company gave me an iconic piece for them and gave me white paper to do what I want."
Sport is about connecting through collectivity and the game of basketball is a leveller that unites every background.  Tisci's vision of sportswear is spun from the same philosophy of tribal unity.
Because taste is democratic, the Nike + R.T. Air Force 1 collection is for everyone — bands of color and patterns delivered in unexpected ways bring the exotic to an everyday icon. Respect for the shoe led Tisci to retain the original sole for the quartet of R.T. editions with his own unique twist — the R.T. initials are beneath the famous AIR midsole markings.
Uppers and interiors are made from a smooth, premium leather and adorned with a tumbled leather Swoosh. Grosgrain web binding on the eyerows creates a new look and texture. Tongues and heels are made from a synthetic suede with heat-pressed TPU no-sew panels for a more intense appearance, while the foxing stripes are screen printed.
From the custom packaging that houses each Nike + R.T. design to the waxed laces and debossed gold logos on the sockliners of each silhouette, this is where complexity of style meets the purity of a performance classic.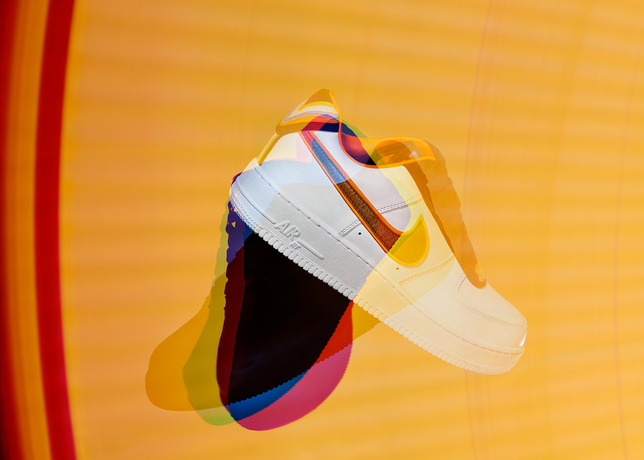 The Nike + R.T. Air Force 1 Lo reimagines the shoe that changed basketball footwear forever — a bestselling masterpiece that shocked audiences on its 1982 introduction with its pivot-point outsole, full-length Nike Air engineered for the court, and unique shape. Released in thousands of colorways, the crisp look of the Air Force 1 at its finest is celebrated here with a difference  — familiarity subverted in reverential but rebellious style.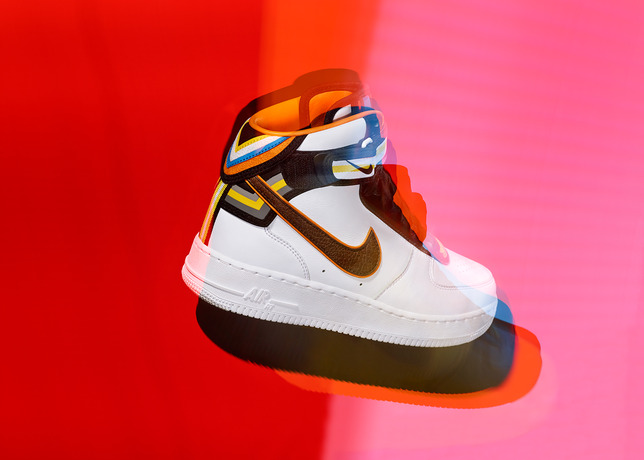 The Nike + R.T. Air Force 1 Mid is based on the 1990s remix of a classic, bisecting the upper with colors and patterns. Strips that run beyond the supportive jacquard woven ankle strap complement new blocking.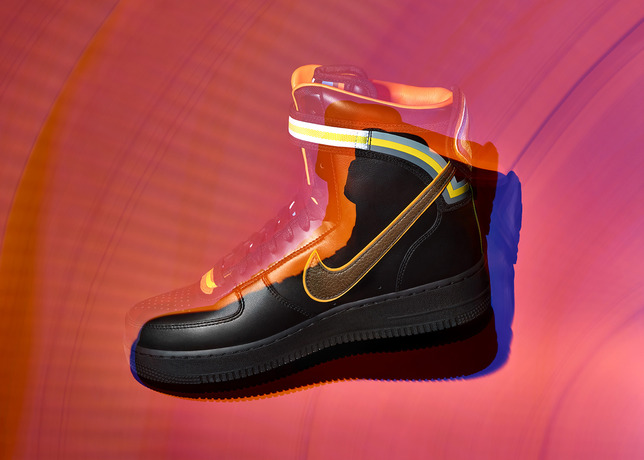 The Nike + R.T. Air Force 1 Hi takes the shoe that defined street culture and sport to a higher level. Exaggerating the height of the original Nike-Air basketball design, this is one of two new iterations of Force created by Tisci especially for this collection. Tribal looks clash with timeless technology as mask-like applications on the heel meet original design features, bringing new attention to a shoe that started life as a shock to the system.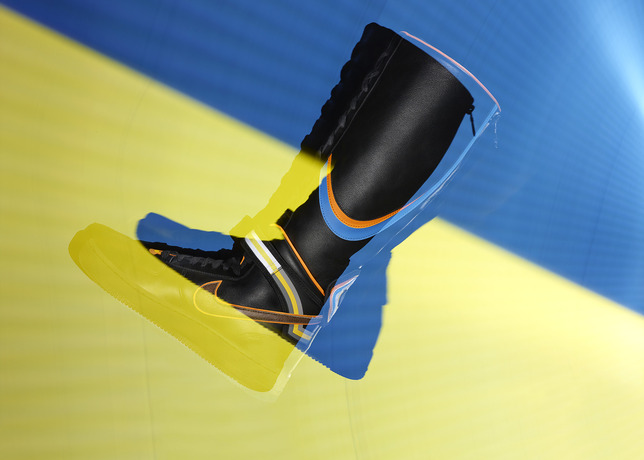 The Nike + R.T. Air Force 1 Boot is the most escalated expression of athletic looks in this collection. The Air Force 1 defined height when it debuted. Now that sense of support and fit is extended by using new manufacturing processes that take the shoe to knee height. An inner boot sits within a classic Force silhouette for unexpected elegance. That extension gives the Air Force 1 Boot new terrain for patterns, from the colored lines on the towering tongue to the swooping strips above the ankle. This is a new, taller form that capitalizes on contrast but still remains recognizable as an old favorite. 
First releasing on March 21, The Nike + R.T. Air Force 1 Collection in white will be available at select Nike concept locations such as 151 Wooster, 21 Mercer, Dover Street Market New York, London, and Tokyo, 1948 London, Nike Stadium Milan, X158 Shanghai and with select retail partner locations globally.
The Nike + R.T. Collection in black will release globally in May. Experience the collection at Nike.com.