It seems like eons ago that Brandon Knight was part of the Brandon Jennings trade that landed the former Kentucky point guard with the Milwaukee Bucks. Knight had previously been part of the Detroit Pistons for two years, learning the trade as the starting point guard alongside the likes of Andre Drummond and Greg Monroe. The results weren't flattering, with Knight looking overwhelmed at times at a position that needs years of honing to master. He looked like the player that surfaced for stretches in Kentucky, a "combo guard" with troubles reading the defense and allowing the game to come to him, rather than chasing. It didn't help that he was a part of Detroit teams that were very bad offensively. In his two years in Detroit, the Pistons were in the bottom 10 in offensive efficiency via Basketball Reference, ranking 27th in offensive efficiency during the lockout-shortened season.
All of that has led Brandon Knight to Milwaukee, and his tenure as a Milwaukee Buck has had its share of highs and lows. The Bucks before the All-Star break sported an OffRtg of 96.5 per NBA.com, good for 29th in the NBA, just in front of the professional basketball team known as the Philadelphia 76ers. The team was a mess on all fronts: in-house fighting, players injuring themselves in night club altercations, out of shape perimeter players repeatedly taking terrible jump shots. It didn't help that Knight himself was having to take a larger load of the offense for the first time in his career, averaging by far a career high in USG% while producing very uninspiring efficiency. Amazingly, the Bucks have had the seventh-best offense in the NBA since the All-Star break, and at a sample size of 17 games which have included playing Indiana twice, Brooklyn, Charlotte, Minnesota, and Portland, that's something to hold on to. Mind you, the losses haven't stopped, and the Bucks since the All-Star break are only 4-13.
But Brandon Knight has been better since the All-Star break, playing his best stretch of games as the prototypical point guard and spurring on the Bucks' rampant offense. He's averaged a TS% of 54.8 since the All-Star break, right around the league average. From NBA.com, the Bucks have been 5.9 points better with Brandon Knight on the floor offensively, he's averaging 20.4 PPG/3.3 RPG/5.0 APG with a PPS (Points Per Shot) of 1.26 and a PER of 20.9 (both stats provided via RealGM), all of this despite having a slight uptick in USG% from where it was before the All-Star break.
Those are fine numbers and it's impressive to see that some of the habits that surfaced in Detroit are slowly fading away, which Zach Lowe went in depth of last year.  He's done a better job of not splitting the pick-and-roll as much this year, and he's even added hesitations and crossover dribbles when faced against the big man once the pick-and-roll has been initiated:
It's very promising to see these subtle improvements in Knight's offense. Tune in to a Bucks game these days and you'll see Knight operate from a pick-and-roll, looking mano a mano with the big man, and run some sort of hesitation in the paint area. He even unleashed in the video above a right-left eurostep on Bogut with surprising success. This is quite the chasm from some of the tendencies he exhibited earlier in the year, and it's coincided with the improvements in his finishing at the rim. Via Vorped, in 2011-12 season, Knight shot 51.7 percent from the restricted area, and in 2012-13 shot 48. He's shooting 57.9 percent in the last 30 days.
He's become more comfortable offensively. The offense that Larry drew runs has alleviated Knight from simply having to hold the ball all the time and wear down over the course of a game. Knight ranks 53rd in the NBA in PPP for plays designated as handoffs, via Synergy Sports. One stalwary play for the Bucks: Knight brings the ball up, it triggers a flash to the high post by one of the big man (usually Zaza Pachulia), which turns into a double screen for Knight.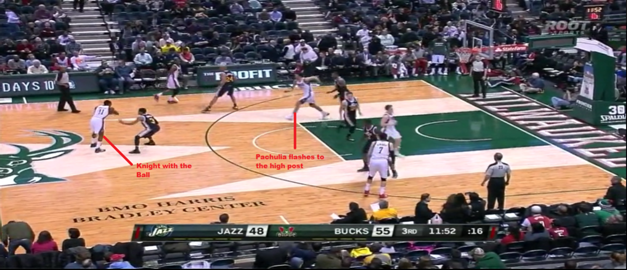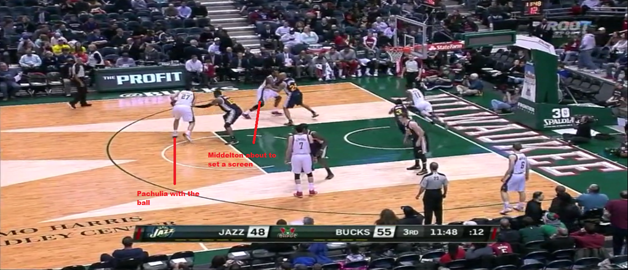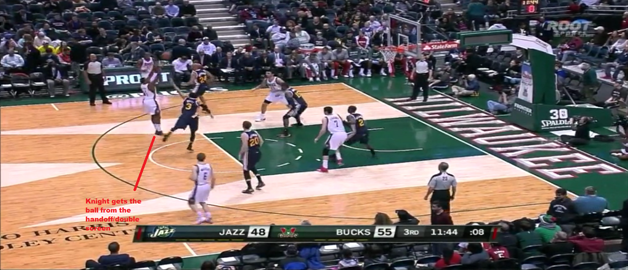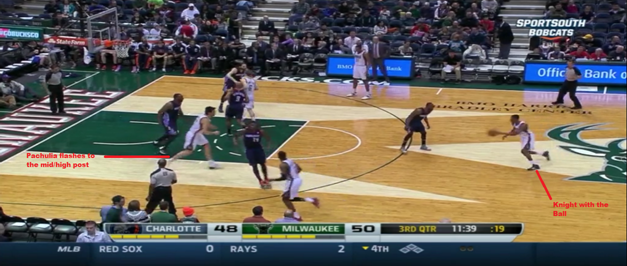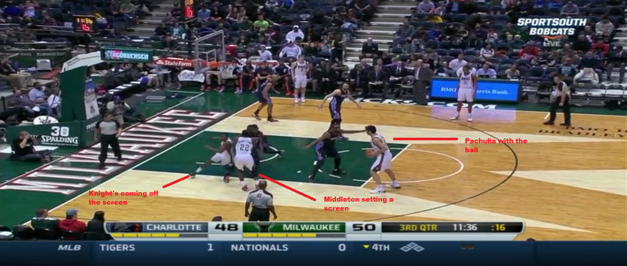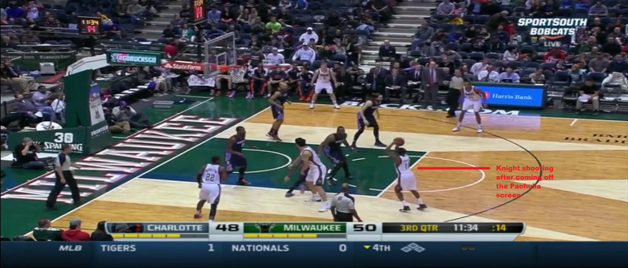 The added use of dribble handoffs specifically has helped diversify his game and not depend so much on slow motion and predictable high screens, especially when you consider his jump shot doesn't exactly make it easy to create off the dribble. His shooting from three has declined with the added increase of three-point attempts as a pick-and-roll ball handler. A combined 12.5 percent of Knight's possessions this year have come off handoffs and screens, which is actually a decrease from 14.8 percent last season. Knight ranked ninth in the NBA last season in handoff PPP via Synergy, though handoffs only constituted 5.6 percent of Knight's possessions.
| | | | |
| --- | --- | --- | --- |
| Play Type | 2011-12 FG% | 2012-13 FG% | 2013-14 FG% |
| Off Screen | 6/34 (17.7%) | 30/95 (31.6%) | 20/43 (46.5%) |
| Hand offs | 24/46 (52.2%) | 29/54 (53.7%) | 36/85 (42.4%) |
| Total | 30/80 (37.5%) | 59/149 (39.6%) | 56/128 (43.8%) |
He worked well last year with Greg Monroe, one of the better passing big man in the NBA, and some of the actions came from traditional "horn" sets, including the play above. From looking at some of the film, it looked like he was perhaps having to work more to create his looks and fewer plays came off that loop variety illustrated above, which may also explain his rather mediocre shooting coming off screens.
His passing has gotten better, though you wouldn't confuse it for something resembling artistry. He's better at reading his teammates coming off screens, finding shooters in the corner (particularly Kris Middleton) off a high screen. He still has his problems when it comes to over dribbling or when plays break down and he has to create. Whenever he tries to split the high screen, there's a 99.999 percent chance he'll turn the ball over, and he still will have these type of instances where he'll have difficulties threading the ball to the roll man that established solid point guards are able to thread on a consistent basis.
Those type of criticisms are more or less what you expect from guards trying to establish themselves in the NBA, and with more experience, the nuances of being able to dictate offense and bend defenses towards what you're capable of doing will come easier to him. For all accounts he works his ass off and is a good teammate, so he'll put in as much work as possible to reach that point.
His work defensively leaves a lot to be desired, a by-product of how bad the Bucks have been on defense. The Bucks were 12th in DefRtg last year in part because Larry Sanders played like LARRY SANDERS (CC: Zach Lowe) defensively last year. The Bucks have been awful on that end with his absence. John Henson is a solid rim protector though he has his issues guarding the high screen-and-roll, particularly considering how high he hedges and his struggles to get back to guarding the roll man. Giannis Antetokounmpo has real potential to be a destructive force, but he's still only a rookie while everyone else grades out to around average to below average.
Knight is among the players who grade out to around below average. On the surface, his wingspan and his height for his position would help create an advantage defensively but that's not really the case. In recent games he's done a better job in terms of fighting over screens and giving more of an effort, doing an admirable job in forcing turnovers on Stephen Curry in their most recent encounter. I've talked previously about how tireless a job it is to be a point guard defending the high screen so I feel a certain amount of sympathy, but Knight's been bad in that department. He can be blown by rather easily, and with the limitations that the Bucks big men have in containing point guards, it's not surprising to see why the Bucks hemorrhage points. He's not particularly good at closeouts after bumping the rolling big man and he's also rather poor in anticipating screens off the ball (the following resulted in a converted Kemba Walker three).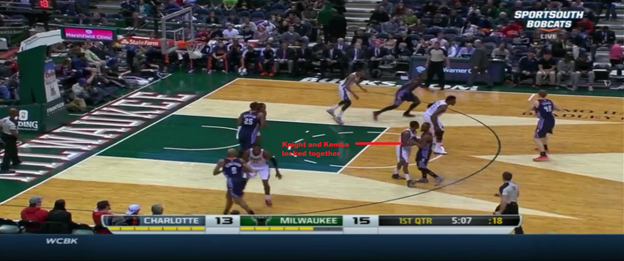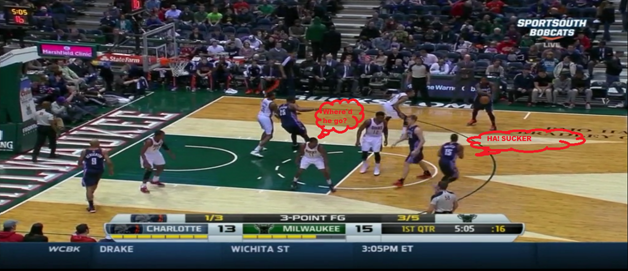 It can be very destructive to your defense to have a guy who struggles with the high screen while combining that with poor off-ball capabilities.
Again, Knight's only finishing up his third year in the NBA. Most of these habits are correctable. He's not been part of any team that has sniffed league average in defensive efficiency so the chances of learning bad habits on either end is higher. Considering the work ethic he has, it'd be hard to fathom that Knight will continue to be this level of bad defensively but he'll certainly need to be much better on that end of the court. The progress made by Knight offensively since the All-Star break has been impressive, with the talent in his disposal being displayed in a more economical way. He's shown growth in areas offensively but he still has much to improve on defensively. He's got one year remaining before becoming a restricted free agent at the end of 2014-15, and continued development could really help Knight get a cushy next contract. Production like this over a larger sample size can make that a reality.
(Stats used here were current as of Sunday March 23, 2014)