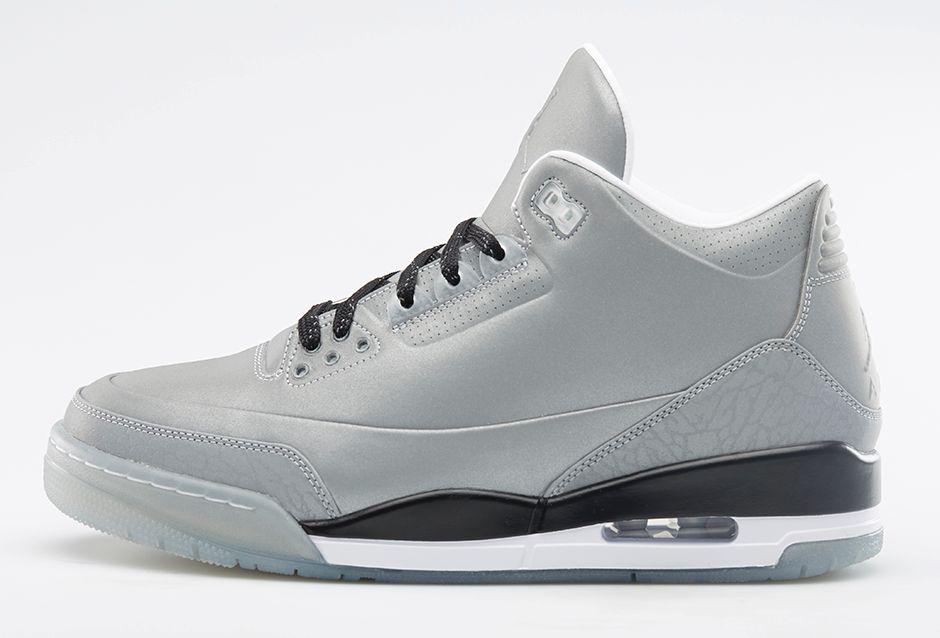 The original Nike Air Jordan III, with its elephant print, 3/4ths cut, and visible Air, is a legendary shoe in the modery history of footwear, specifically in athletic footwear. Created for the greatest player in the history of the game, it remains as a status symbol for excellence and a prime example of risk-taking in design. It's this lineage that the Air Jordan 5Lab3 is cultivated from.
The new version of what is essentially an all-reflective 3M version of the Air Jordan 3 Retro, the 5Lab3 is blocked in reflective silver and under light shines bright like a diamond. It's a polarizing shoe, and though we at BMF Kicks & Sportswear aren't necessarily moved by the 3M reflective application, the silhouette and cleanness of the shoe is still sword-sharp.
See more of the 5Lab3 below, courtesy of Nike:
The Air Jordan 5Lab3 is the newest model in the Air Jordan Elements collection. The Air Jordan 3 is a perfect canvas to showcase iconic elements from the Air Jordan 5. An upper made almost completely of reflective Metallic Silver is the hallmark of this Lab creation, with touches of Elephant Print and hits of Powder Blue. Releasing March 29 on Nike.com (8am EDT/5am PDT).