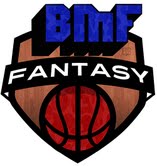 Kevin Love and Anthony Davis are two of the best power forwards in the NBA and fantasy basketball. In fact, they can stake their claim to be the top two, but Love and Davis are entirely different types of power forwards. Love is the offensive machine who can stroke the three. Davis is the defensive beast who's got a uniquely shaped physique that makes him one of the fiercest defenders the league has ever seen. But who is more valuable to fantasy basketball owners?
Let us see …
Offense
Kevin Love is fourth in the NBA in scoring with 26.5 points per game. Antony Davis is 11th in the league in scoring at 21.8. However, Davis is shooting the ball better at 53.0 percent from the field, which is good for 16th in the league. Love is only shooting the rock at a 46.1 percent clip from the floor. Davis' high shooting percentage can be attributed to his game, which revolves around the basket, while Love's game extends far out to the perimeter and three-point area. If we take away the three-pointers, Love is a good two-point shooter at 50.4 percent. In fact, in ESPN's adjusted field-goal percentage, Davis is only slightly ahead of Love at 53.1 compared to 52.8.
Their two-point field-goal makes per game are almost identical. Love is making 8.6 while Davis is at 8.2. However, Love is attempting 3.1 more shots per game. In the free-throw department, both are equally exceptional foul shooters for big men. Love has a slight edge at 81.9 percent to Davis' 79.1, but Love shoots 1.5 more foul shots per game and makes 1.7 more per contest.
The big difference in the scoring department is in three-point shooting. Anthony Davis is primarily an inside player and has no three-point game. In fact, he's taken only six three-pointers so far this season and missed all of them. On the other hand, Kevin Love is a former three-point shootout champion and is currently seventh amongst power forwards in three-point percentage at 38.1 percent. That being said, Love has made the most three-pointers among all NBA power forwards with his 164 makes, and he is tied with Kevin Durant in that department for eighth-most in the entire league. On a per game basis, Love makes 2.5 three-pointers per game, which is good for sixth in the NBA.
Another department where Love handily beats Davis is in the assists category. Love is the NBA's best passing power forward at 4.3 per contest. Davis is only getting 1.5 assists per game.
Defense
Kevin Love is the third-best rebounder in the league at 12.7 rebounds per game. Anthony Davis is not far behind at ninth with his 10.5 rebounds per game. However, Davis crashes the offensive boards better with a total of 201 offensive rebounds, compared to Love's 198.
If we take out rebounding from the equation, Anthony Davis dominates the defensive stats. Davis is the third-best ball thief amongst power forwards with his 1.39 steals per game average. Love is only at 0.8 steals per game. However, Love has a slightly better steals to fouls ratio at 0.46, compared to 0.45 for Davis.
Anthony Davis is the NBA's best shot blocker this season, pacing the league at 2.85 blocks per game, while Kevin Love is only managing 0.5. Davis is also the better defender here, with his 0.93 blocks per fouls average per game.
Love has slightly better rebounding numbers, but if we factor that out, Davis is obviously the better defender between the two.
Miscellaneous
Kevin Love leads the NBA with 55 double-doubles. He also has one triple-double this year. This shows how consistent his numbers are on a daily basis. Anthony Davis is not far behind in the double-double department, ranking in at number five with 35 double-doubles this season.
Anthony Davis is turning the ball over 1.7 times per game, while Kevin Love is at 2.3. However, because Love is the better passer, he has a higher assists to turnover ratio at 1.84, versus Davis' 0.89. Antony Davis has committed a total of 188 fouls while Kevin Love has only amassed 123 fouls so far.
Injury Report
Love has played 66 of a total 69 games this season while Davis has played 61 out of 70 games, so both have been healthy this year.
Previously, Kevin Love had two major injuries that caused him to miss games. In 2009, he injured the fourth metacarpal of his left hand. During 2012-13, he also injured the third and fourth metacarpal of his shooting hand twice. On the other "hand," Davis had a season-ending MCL sprain on his left knee, along with a bone bruise in 2013.
Rankings
Below are their rankings on some fantasy basketball sites.
Kevin Love:
Fantasy SP: 36.35
ESPN NBA rating: 47.34
ESPN Hollinger PER: 27.92
CBS Sports Fantasy forward rank: 4
Anthony Davis:
Fantasy SP: 28.85
ESPN NBA rating: 41.14
ESPN Hollinger PER: 27.23
CBS Sports Fantasy forward rank: 6
Kevin Love is widely considered the fourth-best forward in fantasy basketball behind LeBron James, Kevin Durant, and Blake Griffin. Hollinger's PER rates him as third overall in the NBA. Anthony Davis is not far behind. He is sixth in most rankings and a close fourth in PER.
Decision
Kevin Love and Anthony Davis are both proof of the evolution of power forwards in the NBA. Both are two of the best in the league, if not the Top 2. Yet they are very different players who give huge contributions to fantasy basketball teams.
Obviously, Love has the better offensive numbers while Davis has most of the defensive stats in his favor. If we look by categories, Anthony Davis beats Kevin Love in blocks, steals, and field goal percentage. Other than that, Love wins in the other categories, although not by much in most. As for total fantasy basketball points, according to FantasySP.com, Kevin Love has 3059 total points while Anthony Davis has 2236 from the past 30 day stats. So give the edge to Kevin Love … for now!
For more from Fantasy Basketball Money Leagues click here.
Featured image courtesy of nikk_la/Flickr.