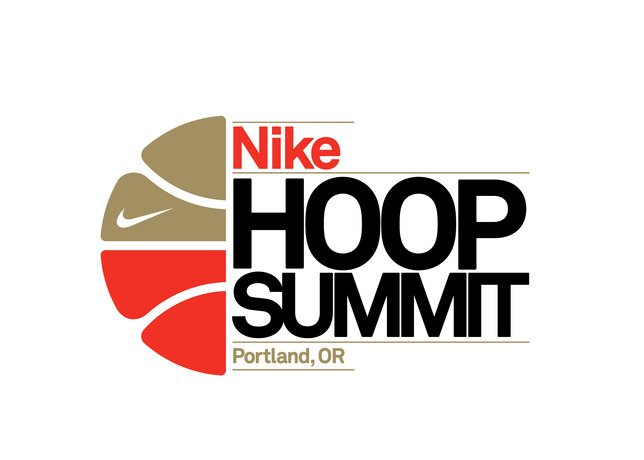 Courtesy of Nike >>
The World Select Team was announced today for the 2014 Nike Hoop Summit, the premier annual basketball game featuring many of the world's leading basketball players aged 19-years-old or younger. The game takes place on April 12 (4 p.m. PDT tipoff) at the Moda Center, in Portland, Ore.  
The game, which sees America's top senior high school players take on a World Select Team composed of players from multiple countries, has been staged on 16 previous occasions and has given an extraordinary number of talented athletes the chance to showcase their abilities. As of 2013, an incredible 151 Hoop Summit alumni have been drafted professionally (featured in this Nike Basketball Inside Access story).
The World Select Team seeks an unprecedented third successive victory in the series, after beating the USA 84-75 in 2012 and 112-98 in 2013, a game that was nationally televised.
The World Select Team named centers Karl Towns Jr. (6'11", St Joseph's High School, New Jersey and Dominican Republic), who returns for his second Nike Hoop Summit appearance; Clint Capela (6'9", ES Chalon-sur-Saone and Switzerland) and Trey Lyles (6'9", Arsenal Technical High School, Indiana and Canada).
The team also features forwards Damien Inglis (6'9", Chorale de Roanne Basket and France), James Metecan Birsen (6'9", Fenerbahce Ulker Istanbul and Turkey) and forward/center Nikola Jokic (6'10", Mega Vizura and Serbia). The global squad is completed with guards Emmanuel Mudiay (6'5", Prime Prep Academy, Dallas and Democratic Republic of Congo), Brandone Francis (6'5", Arlington Country Day School, Florida and Dominican Republic), Jamal Murray (6'6", Athlete Institute, Orangeville, Ontario and Canada) and Gao Shang (6'6", Guangdong Southern Tigers and China).
The World Select Team will be led by fourth-year coach Roy Rana, who currently has a 2-1 record in the series and, in 2013, became the first coach in Hoop Summit history to lead his team to back-to-back victories.
The United States, which holds an 11-5 advantage in the Nike Hoop Summit, features guards Joel Berry II, James Blackmon Jr. and Tyus Jones; forwards Cliff Alexander, Stanley Johnson, Kelly Oubre, Theo Pinson and Justise Winslow; and centers Jahil Okafor, Reid Travis and Myles Turner. The U.S. team will be coached by Mike Jones.
Tickets for the 17th annual Nike Hoop Summit are available through the Rose Quarter Ticket Office, by calling 877-789-ROSE (7673) or by visiting 
www.rosequarter.com/nikehoopsummit
.