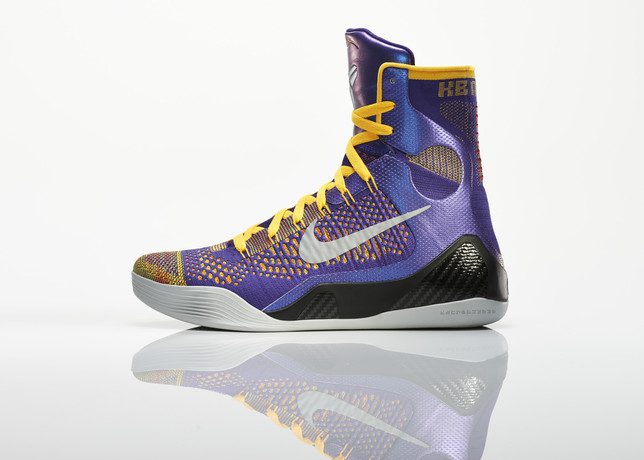 Courtesy of Nike — featuring the Nike Kobe 9 Elite Team >>
As basketball's regular season winds down and the playoffs near, Nike's vision for excellence hits a high point. The Nike Basketball Elite Series Team Collection represents the best for the best: footwear designed to the exact specifications of LeBron James, Kobe Bryant and Kevin Durant.
Using premium materials, advanced construction and athlete insights, Nike Basketball's design team proudly unveils its most technically advanced trio of signature shoes in one collection.
The collection includes the LEBRON 11 Elite, KOBE 9 Elite and KD VI Elite, all in hyperized hues of their respective team colors.
KOBE 9 Elite Team
The performance standard of the KOBE 9 Elite Team is second to none. Originally launched at the Museum of Contemporary Art (MOCA) in Los Angeles last December, the KOBE 9 Elite Team represents Bryant's most provocative shoe to date. As the first Nike Basketball shoe featuring Flyknit, the KOBE 9 Elite Team maximizes innovation with Lunarlon, Dynamic Flywire and carbon fiber throughout. Its ultra-lightweight design enables natural motion, while providing the lockdown and responsiveness Bryant requires.