In the immortal words of Rasheed Wallace, "both teams played hard." Game 2 between the Brooklyn Nets and Toronto Raptors wasn't the prettiest game. Hell there were periods during the first three quarters where the teams alternated offensive droughts. But the theater behind the Nets/Raptors series is burgeoning with Broadway-like production. The series is split with Game 3 going back to the Barclays Center. Jason Kidd treated the Nets substitutions as if he were the coach of the New York Islanders, with 11 players registering at least five minutes of playing time. Andrei Kirilenko played 20 minutes after registering a DNP in Game 1, giving us a glimpse as to how destructive a force he used to be (we'll get to this shortly). Meanwhile the Raps only played eight guys and only Landry Fields played fewer than 20 minutes. The fourth quarter was great with both teams finally stringing together consecutive quality offensive possessions; they combined for 65 points. A few things to note from Game 2:
An appreciation for Andrei Kirilenko:
Other than the DNP in Game 1, Kirilenko was averaging 26 minutes per game in the last five games of the regular season and played 20 minutes against Toronto. It's fascinating to see Kirilenko work even with his athleticism declining. He was, at one time during the mid-2000s, perhaps the best all-around defender in the NBA, with the combination of elite athleticism and the length that makes octopi jealous. He's still a credible defender at his current age using his smarts and the length that made him a terror, with a Defensive Real Plus-Minus of 1.16 during the regular season that ranks 18th among small forwards according to ESPN. He had four steals on the night, and by far my favorite one was this:
There's something very deliciously evil about that type of steal, basketball's equivalent to preying on the unexpected. Kirilenko is one of my favorite role players in the NBA and stuff like this is a big reason why.
Raptors Turnover Problems:
Twenty turnovers in Game 2; 17 in Game 1. The Raptors got away with it in Game 2 in part because of their 36-point fourth quarter. They've had issues with turnovers against the length that the Nets possess and their ability to switch defensive matchups on the fly. Shaun Livingston has been phenomenal against DeMar DeRozan, using a combination of length and lateral quickness, while Jonas Valanciunas was very turnover prone in mid-post isolations, especially when the play depended on Jonas distorting the Nets' defensive shape. A few of the turnovers were on offensive fouls and offensive three seconds in the key, which veer towards subjectivity from officials and vary from game to game.
The Raptors Getting Creative:
According to Synergy, Toronto shot a combined 13-of-18 on plays designated as pick-and-rolls, a massive uptick from the 5-of-15 showing in Game 1. It's not a coincidence that Amir Johnson posted 16 points on 8-of-10 shooting. One play that I liked in particular was their possession to begin the second quarter:
It starts off with Amir Johnson setting a screen for Patrick Patterson, which DeRozan will use as a pseudo-screen to flare to the right side of the three-point line. A couple of things that make it effective is how much Patterson sells that he'll be the screen-setter for Vasquez (it also helps that Patterson over the first two games has rediscovered his shooting stroke, which makes him a very viable weapon), and how Amir rolls to set the screen for Vasquez, which gets Pierce to sag back to the free-throw line, giving him an opportunity to make a hard roll to the rim.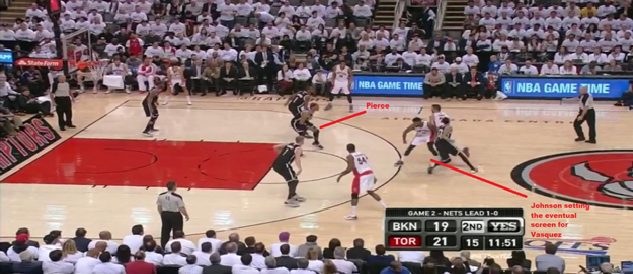 The pass by Vasquez took a deflection that made its way to Johnson for a layup, but the play call was terrific. Speaking of interesting play calling: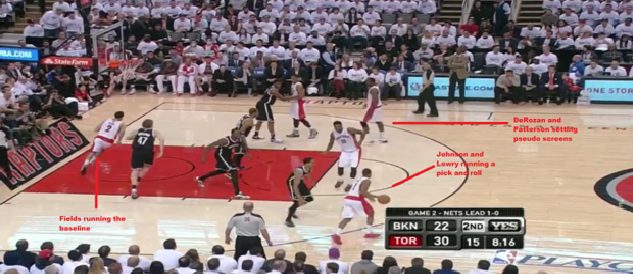 The shot that DeRozan takes isn't the most efficient, but the design to get him the shot is clever: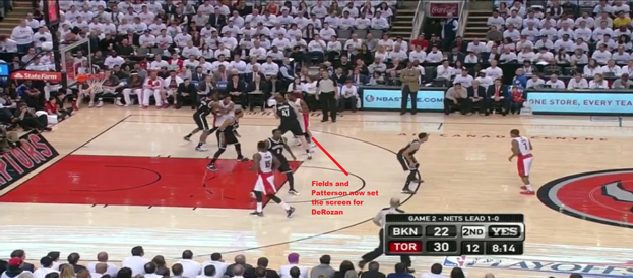 Fields is a total liability as a shooter and his overall impact offensively is very limited, but using him as a decoy for screen setting, creating as much space as possible is smart. Plus it plays into DeRozan's hands perfectly as someone who's accustomed to using pin-downs to create space for his jump shot.
Guarding Joe Johnson:
To put it bluntly, Joe Johnson has had his way with Toronto. Over the first two games, he's posted a 22.6 PER and a 68.1 TS%, averaging 21.0 PPG on only 13.5 field goal attempts per game. That is ludicrous efficiency and the advantage he's had over DeRozan has really challenged Toronto defensively. They've sent double-teams, though not exactly in the most efficient manners. In instances during the series we've seen DeRozan exasperated with Valaciunas on not doubling Johnson correctly, leading to personal fouls. When the Nets put Johnson as the pick-and-roll ball handler, they've really got the Raps on their heels, leading to floaters or found spot-up shooters. When he's come off screens, bad things happen as well. Dwane Casey did leave DeRozan on Johnson too long but the other options aren't fantastic. Even with great rotations from double-teams, Toronto has yielded varying degrees of quality spot-up shots and if the Nets hit them at a better percentage, Brooklyn will be in a great position to win this series.
Game 3 goes on Friday in Brooklyn, with the Nets accomplishing a split in Toronto. DeRozan had a solid rebound performance after his stinker in Game 1 while Paul Pierce followed up his fourth quarter exploits by shooting only 2-of-11. The playoffs more than anything is about the subtle adjustments teams make, and while the Raptors have struggled to limit turnovers, they've found ways to go around the Nets' aggressive traps in the pick-and-roll with some misdirection.
Both teams will feel like they should be up 2-0 in the series. It has been riveting, and there's potential for so much more.
Featured image courtesy of Matthew Addie/Flickr.