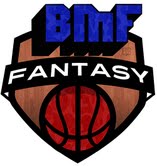 Brought to you by our friends at Fantasy Basketball Money Leagues.
With the regular season at an end, it's time to start focusing on your fantasy basketball team for next year. There's a lot to think about come next season's draft. I'm going to try and help you out with a couple of tips to keep in mind throughout the offseason.
Let's take a look at eight things to ponder heading into the fantasy offseason:
Don't Let The Playoffs Fool You
With the playoffs just underway, make sure you don't let big playoff games by an individual player influence your thinking going into next season's draft. Take this as a warning because there's always a player that steps up big in the playoffs, which increases his draft stock. However, they come back the next season and can't live up to the expectations he set in the playoffs.
Gregg Popovich, head coach of the San Antonio Spurs, has a tendency of leaning on certain players more heavily in the playoffs. Players like Tony Parker, Kawhi Leonard, Danny Green, or Marco Belinelli will have a solid group of games throughout the playoffs, which will result in their draft stock rising by two or three rounds. Or you can take a look at Roy Hibbert, who hasn't really lived up to the expectations he set in last year's playoffs. Or maybe it will be a new name, like J.J. Redick or Terrence Jones. Anyway, just take it as a warning so you don't make the wrong draft choice.
Be Careful With Rookies
Seeing that it is almost lottery time, I need to clear something up that will affect your thinking throughout the draft. This year's draft is creating a lot of hype, some saying it's the best class for over a decade. Again, don't fall victim to over-targeting players because you let the hype fool you. Even in a good year, only about four rookies have season-long value.
If you don't believe me, take a look at these two numbers: 53 and 60. That's how high the top fantasy rookies (Victor Oladipo and Anthony Davis) finished on the player rater in 2014 and 2013, respectively. You need to keep in mind that it's not always about upside. The right rookie needs to be fit into the right team at the right time. Take Michael Carter-Williams for example. He walked into a locker room that contained not a single person who could realistically put even "D-League point guard" on his resume. Also with Damian Lillard in his rookie season. Don't fall victim to ranking the wrong rookies too high.
Look At Percentages
When drafting, try to build your team more around efficiency, and less around points per game. Be on the lookout for players who take a disproportionate amount of shots from downtown, while nailing them at least 38 percent of the time. By doing this, you will receive bargains like Trevor Ariza and Jose Calderon.
The best buys in fantasy this year majored in two subjects: three-point efficiency and blocked shots. This leads me into the next tip:
Think Big
A few years ago, fantasy basketball was in a golden age of point guards. We are currently transitioning out of the age, heading into a new golden age centered around big men. There are around 10 players in the top-15 list that qualify at either the power forward or center position. Big men are becoming more and more dominant in the NBA. Most of this is because teams are starting to play small ball. You see players like LeBron James and Carmelo Anthony playing the 4, deepening the front lines in fantasy basketball.
Throw in some skilled stretch 4s like Kevin Love and Dirk Nowitzki, add a couple of high-ceiling players like Anthony Davis and DeMarcus Cousins, and then throw in the point-guard-trapped-in-a-seven-foot-frame Joakim Noah. Lots of value next year with big men.
More Bigs Coming
Speaking of big men, let's not forget about all the potential coming in this year's draft. Keep in mind, though, that it usually takes young big men a couple of seasons to develop fully. However, if you're looking for someone to bring in blocks, players tend to peak in blocks per game during their first two seasons in the league. With rookies such as Julius Randle, Aaron Gordon, Joel Embiid, and Noah Vonleh, there's a lot to be excited about for next season.
Return of Noel
Staying on the topic of big men, we can't forget about the big man who produced the most hype in 2012. Nerlens Noel will be making his NBA debut in 2014. He will be landing in the same position Michael Carter-Williams was in this season. He will be on a zero-expectations team that wouldn't mind tanking its way to one more top-5 pick in 2015. He should be set up for a good season, in terms of production and fantasy value.
Two More Returns
Aside from Noel, there are two other big men returning from injury. Of course, most of the buzz will be with Derrick Rose as he makes yet another comeback, but you can't forget about Brook Lopez and Al Horford. They will be staging their own mini-comebacks in 2014 and will probably be lost a bit in your draft-day shuffle.
Jersey Swapping
This is another major thing that you should pay attention to this offseason. The Miami Heat can blow it up, the Los Angeles Lakers have already blown it up, and the New York Knicks could lose Anthony and then blow it up. The Dallas Mavericks could sign a max player like Chris Bosh. The Phoenix Suns could pursue Kevin Love. The Chicago Bulls could end up with Carmelo.
Those are just the top-shelf guys, though. Guys like Trevor Ariza, Harrison Barnes, Jeff Teague, Greg Monroe, Rudy Gay, Marcin Gortat, and Lance Stephenson could all be dressing up in different uniforms next season. Basically, just pay attention because some of these players might be in a position to play better than predicted due to a new team.
Featured image courtesy of Keith Allison/Flickr.