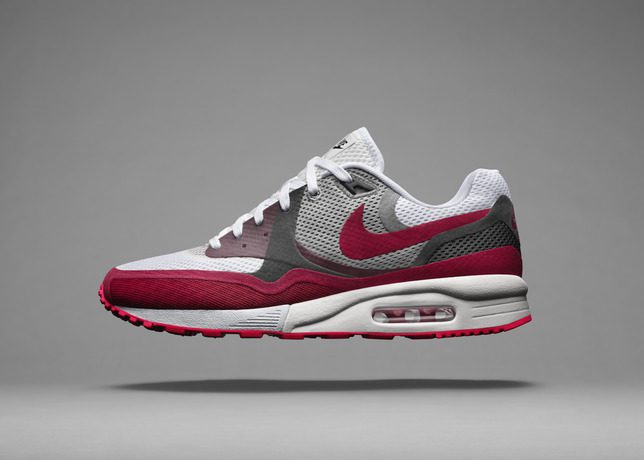 BMF Style: Because balling is more than the roundball – it's the lifestyle that surrounds the ball. BMF Style brings you the best styles in sportswear and fashion apparel for when you're away from the court, whether you're checking for new gear or checking for your favorite NBA players' pieces outside of the locker room.
Courtesy of Nike — featuring the Nike Air Max Light Breathe >>
Thirty years strong, the Nike Air Max family gets better generation after generation. Air bags have seen many shapes, sizes and iterations. Uppers have been dressed in leather, canvas, suede, Hyperfuse, tape, Vac-tec and Engineered Mesh, updating each classic with modern technology to fulfill contemporary needs. Now Nike Sportswear introduces the Nike Air Max Breathe Collection, designed to keep your feet free from the oppressive summer heat.
Drawing insight from the on-the-go Brasilian lifestyle in which one might find themselves on the beach one minute and pounding pavement the next, the Air Max Breathe collection deconstructs iconic silhouettes, transforming classic sneakers into ultra-breathable, lightweight shoes. To produce the most breathable Air Max models to date, the shoes have been stripped to their core essentials—layers of reinforcement removed and heavy materials jettisoned. Spacer mesh is used to create pockets of space between the upper materials to allow for increased airflow.
The pack innovations include taped seams, moisture-wicking linings, open-mesh uppers, elastic laces, soft heel counters, and natural motion tooling, combining to deliver iconic silhouettes true to their roots and built for summer. Contoured for comfort, the Nike Air Max Breathe Collection modernizes the summer wardrobe by making more with less.
Air Max Light Breathe
The Air Max Light, a lighter option for fans of the Air Max 1, was designed with a combination phylon/polyurethane midsole to minimize weight. Rarely making its way out of Nike archives, the Air Max Light returns updated for summer wear through a less-is-more design philosophy. Building on the Air Max Light's original design ideology of reducing weight, unnecessary layers are stripped from the upper construction and replaced with near-seamless open mesh. To keep the shape of the Air Max Light intact, designers employed an innovative perforated foam layer in the rand to create a structure that maximizes ventilation without adding weight.