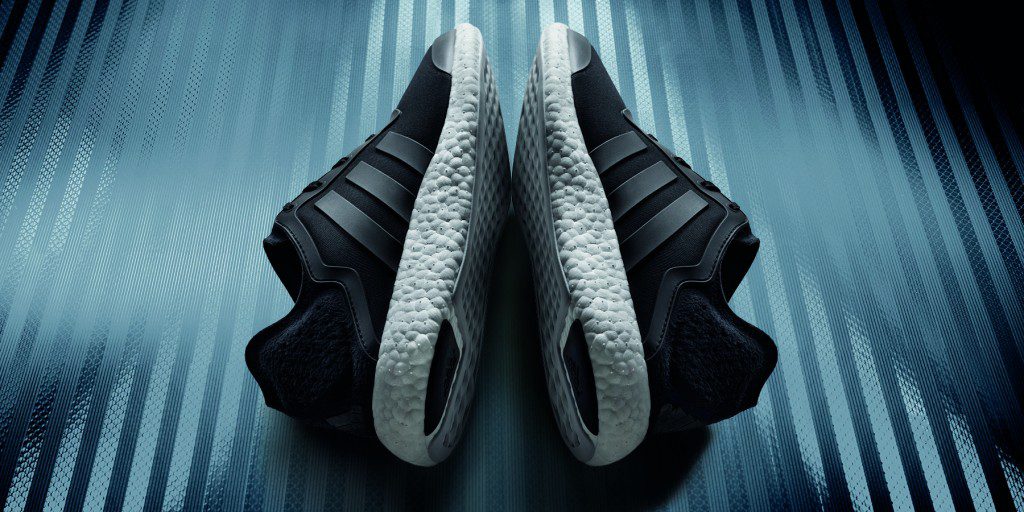 Courtesy of adidas | featuring the adidas Pure Boost >>
Combining the ultimate in style and performance, adidas today unveils Pure Boost. Pure is the first shoe with an entire Boost cushioning midsole, providing maximum energy return and comfort in a simple, pure design.
Top designers from adidas Sport Performance, Y-3 and Originals combined their expertise to create a stylish, lightweight, comfortable shoe that can be worn with anything in the closet.
"This visually stunning shoe is the purest iteration of Boost," said James Carnes, global creative director of performance at adidas.  "With Pure Boost, we designed the shoe to be stripped down to its rawest form and to highlight the innovative technology in a totally clean and modern look."
Carnes continued, "The fresh silhouette and simple upper make Pure Boost a blank canvas for you to combine with any outfit."
At only 8.3 ounces for men and 6.3 ounces for women, Pure Boost features a breathable four-way stretch seamless upper and no sockliner to enhance the feeling of standing directly on Boost cushioning. The TIRRENINA suede heel, a sustainable luxury fiber that is made without any solvents during the manufacturing process, adds a fashion element and keeps your foot in place without restricting movement.
Pure Boost is available for $120 on May 14 at adidas.com, adidas Sport Performance stores and exclusively at footlocker.com, Foot Locker, Lady Foot Locker and SIX:02 stores.
Launch colorways include four for men (Black/ White/Clear Grey, Solar Blue/Solar Blue/Clear Grey, Tech Grey/Metallic Silver/Clear Grey, and Infrared/Infrared/Clear Grey) and four for women (Black/ White/Clear Grey, Clear Grey/White/Clear Grey, Bold Pink/Bold Pink/Clear Grey and Solar Pink/Core Pink/Clear Grey). Additional colorways and prints will be available this summer.
Follow the conversation on Twitter at #Boost and @adidasUS.