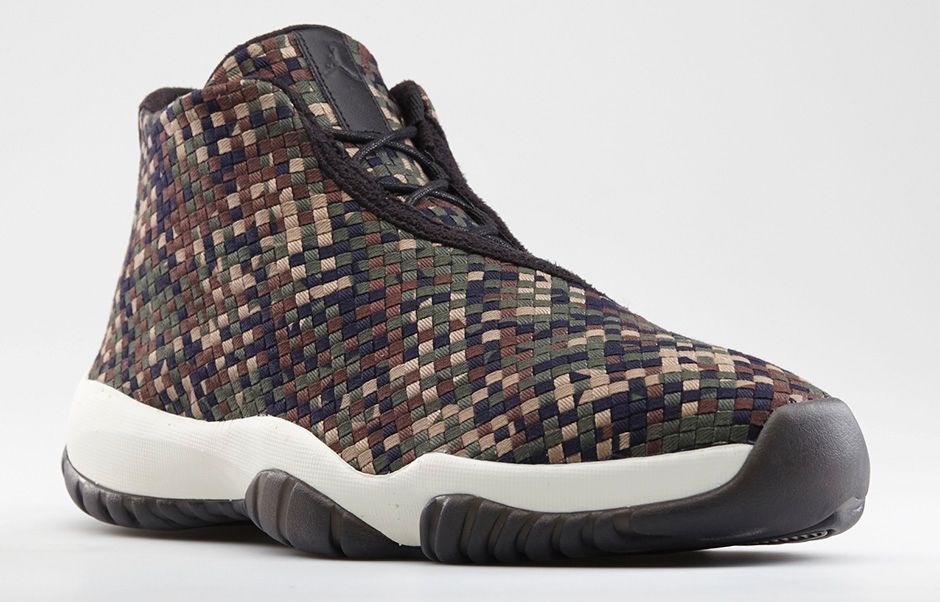 BMF Style: Because balling is more than the roundball – it's the lifestyle that surrounds the ball. BMF Style brings you the best styles in sportswear and fashion apparel for when you're away from the court, whether you're checking for new gear or checking for your favorite NBA players' pieces outside of the locker room.
Courtesy of Nike | featuring the Air Jordan Future Premium 'Camo' >>
Paying tribute to the symbiotic relationship between the court and the street, the Jordan Future blends one of the most iconic designs with a one-piece woven upper to create an entirely new look. The deconstructed upper forgoes a heel counter and toe enforcer for a futuristic, minimalist style.
The Future gets a new colorway featuring a camo pattern on the woven upper. Available on Nike.com May 17 (8am EDT/5am PDT).
The BMF Kicks & Sportswear Take:
The Jordan Future Premium 'Camo' is a very decent expression of the model's aesthetic capabilities. It's varied with color, it shows the craftsmanship of the shoe, and it retains the classic shape but is different all on its own. It's something of both clothing and boot, but neither a strong expression of military garb nor something too far from it. The smoke gray translucent rubber outsole is a great touch.