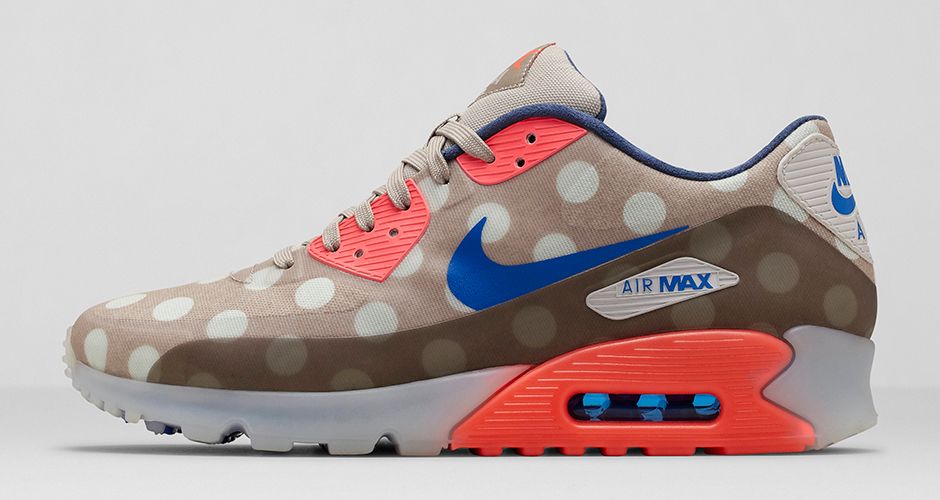 BMF Style: Because balling is more than the roundball – it's the lifestyle that surrounds the ball. BMF Style brings you the best styles in sportswear and fashion apparel for when you're away from the court, whether you're checking for new gear or checking for your favorite NBA players' pieces outside of the locker room.
Courtesy of Nike | featuring the Nike Air Max 90 Ice City 'NYC' >>
Summer is a time for unfettered self-expression. The warmer weather requires fewer layers, more color, and a minimal mix of materials. New York City, in particular, demands a dramatic change in dress from previous months, as the scorching sun turns the coolest of cool into puddles of perspiration. To beat the heat and combat the elements, the latest City Pack makes over two fresh silhouettes for the summertime.
Both, the Air Max 90 Ice and the Roshe Run NM, draw inspiration from the leisurely lifestyle of New York vacationers. Featuring an all-over polka dot print, both designs employ a sublimated canvas upper for a lightweight feel. To tie the design together, distinct Nike and NYC badging are found on the tongue, a nod to the seasonally reoccurring City Packs. Summer is quickly creeping up. Keep it breezy and embrace the forthcoming dog days of summer in the new, NYC-inspired City Pack.
The BMF Kicks & Sportswear Take:
The Nike Air Max 90 Ice City 'New York' is a really strong sneaker, namely for the sum of its parts. The bonded Hyperfuse layers on the upper, the polka dots, the faux-infrared Hyper Punch and Classic Stone hues, and the built-out ice sole replacing the normally-exposed midsole make for a strong casual shoe. It's a bold look that leans to a unique brand of normalcy mixed with hilarious pop. It wins.