I'm not sure how to describe what happened in the second half between the Indiana Pacers and Miami Heat other than chaos, a word that until Game 5 has had a negative connotation for the Pacers this year. It was madness, pure unadulterated madness (we even saw a Michael Beasley cameo and Lance Stephenson blow in LeBron James' ear). The Pacers have been the NBA's soap opera since the All-Star break, almost having their own "Days of Our Lives" plots in the second half of the season and during the NBA Playoffs. There have been so many narratives about this Pacers season to this point, whether it's the play of their center Roy Hibbert, their anemic offense or how Lance is a distraction/sideshow.
Game 5 itself was its own soap opera episode, with the two teams trading their share of storytelling. The Pacers only won by three, aided by LeBron having a minimal effect on the game's outcome because of foul trouble. Also helping Indiana was the team having had offensive aberrations before versus Miami, with their playoff series last year almost counting as one. Indiana shot 60 percent in isolation situations, a number so preposterous that I almost did a double take upon seeing it. Expecting the Pacers to replicate that type of shooting has as much chance of repeatability as LeBron picking up five fouls before the end of the fourth quarter.
Speaking of LeBron, the last possession will obviously garner much talk among sports talk radio across North America, and perhaps you'll hear people like Skip Bayless lambast him for not chucking up a hero ball shot. The Pacers defended the play beautifully, resulting in an overload on LeBron's drive to the rim: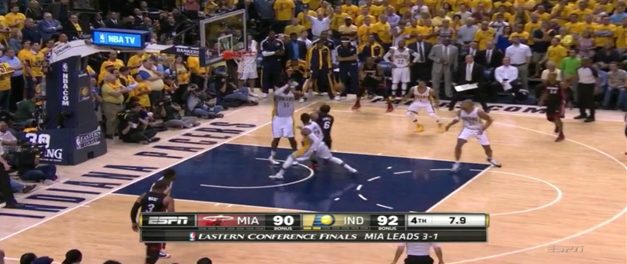 You can argue if you really feel like doing so that the pass to Chris Bosh could've been more on target, but that would be discrediting what the Pacers did to force the tough pass. Just look at how perfect George Hill's positioning is. If the pass went to Ray Allen, he'd still be able to rotate well and contest the pass or shot. Also the thing that makes the LeBron "should he pass or take the final shot" sports take annoying is we've been there already with LeBron, and it was very annoying the first time. The Pacers forced LeBron to make a tough pass and the pass that got to Bosh was off a bit, forcing a difficult three-point corner shot.
The Pacers did what they had to, which is take advantage of LeBron's foul situation and capitalize on a world-class second half performance from Paul George. He was sensational, especially in the fourth quarter and the Pacers live to fight another day. Odds are the Pacers won't crack a 112.3 OffRtg in Game 6, but perhaps they will. Basketball is a funny game like that and the Pacers are the epitome of what makes basketball fascinating. They've won two games in this series with outliers on offense, but even then those two outliers were nearly diametric opposites. This series has been compelling and will continue to do so. Isn't playoff basketball just the greatest?