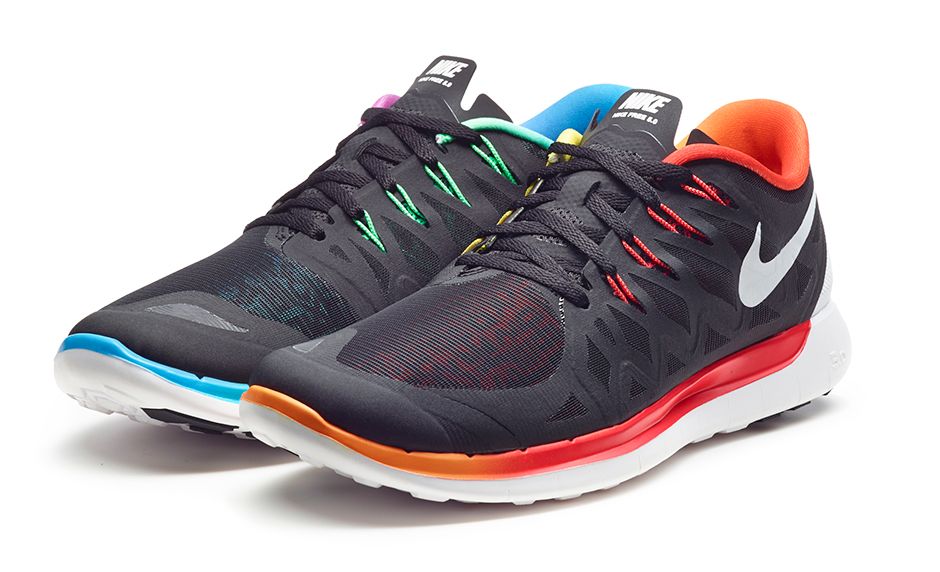 BMF Training: Being a baller isn't just about what you do on the court – it's about how you prepare to ball when you're away from it. BMF Training is about bringing you the latest in training footwear, apparel, and equipment that can help you raise your game and also give you insight into what the best players are wearing in preparation for their battles on the NBA stage.
Courtesy of Nike | featuring the Nike Free 5.0 Run #BETRUE >>
In honor of the 10th anniversary of Nike Free, the 2014 #BETRUE collection includes both the Nike Free Run 5.0 and the Nike Free OG to celebrate the full spectrum of an athlete's pursuit of sport—from performance to lifestyle. The Nike Free 5.0 features a reflective #BETRUE tribal print, which includes the words "Be True" among the bold patterns and shapes that compose the unique print. Nike Flywire on the 5.0 also reflects the color line in the gradient of the rainbow, and the sockliner and shoelaces also highlight #BETRUE. Both models create a rainbow between the left and right shoes when looking at the pair from multiple perspectives—front, back and above.
The #BETRUE collection features rainbow colors as a reflection of the diversity within sports and Nike's support for the LGBT community. The 2014 collection also continues to build on the #BETRUE print that launched in 2013, with an update to the bold geometric shapes and a unique pattern with the words "Be True" embedded in the print.
"We are a company committed to diversity, inclusion and unleashing human potential," said Tim Hershey, Nike Vice President of Global Merchandising and Executive Chair of Nike's LGBT & Friends Employee Network. "Nike believes if you have a body you are an athlete and we're delighted that #BETRUE is becoming a call-to-action for all athletes to be their most authentic selves."