Baller Mind Frame's No Layups brings you the hottest NBA stories on the web mixed with personal opinion from our very own Aaron Lanton. Check it often and absorb the knowledge we're dropping on you!
Another Thunder offseason is cranking up, which means a familiar tune is coming from some of the OKC masses: Amnesty Kendrick Perkins.
But before the last season of his contract — the last chance OKC can wipe (but still pay) his $9.1 million salary from the books — Thunder GM Sam Presti told reporters at his exit interview on Thursday that's it's not likely to happen.
"I knew I'd get that question," Presti said. "I wish I had something clever to say there, but I don't. We'll look at everything, as we always do. But as we've said before, it's not something that's been considered to this point."
This season, Perkins averaged his fewest points (3.4) and rebounds (4.9) since the 2004-05 campaign, but it's his sturdy post defense and veteran presence that, Presti said, continue to give him value to the roster.
"Quite honestly, we'd be having this press conference a lot sooner if he was not part of the organization when we took the floor against Memphis," Presti said, referring to Perkins defense on Zach Randolph in the first round. "This conversation probably would be happening in May, and not June." The Oklahoman
It's easy to look at Kendrick Perkins' numbers and say that he should be amnestied. Perkins' value seems to be an issue of chemistry rather than tangible basketball production. Keeping Perkins' around for chemistry's sake is a hard sell for some when the team needs a reliable third offensive option to assist Kevin Durant and Russell Westbrook. Perkins is still a good post defender but is a huge liability against most NBA teams.
For example, Serge Ibaka's defensive impact in the Western Conference Finals was considered the determining factor in the Thunder's fall to the San Antonio Spurs. Perkins' name never came up outside of mentioning that Scott Brooks should avoid playing him at all costs versus the Spurs.
We see teams break down all the time from a break in chemistry. This year's Indiana Pacers are the most extreme example of what can happen when chemistry goes awry. The Pacers kept all of their best players and fell apart without a debilitating injury to their roster.
Sam Presti is playing it safe and it's hard to blame him with a volatile personality like Westbrook on the team. Westbrook being the only alpha personality on the team sounds like a huge problem that no one would be prepared to quell. Perkins obviously serves some purpose. We never learn what that exact purpose is, but the Thunder are too cheap to keep a guy making $9.1 million for nothing. Maybe it's for the dance moves.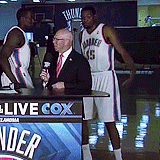 Never mind. – AL