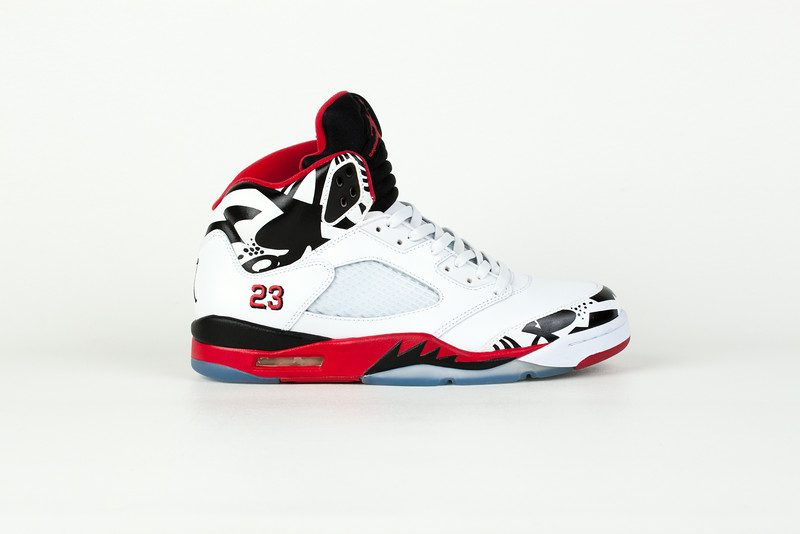 BMF Style: The Baller Mind Frame is more than the roundball – it's the lifestyle that surrounds the ball. BMF Style brings you the best styles in sportswear, fashion apparel, and accessories for when you're away from the court, whether you're checking for new gear or for your favorite NBA players' pieces outside of the locker room.
Courtesy of Brush Footwear | featuring the Air Jordan 5 Retro 'Fire Red Dazzle' x Brush Footwear
>>>
The Nike Air Jordan V — now known as the Air Jordan 5 Retro — is one of the most important sneakers in athletic footwear history. From its design to the technology to the player known for inspiring the shoe, the Air Jordan 5 Retro is a tremendous classic among basketball shoes ever created. In an effort to show what the Air Jordan 5 Retro can be with artistic augmentation, Ben Smith, proprietor and principal artist of Brush Footwear, has created the Air Jordan 5 Retro 'Fire Red Dazzle'.
Smith explains the work below:
Since Tinker Hatfield's inspiration behind designing the Air Jordan 5 was the P-51 Mustang and WW2 fighter planes, I wanted to stay with that concept and incorporate this into my painting… One of the many types of camouflage that was being used during that time was Dazzle camouflage. Dazzle camouflage is made up of complex patterns of geometric shapes in contrasting colors, intersecting and interrupting each other. Unlike some other forms of camouflage, dazzle works not by offering concealment but by making it difficult to estimate a target's range, speed and heading. So In my design I wanted to use the angles, shapes, and lines in the Jordan 5 and incorporate them into a dazzle camouflage print. In the end, a black and white dazzle print covers the tips and the backs of this Air Jordan 5 "Fire Red", also laced with the premium leather laces from Aglit Italy. To finish the theme off the photo set was then taken on an old US fighter plane.