It's been 11 excruciating years since the release of The Room, Tommy Wiseau's love letter to red dresses and tuxedo-wearing football games. On the DVD for The Room, he said he was going to work on a documentary about the making of the room, specifically about how he did so in two different film formats. Even though that project never came to fruition, it would appear that something even better (relatively speaking) is on the horizon. Wiseau has been working on a sitcom!
https://www.youtube.com/watch?v=QWvI4nL_N9o
Called The Neighbors, and coming to Comedy TV this September, the show's website offers the following information about the series:
You should really head on over to the website and check it out for yourself. See that rooster in the screen cap? It cheep-cheeps like a chicken (even though it's…a rooster). Just like Wiseau did in The Room.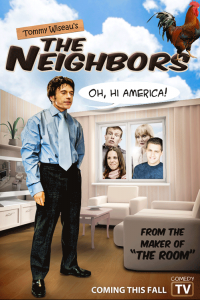 Yes, this all sounds outlandish. And that's because it is! Did you watch that clip? Yes, it feels like it has all of the stellar production qualities of a 3:00 a.m. softcore porno on Cinemax. Yes, the apartment number is 420. Yes, Ricky Rick is throwing a T.W. underwear party in his friend Troy's apartment (according to the "About" section on this Youtube video). Yes, there is random football tossing going on in that apartment.
But let's consider the source. Did you expect anything less? Playing football without proper gear is both fun AND challenging. Just ask Wiseau himself! He's of course the man wearing the bad wig, looking like Harvey Keitel's (circa Taxi Driver) deranged cousin, trying to act 70 years younger than he (probably) is.
This all feels like a giant hoax. Like this is a parody trailer, or something you'd see on Tim and Eric Awesome Show, Great Job!. But I fear it's all too real. We here at PCS are fans, though, so we will try our darnedest to watch this show. And you should, too!
Head on over to Facebook to check out the show's official fan page, unless you're too chicken. Cheep-cheep-cheep!