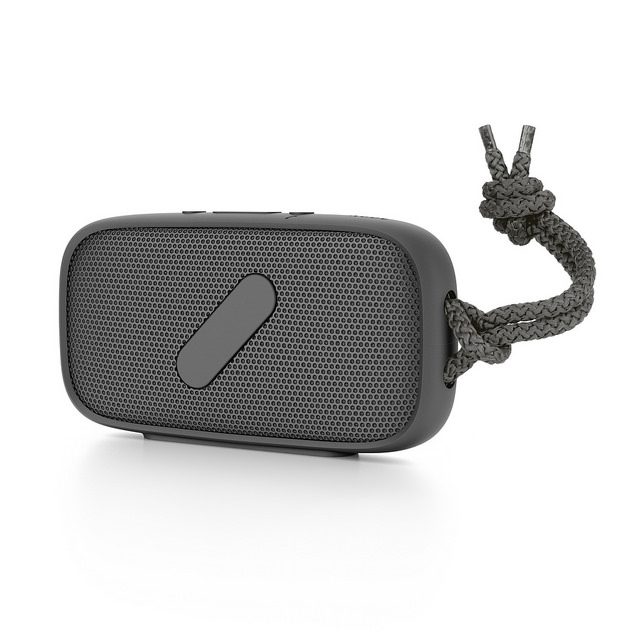 When I was presented with the NudeAudio Super M speaker, it was under less-than ideal circumstances, none of which were anything reflecting on the product itself, but just to say I was stressed. When you're backlogged on projects of various kinds and working to make a dent in the stack mounted on your desk (or in your brain and list-making app), sometimes you have to pass on some good things of the present so you can fulfill the commitments of the past.
And I passed.
I passed initially on trying the Super M, just knowing that it might be a project to fulfill that might not have my full attention. Well, boy was I wrong.
After opening what was shaped like a luxury jewelry box housing what you might expect to be a gemstone necklace, I saw the speaker. And there wasn't a ton to read, which at first disappointed me (I like instructions) and the simplicity of it seemed a little too good to be true, because let's face it — good stuff usually comes with little stuff. And as much as you may not like having to keep track of the little stuff, you can rest that whatever it all is adjoined to is probably a reasonably satisfactory thing.
Well, beyond a flash drive and a couple simple notes and a cord, all I had was the speaker, but little did I know that that was all I needed.
First thing that I immediately loved, when I powered on the Super M (which feels absolutely great in my hands, and I have small hands for a man), it didn't dull off. I had actually been charged, which already was a win, but then … then came the real good stuff.
After syncing the Super M to my Samsung Galaxy phone, it wasted no time in delivering automatic sound. Startlingly loud. And clear. I was really surprised. But still, I needed to give it the test that you have to give all your speakers and music players, analog relic and digital godsend alike — I had to play an album that I knew would could max out the speaker's potential and show itself true with immediacy. And so I cued up Jay Z's "Magna Carta Holy Grail" album.
Now for those of you that don't know, MCHG is an album that absolutely POUNDS and yet, is charged with an abundance of melody, thanks to one Justin Timberlake guesting. So between Young Hov rhymes, Timbaland rhythms and beats, and JT taking care of vocals, it's since made itself a kind of paragon of high-quality sound. And if you're like me in thinking that, try hearing it from the Super M.
With quick impact, the Super M blasted through its dual-sided speakers with dexterity in its volume ranges, while also delivering on clarity of word and crispness that I hadn't expected to hear. Volume control was no problem and the silicon-like gel trim of the Super M made it comfortable to handle, but what's really great about the speaker is that it has a knotted cord to hold it from; you can wrap it around your wrist and let it dangle a bit, or you can secure it over your wrist while you hold in hand, but one thing is for sure — the Super M defines portability.
If you carry a lot of music on your phone, having a Super M handy would really turn up whatever ecosystem you're inhabiting at the moment. Need to charge it? It comes with a thin cord that easily plugs in. Wanna hide it while playing? Well, it's matte black and it's not going to distract you or anyone else with its appearance.
Needless to say, I wanted to immediately show off the Super M after just hearing the thing work its magic after five minutes.
Which, in the end, has made me grateful that I didn't pass up the opportunity to review the Super M twice. I would've missed out on fulfilling a very worthy commitment of the present.
(Below is a release on the Super M from NudeAudio. Read on for more information on how the Super M works and where it's currently available.)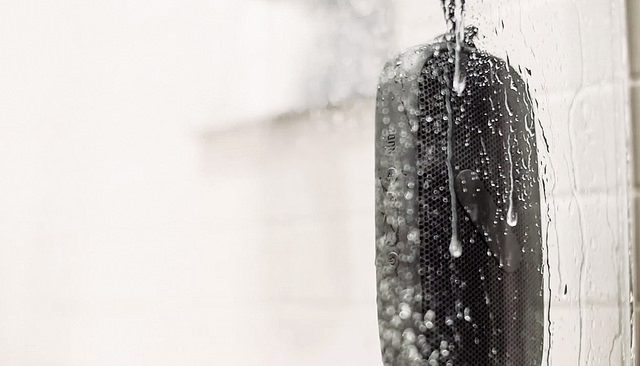 >>>
NudeAudio announces the next game-changing product in their mission to make premium audio experiences accessible to everyone. Super M, the wireless, Bluetooth-enabled speaker, boasts true 360-degree-sound from six drivers secured in a shockproof and waterproof design—priced at a cool $99.
Building on the success of the Move M, Super M pairs the freedom of a grab-and-go size speaker with the best possible sound on the market. The enhanced acoustics and versatile, protected shape of this premium speaker ensure high-fidelity audio anywhere, anytime.
"As with any of our products, NudeAudio's "anti-feature" policy means we strip away all unnecessary features and focus our cost on the essence of the product. We want to put all the money into the acoustics," Peter Riering-Czekalla, Chief Design Officer explains.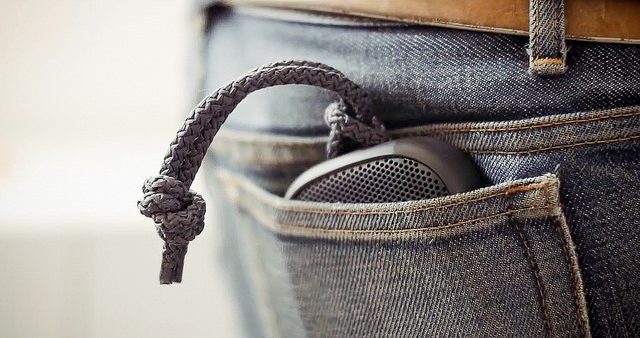 The Super M is packed with four full-range drivers using Neodymium magnets and two passive subwoofers for a portable package that blasts phenomenal sound. The orientation of the six drivers creates true 360-degree sound that fills a space with rich, natural audio no matter where you stand, dance, or relax. "The intent of this project was to build the world's best sounding speaker that fits into the back pocket of your jeans," says Chief Executive Officer, Tom Dudderidge.
"The Anti-Feature policy also allowed us to provide a surprisingly simple, intuitive Bluetooth interaction," Riering-Czekalla adds. "Too often Bluetooth products are complicated and confusing to use."
High-tech meets highly protected. Waterproof, sandproof, and snowproof, the Super M's rugged, yet sleek package shields the components inside for ultimate peace of mind. Super M's rounded shape and soft, silicon sleeve keep this speaker shock protected and carefree. Enjoy days at the beach or travels up the mountain without worry over sandy, wet conditions.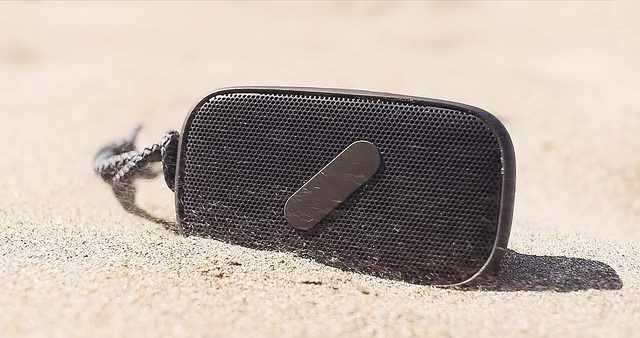 Use the cord to grab the speaker in an instant and hang it anywhere. Roam independent from outlets with eight hours of battery life and recharge at home with the included USB cable. Due to popular demand, the Super M also includes speakerphone functionality for hands-free calling.
Making premium speakers at high prices is easy—but providing high quality audio at accessible prices is NudeAudio's mission. NudeAudio maintains this promise by focusing their efforts on audio performance, not features to increase perceived value. The simple design and reliable construction keep their products cost-effective—free of frivolous, status-inducing advertising that drives up the price paid by customers.
According to Tom Dudderidge, NudeAudio CEO, "The Super M sets a new precedent for the relationship between sound and size. The superior audio performance of this speaker, in addition to its compact size and waterproof construction, is proof that we can deliver high quality products at unexpected prices."
NudeAudio is proud to add Super M to their existing line of speakers that combine exceptional audio in a in a carefully designed package at a fair price.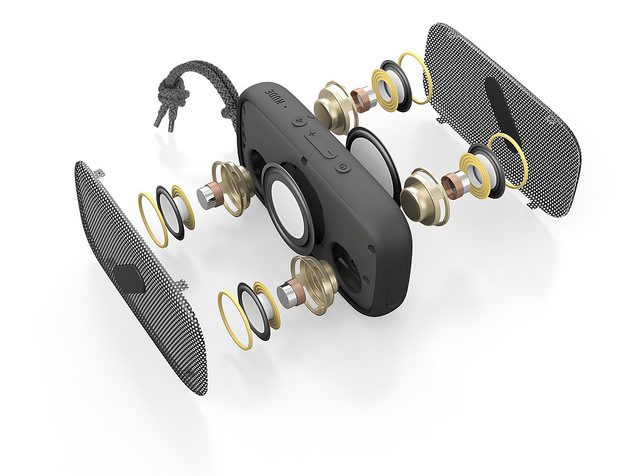 Key Attributes:
·       4 full range Neodymium drivers
·       2 passive subwoofers
·       True 360-degree sound
·       Bluetooth 3.0
·       High capacity 8hr Lithium-Ion battery
·       Speakerphone
·       Small enough to fit in the back pocket of your jeans
·       Water, sand and snow proof
·        Shockproof  high grade silicone sleeve and grab and go cord
·       Surprisingly simple Bluetooth interaction
For more information visit www.nudeaudio.com/kickstarter.