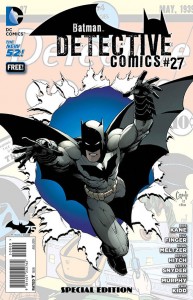 Batman turns 75 years young today! To commemorate this impressive milestone, DC Comics is partnering with an array of bookstores and local comic book shops and giving away FREE copies of Detective Comics #27 Special Edition.
YES. FREE.
According to the DC website, the comic in stores today is
"an updated take on the comic that first introduced Batman to the world. This extra-sized issue features stories by Brad Meltzer, Scott Snyder, Bryan Hitch and Sean Murphy, as well as Batman's first adventure, Bob Kane and Bill Finger's "The Case of the Chemical Syndicate," reprinted in full. In addition, it includes a sneak peek at Meltzer and Chip Kidd's beautiful reimagining of the original Detective Comics #27."
But wait, there's MORE!

This Saturday, July 26, local public libraries will have Batman-themed events and giveaways, too (including the #27 comic).
You can check here to find out if your local library branch is participating in the events this weekend, as well as find out where you can score your free copy of the comic book TODAY. So take a look, then hop on your Batpod and go pick up a copy, Bat friends!