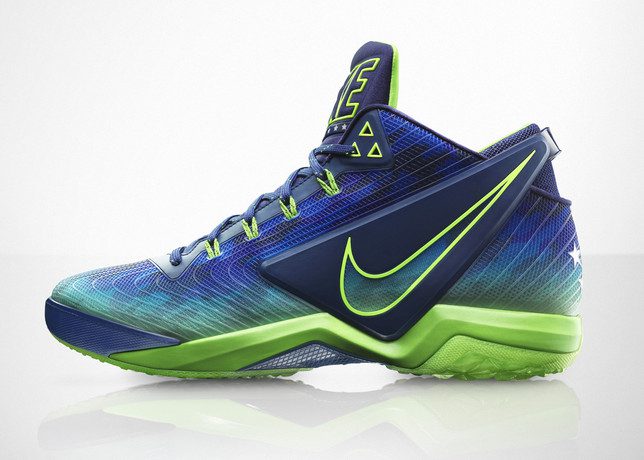 Hoopers often train on the gridiron, and the gridiron gladiators often play like hoopers. So, it goes without saying that to train on the gridiron, you'd need a shoe to accommodate the movements, right? Right.
Enter the Nike Zoom Field General, Nike's latest indoor/outdoor all-around training shoe.
Nike unveils a new training shoe with the quarterback in mind. Designed for speed on turf, the Nike Zoom Field General is the first of its kind for football-specific training with the aggressive traction needed to transition from the gym to the turf. 

The quarterback represents a position for which many are called, but few are chosen. Whether it's in the pocket or on the run, a quarterback is charged with making quick decisions resulting in fast-paced lateral changes in direction while in the heat of battle. He relies on his footwear for stability and to help him explode and accelerate on split-second notice.  

Key features of the Nike Zoom Field General include:

Lightweight molded support upper to lock down every start, stop and cut. 
Perfectly balanced upper with both strength and mobility, allowing flexibility and stabilization in key areas. 
Nike Zoom unit in the heel and forefoot for responsive cushioning. 
Aggressive traction in the outsole designed for agility and control on the turf. 
Full-length mid-cut inner sleeve to provide additional support around the foot and ankle.
Dynamic Flywire cables to help lock down the foot.
Plastic outsole "shank" to help stabilize the mid-foot and transition from heel to toe. 

Nike QBs Russell Wilson, Drew Brees, Aaron Rodgers, Colin Kaepernick and Andrew Luck will represent the Nike Field Generals Collection for the 2014 season. 
>>>
BMF Training: Being a baller isn't just about what you do on the court – it's about how you prepare to ball when you're away from it. BMF Training is about bringing you the latest in training footwear, apparel, and equipment that can help you raise your game and also give you insight into what the best players are wearing in preparation for their battles on the NBA stage.