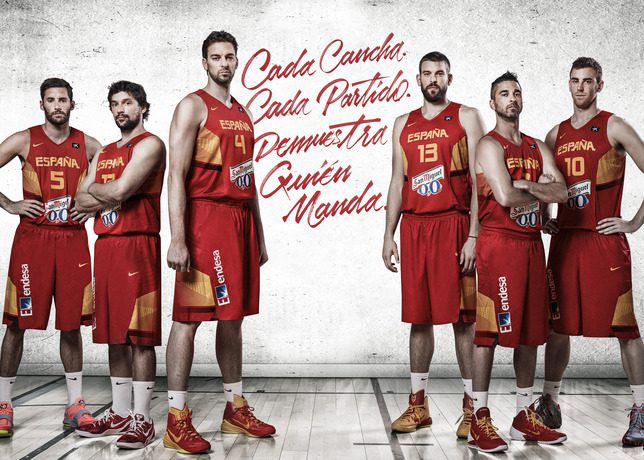 Courtesy of Nike
Pau and Marc Gasol, Juan Carlos Navarro, Sergio Llull, Rudy Fernández and Victor Claver proudly presented the new Spanish Basketball HyperElite team kit in Madrid, host city to one of basketball's most important events this September.

The new kits feature design innovation with inspirational elements specific to Spain. They are the lightest Nike Basketball uniforms ever made, with each design detail maximizing player performance.

Spain's rich culture is the design inspiration behind the new kits. The home kit colors – challenge red and midas gold – reflect the country's bountiful sunshine "El sol," led the design process, pulling from the bright yellows in the early morning to the deep reds in the later afternoon.  The away kit color will be white.

Both kits feature red and yellow hues meshed together in the 26-degree speed graphic, beginning at the side seam of the jersey and short, and fading toward the back. The speed graphic represents a distinctive basketball point of view, based on the roughly 1,000 directional changes, or "cuts" that a player might make in the course of a game.

NIKE HYPERELITE JERSEY

A flocked lining at the inside of the neck allows the athlete to comfortably wipe excess moisture from the face.  Ultra-lightweight stretch mesh in the back of the jersey serves to regulate the temperature of the player along his spine, where athletes tend to heat up the most.  Redeveloped, lightweight sphere fabric in the front of the jersey helps to maintain a comfortable body temperature, while eliminating clinging from excess sweat.  

The front of the jersey houses the proud ESPAÑA word mark, designed specifically on the Ñ, a letter strongly identified with the Spanish alphabet.

NIKE HYPERELITE SHORTS

A perforated, vented waistband in the Nike HyperElite shorts provide a level of cooling, while maintaining the comfort and security that athletes require.  A new, performance flex vent placed by the knee allows the game short to flex when the player moves.  The addition of a flocked "wipe zone" at either hip allows a comfortable spot to dry hands as sweat builds up.  

The continuation of performance perforated zones at the side of the short allow the moisture management properties of the Nike Pro Combat Hypercool shorts or Nike Pro Combat Hyperstrong shorts worn underneath to work properly as a complete system.
>>>