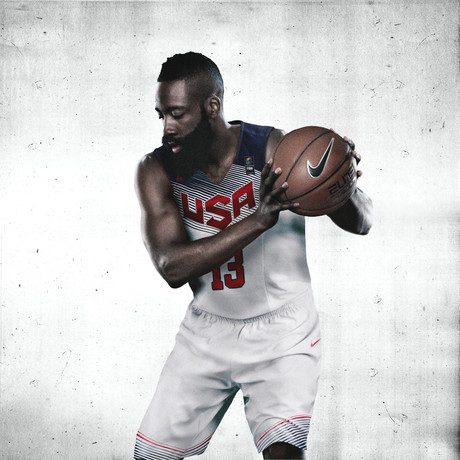 Courtesy of Nike
As Nike World Basketball Festival and the FIBA Basketball World Cup approach, Nike proudly introduces the new USA Basketball uniform, the brand's lightest uniform in history.

Infusing design innovation to maximize player performance, the Nike Hyper Elite uniform takes inspirational elements specific to the USA and Nike's heritage to provide the team with a kit that tells a story.

The angle of USA graphic on the new uniform was inspired by the chevron of the classic Nike Windrunner track jacket that was born in 1978.

Both the USA home and away uniforms feature red, white and blue hues meshed together in the 26-degree speed graphic – crossing the front of the game jersey, fading into a representation of the USA flag, and extending across the side of the game short from the front to the back. The speed graphic represents a distinctive basketball point of view, based on the roughly 1,000 directional changes, or "cuts" that a player might make in the course of a game.

NIKE HYPER ELITE JERSEY

A flocked lining at the inside of the neck allows the athlete to comfortably wipe excess moisture from the face. Ultra-lightweight stretch mesh in the back of the jersey serves to regulate the temperature of the player along the spine, where athletes tend to heat up the most. Redeveloped, lightweight sphere fabric in the front of the jersey helps to maintain a comfortable body temperature by wicking moisture, while eliminating cling from excess sweat.  

NIKE HYPER ELITE SHORTS

A perforated, vented waistband in the Nike Hyper Elite shorts provides a level of cooling, while maintaining the comfort and security that athletes require. A new, performance flex vent placed by the knee allows the game short to flex when the player moves. The addition of a flocked "wipe zone" at either hip allows a comfortable spot to dry hands as sweat builds up.  

The continuation of performance perforated zones at the side of the short allows the moisture management properties of the Nike Pro Combat Hypercool shorts or Nike Pro Combat Hyperstrong shorts worn underneath to work as a complete system.

The new kit will be available beginning Aug. 7 on nike.com, in Nike stores and selected shops, and will debut on-court when the USA Basketball Men's National Team takes on the Brasil Men's National team in an exhibition game at Chicago's United Center at 8 p.m. CDT.
>>>