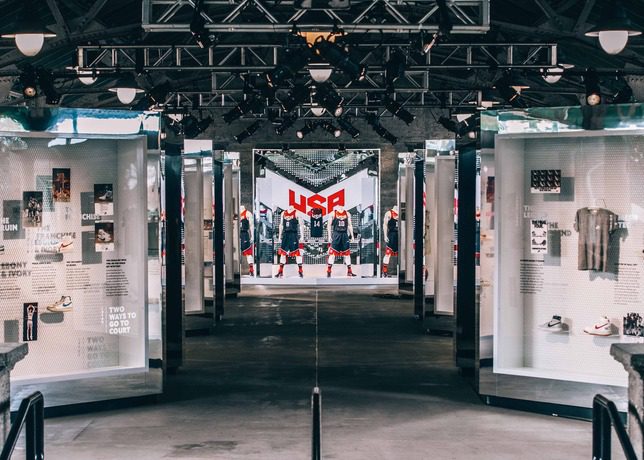 Courtesy of Nike
This week, NIKE, Inc. and USA Basketball are making an impact in Chicago with programs and activations bringing the community together through the lens of basketball. The World Basketball Festival uses the power of sport to unify the community leveraging some of the games greatest athletes.

The 2014 Nike World Basketball Festival kicked off Thursday with an opening ceremony that featured members of the 2014 USA Basketball Men's National Team. The Chicago Park District's 63rd Street Beach House is the epicenter of the week, paying homage to basketball's heritage with a special exhibit of historic footwear and apparel. The beachfront venue is also hosting games and clinics throughout the festival. As part of Nike's effort to inspire the community through sport, Nike launched CHI-TALK, a forum for Chicago youth to get up-close and personal with inspirational Chicago thought leaders. The forum, hosted by Kevin Carroll, included guest speakers such as Angela Davis, Scoop Jacksn, Coodie Simmons & Chike Ozah, Scottie Pippen, Sheryl Swoopes, Kevin Coval, Xan Aranda and Common.

Basketball competition throughout the week includes the Nike Global Challenge, FIBA 3×3 Tournament, Chi-League Finals and Tournament of Champions. The Tournament of Champions will feature competition between street basketball All-Stars from New York, Chicago, L.A. and D.C. The Global Challenge competition, hosted at Whitney Young High School, features rising stars from the four USA regions as well as Pan Africa, China, Brazil and Canada. Community youth clinics took place with more than 5,000 kids going through skills and drills over the course of the week with USA Basketball athletes Anthony Davis, James Harden, Rudy Gay and DeMar DeRozan.

As the game continues to grow globally, this event allows Nike, Inc. the chance to celebrate the rich basketball heritage while giving young players and fans a chance to see their on-court heroes and cheer them on as they prepare for the 2014 FIBA Basketball World Cup in Spain.

To cap off the festival in Chicago, the 2014 USA Basketball Men's National teams will match-up against their counterparts from Brazil at the United Center.

The Jordan Brand tipped off the week with the opening of the Take Flight Chi XX9 Experience, a first chance for Chicago consumers to test the performance features of the Air Jordan XX9 and experience FlightPlate firsthand through trialing. A history of Michael Jordan's great moments, an installation by Chicago artist Hebru Brantley which featured a Jordan inspired "Fly Boy" and a community-sourced art wall, rounded out the experience and paid tribute the deep ties and shared history between the Jordan Brand and the city of Chicago.

Originally created in 2010 as a tribute to the performance and culture of the game, the Nike World Basketball Festival 2014 will expand to bring energy to the basketball communities in Spain as FIBA Basketball World Cup kicks off on Aug. 30.
>>>