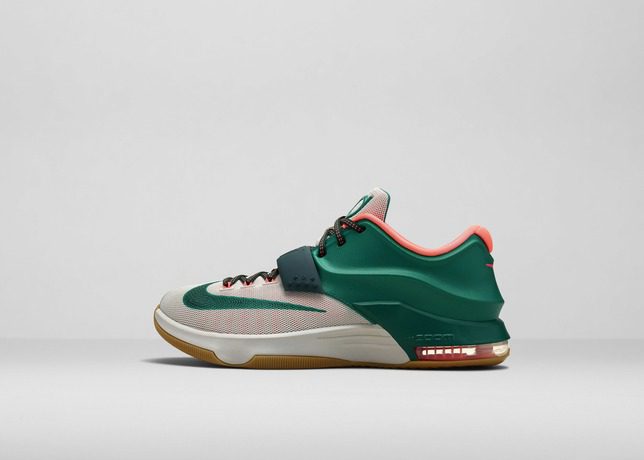 Courtesy of Nike
The KD7 fuses performance innovation with inspirations from Kevin Durant's journey on and off the court.  Durant's personal stories come to life through color-blocking, graphics and textures to tell stories that are personally inspired.

The Nike KD7 Easy Money connects the creative narrative around weather and lightning of the KD7 line with Durant's "Easy Money" nickname.

Legend states that inventor and statesman Ben Franklin used a metal key and a kite to prove that lightning is a stream of electrified air. Franklin's celebrated kite experiment in 1752 revolutionized the world's understanding of lightning and electricity.

Franklin's electrifying moment connects him to the KD7 line, and his prominence on the U.S. $100 bill reflects the green pops in the Easy Money colorway.

"With the KD7 we want to build strong storytelling," said Durant, basketball's reigning MVP. "Leo Chang and the team are always technically focused, but we also wanted to have some fun with the hidden stories that make me who I am."

Personal cues on each KD7 colorway include a silhouette of Durant's home state of Maryland embedded on the outsole; and the names of his mother Wanda, his grandmother Barbara, his father Wayne and his brother Tony on the forefoot strap.
>>>
BMF Hoops: Bringing you the best and latest in basketball footwear, sportswear, and equipment in amateur, NBA, and world pro hoops – only at Baller Mind Frame.