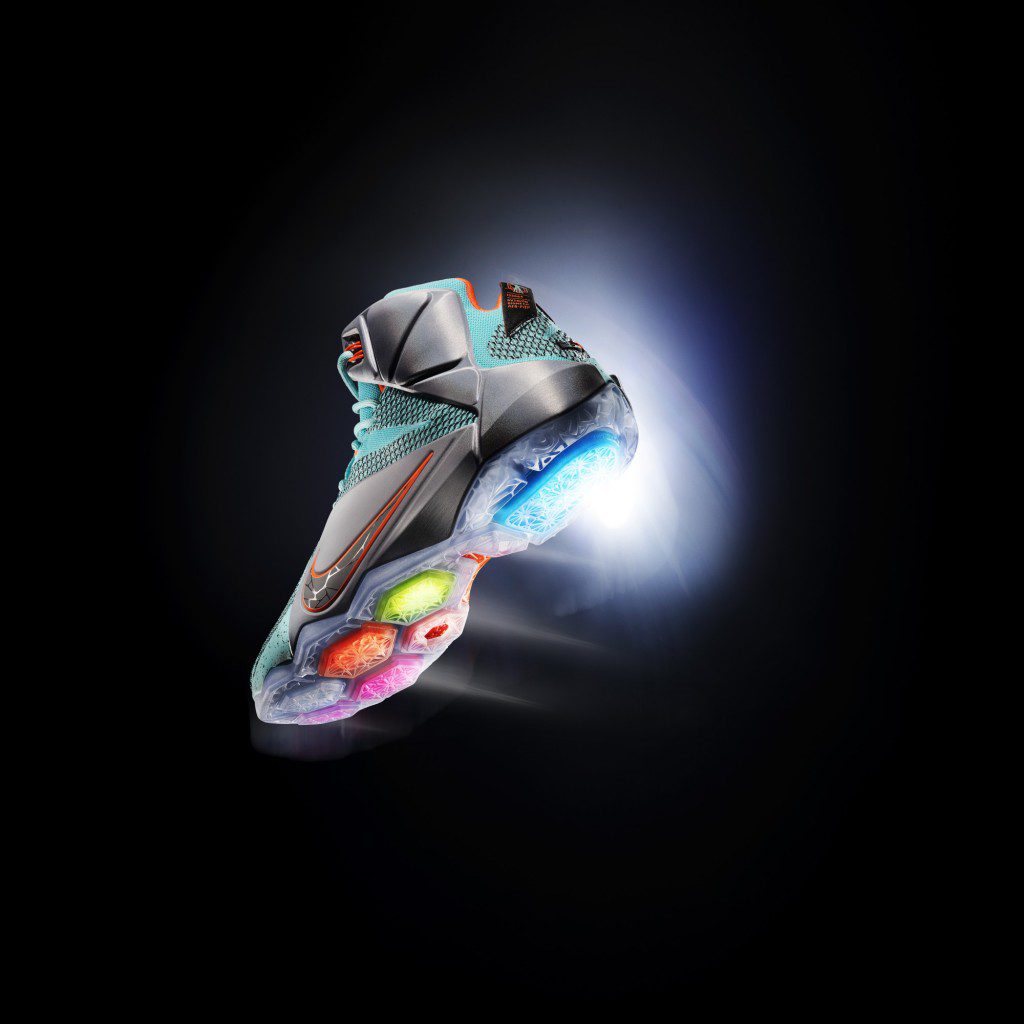 Courtesy of Nike
LeBron James showcases an extraordinary blend of strength, court vision, effiency and explosive speed while competing at basketball's highest level. His rare skill set requires innovative footwear tailored to the specifications of his multidimensional game.

The Nike LEBRON 12 is designed to enhance James's explosiveness while combining three key benefits: superior cushioning, harnessed support and natural flexibility.

"This is Nike at its best: we take the insights from a world-class athlete in LeBron James to inform forward-thinking designs and create the most innovative shoes," said Kelly Hibler, Nike Basketball VP of Footwear. "We've combined the art and science of engineering in the LEBRON 12 to advance the game of basketball's best player."

BORN IN THE LAB

Nike's Sport Research Lab provides the Nike Basketball design team with in-depth analysis on athletic performance and scientific testing. The LEBRON 12 was born in the lab, where scientific data and analysis substantiated the need for next-generation cushioning, support and flexibility.

This science-led insight was maximized for James while accounting for the diverse needs of athletes worldwide. The lead colorway, the LEBRON 12 NSRL, was inspired by the new shoe's genesis in the lab.

ACCELERATED EXPLOSIVENESS

Five visible, hexagonally-shaped Nike Zoom Air bags in the outsole of the LEBRON 12 enhance natural motion while providing accelerated explosiveness with each step. Nike Zoom Air delivers the same great cushioning it brought to footwear when first introduced to basketball in 1995; now the hexagonal Nike Zoom Air is mapped to the pressure points of the foot where it's most needed for basketball performance.

In tandem with the sole, the lightweight and breathable Megafuse upper is designed to act as a molded second skin that minimizes weight and amplifies breathability and comfort.

SUPERIOR SUPPORT

James runs approximately three miles per game, and the average player changes directions about 1,000 times over that distance, requiring supportive, comfortable footwear to withstand tremendous impact and torque. Dynamic Flywire cables provide lockdown support for James's unrivaled combination of speed and strength. The upper is constructed for a precise fit, with Hyperposite wings that deliver targeted support and protection.

The LEBRON 12 will be available in both adult and young athlete sizes globally on Nike.comand at select retail locations. It will also be available for customization on Nike.com/NIKEiD.
>>>
BMF Hoops: Bringing you the best and latest in basketball footwear, sportswear, and equipment in amateur, NBA, and world pro hoops – only at Baller Mind Frame.