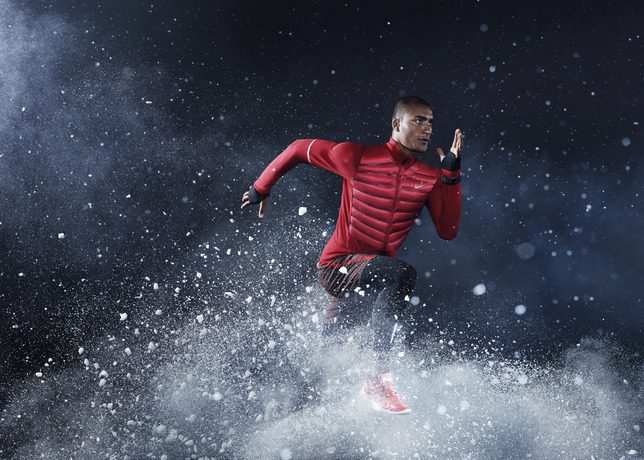 Courtesy of Nike
Running isn't a fair-weather sport. It's an all-weather sport. Running is lacing up morning, noon or night, rain or shine. It's sleet and slush and icy, slick surfaces. It's conquering the cold. Slogging through fog. Being headstrong in a headwind. Running is getting out there, being one with the world no matter what the weather, and not watching it fly by from behind a window. Running is whatever Mother Nature dishes out — and being able to take it in stride.

"I love the chance to train outside on a cold or rainy winter day," said Ashton Eaton, world record holder in the decathlon, who grew up in Central Oregon where winter temperatures can drop below freezing. "It's motivating to know you have the strength to get out there when not everyone else does. I layer up to make sure my body stays warm, and then I just focus on my workout."

Running never goes out of season, and that's why Nike's new winterized running gear features maximum warmth, breathability, reflectivity and wind and water resistance. This year's collection is designed to help keep runners visible, dry and warm to the core in wind, darkness, rain and snow. The perfect gear for imperfect conditions, it offers everything runners need to not just brave the elements, but embrace them.
NIKE FLASH PACK FOOTWEAR

For runners, the battle to beat the elements begins with the feet. To meet the challenges of running in harsh, unpredictable winter conditions, runners need footwear that will help keep them dry, warm and visible. The Nike Flash Pack delivers water resistance and 360-degree reflectivity.

The collection includes some of the most popular running styles: the new Nike Air Zoom Structure 18, the Nike Free 5.0, the Nike LunarGlide 6 and the Nike Air Zoom Pegasus 31. Each shoe allows runners to experience the performance features they expect with the added benefits of winterized protection. The uppers – made with tightly woven mesh or treated with durable water repellent (DWR) coating – are constructed to help runners stay dry. Reflective elements increase visibility in low light.

NIKE SHIELD FLASH MAX JACKET AND NIKE FLASH TIGHT

The shorter days and longer nights of winter mean more runs in low-light conditions. The Nike Shield Flash Max Jacket and Flash Tight are designed to help runners defy darkness and stay visible during winter workouts.

The jacket's reflective checker-dot pattern provides 360 degrees of reflectivity, and its breathable, lightweight Storm-FIT 5 water-resistant fabric is fully seam-sealed to block wind and rain. And because seeing in the dark is just as crucial for runners as being seen, its articulated, adjustable hood provides maximum coverage while moving with the runner.

The women's Nike Flash Tight's reflectivity wraps around the side of the legs to help ensure runners are seen from every angle. Its Dri-FIT fabric wicks sweat away to the surface where it quickly evaporates, helping runners stay dry and comfortable from start to finish.

NIKE AEROLOFT HYBRID JACKET

As any winter runner knows, often the enemy isn't the bitter cold — it's the heat. Too much build-up during a run inevitably leads to stopping and peeling off layers. Tested extensively in the Nike Explore Team Sport Research Lab and by elite runners, the Nike Aeroloft Hybrid Jacket is designed to help runners stay warm in cooler conditions without overheating. The jacket features engineered laser-cut holes between chambers of body-mapped 800-fill down insulation. The down fill provides lightweight warmth without compromising mobility, and the perforations provide ventilation, assisting the body's natural ability to regulate body temperature by dispersing excess heat. Nike Dri-FIT Wool sleeves composed of wool and polyester provide warmth with breathability, wicking sweat away from the body to the fabric's surface where it quickly evaporates. The Nike Aeroloft Hybrid Jacket helps keep runners warm, but not too warm.

NIKE RAIN RUNNER JACKET

Whether it's a drizzle or a downpour, the secret to running longer and farther in rainy weather is simple: Stay dry and cool. The Nike Rain Runner Jacket is designed to help runners log more miles in the rain and stay dry without overheating. The jacket's laminated nylon fabric is seam-sealed to be wind and waterproof (rated up to 10,000 millimeters), while bonded front and back vents help increase airflow and breathability. The jacket's sleek design incorporates articulated, nonrestrictive sleeves that follow the contour of the arms in motion and a removable hood that can be packed away in the back storage pocket.
>>>
BMF Running: Bringing you the best and latest in footwear, sportswear, and equipment in running and trail – only at Baller Mind Frame.