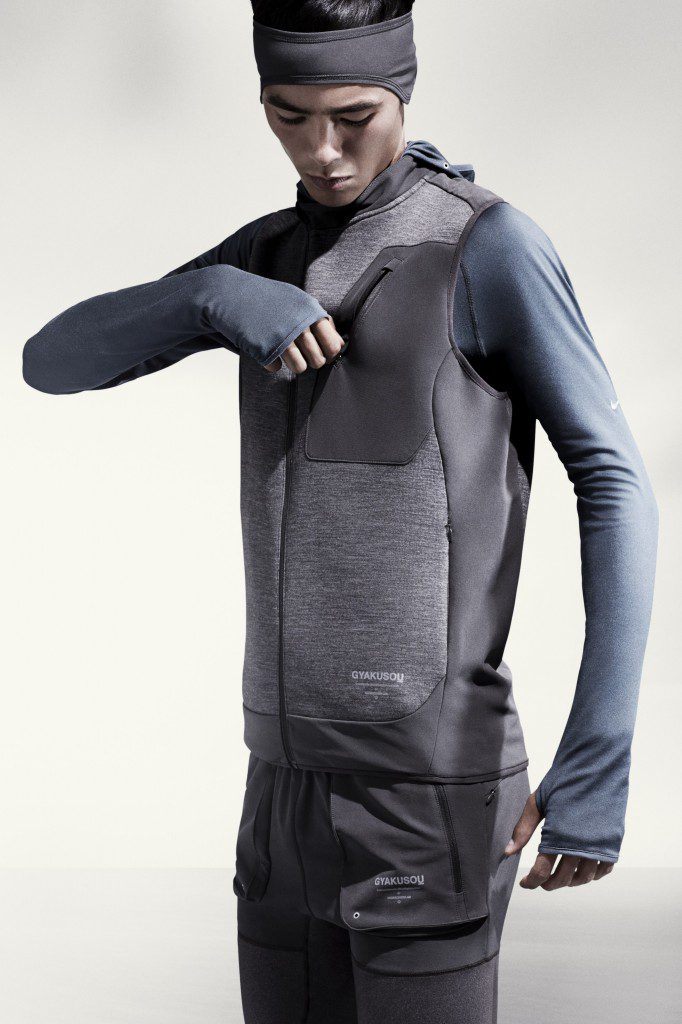 Courtesy of Nike | featuring the Nike x Undercover Gyakusou Holiday 2014 Collection
Mirroring Jun Takahashi's progressively more serious approach to running, this collection exponentially combines top Nike Running and Research Lab innovations with the designer's athletic insights — insights that could only come from a Tokyo runner and only from a designer of Takahashi's rare caliber. The results—which were rigorously tested by Takahashi and his GIRA running crew—signify a revolutionary rethinking of the modern running uniform.

Among these critical insights was Takahashi's desire to run wearing a single bottom layer, instead of in shorts over tights. But he didn't feel comfortable simply eliminating shorts because he needed pockets to carry his house keys, train pass and small change. This awareness led to the contemplation of what a running uniform might look like in 1,000 years—how it would mutate and evolve—and precipitated the creation of the Men's Utility Long Tights. An unprecedented combination of running shorts and running tights, they eliminate the bulk of two layers without compromising functionality or comfort. A looser fit on top incorporates pockets for the aforementioned essentials and recalls classic sport shorts, while the integrated full-leg coverage of tights provides necessary warmth.

This same forward-looking concept of mutation and evolution also infuses the men's and women's Engineered Sleeve Composite Jacket. Instead of using a single fabric to form the outerwear layer, the unlined jacket takes into account the multifaceted needs of the resolute runner and incorporates the multiple materials required to meet them. The body of the garment is constructed of a composite Storm-FIT that provides weather protection, whereas the sleeves and neck are formed from an engineered knit that allows for mobility and adapts to the arm in motion. A stand collar and sealed seams further combat the elements, while a key/coin pocket and laser-cut, concealed-zip hand pockets anticipate the runner's on-the-go needs. Moreover, laser-perforated underarm ventilation facilitates cooling while a laser-cut Gyakusou logo placed vertically along the back acts as an exhaust system, expelling body heat.

This groundbreaking jacket works in seamless conjunction with the men's and women's Dri-FIT Sweat Map Long-Sleeve Tops and Dri-FIT Sweat Map Short-Sleeve Tops. Originally introduced in the Gyakusou Spring 2014 collection, the performance shirts knit Nike Sweat Map ventilation into an engineered jacquard fabric to provide aeration where the body temperature is the highest. For Holiday 2014, the tops have incorporated articulated sleeves and a concealed hem pocket.

Additional tops include the men's Mesh Thermo Vest and 4-Way Stretch ½ Zip Hoody Top, which combines water-repellant jersey with practical details, including a chest media pocket, thumbholes and reflective Gyakusou logo on the hood. Meanwhile, both men's and women's collections include an Embossed Woven Hooded Jacket and Aeroloft 800 Vest.

Along with the Dri-FIT Utility Long Tights, men's bottoms include 4-Way Stretch Slim Long Pants and Embossed Woven Shorts whilst women's bottoms include Embossed Woven Shorts and Dri-FIT Long Tights.

Never one to overlook details, Takahashi has also designed an Outlast Knit Cap and Wide Head/Ear Band, both featuring reflective silver logos.

As always, the collection's palette reflects the designer's signature urban-rural sensitivity with understated city hues and natural tones. The men's collection features dark obsidian, deep smolder, black, dark armory blue, bog green, armory navy and dark grey, while the women's collection presents grand purple, vintage green and light bone.
>>>
BMF Running: Bringing you the best and latest in footwear, sportswear, and equipment in running and trail – only at Baller Mind Frame.