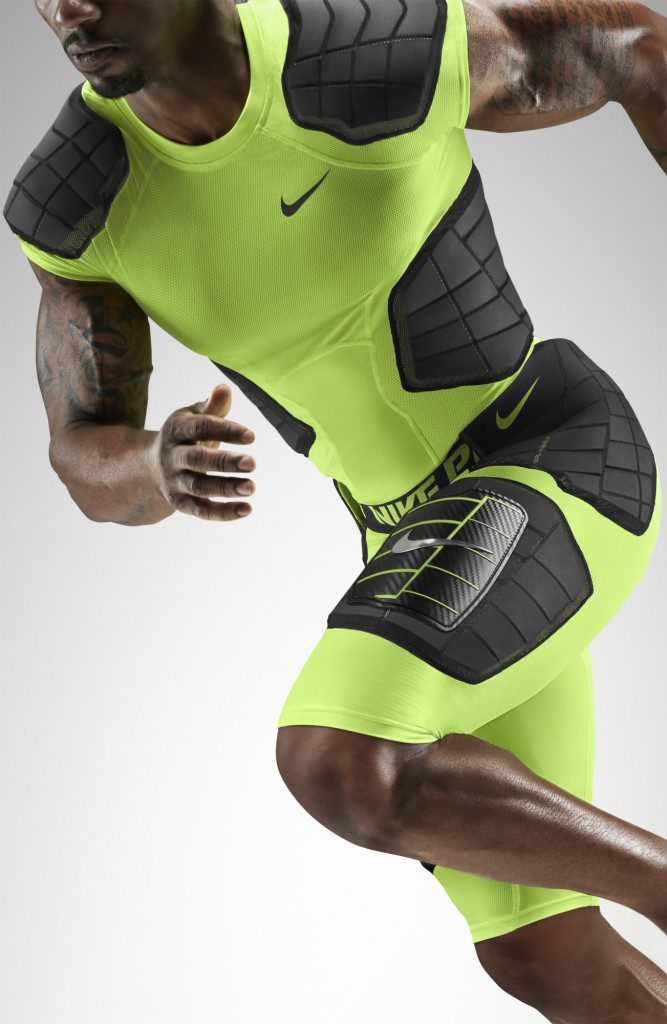 It's no surprise that the game of football is evolving and its athletes are not only bigger, but also stronger and more athletic. The sheer size of players has increased over the last four decades, as well as the pace and number of plays-per-game at all levels. Logically, the byproduct of an overall faster game means an increased amount of impact.

Impact has always been a part of the sport of football, and padded protection is imperative. Shoulder pads have been a part of the game since the beginning – and stronger pad mandates from pee-wee to pro stress the importance of player protection. To that end, Nike has developed the industry standard for innovative padding systems, and has re-engineered the concept of padding in order to help protect and prepare athletes for the game of football.

Over the past two years, Nike partnered with Stats, Inc. for an unprecedented analysis and look inside football's significant uptick in pace and contact across all levels of the game. Using a proprietary database, historical play frequencies and balance charts were created to help analyze how the game is changing. In addition, countless hours of game film were used to quantify and specify contact – both in frequency and location.

Stats, Inc looked at a cross section of NCAA teams over the course of the 2012 and 2013 seasons, as well as six areas of an athlete's body: shoulder, chest, hip, knee, thigh and back.

THE FINDINGS

Proportionally, Quarterbacks endure more impact above the hips – mostly to the chest and ribs. In fact, the shoulders – arguably the most well-cushioned part of a football player's body – continue to be the primary area of impact for all positions. To this end, the Nike design team created the Nike Pro Combat HyperStrong 3.0 "Quarterback Cut" Shirt with padding placed in key areas of impact around the ribs and shoulders.

Running Backs continue to absorb the most amount of contact of any skill position while Tight Ends, an inherently hybrid position, receive more contact to the lower half of the body where thigh and knee padding is a must. To that end, Nike partnered with leading researchers to create a proprietary testing method for padding. The team also created an artificial surrogate thigh in order to understand and mimic human tissue when wearing, and not wearing padded protection. The Nike Pro Combat Hyperstrong Short and Nike Pro Combat Hyperstrong ¾ Pant integrate DeTech foam directly into the baselayer along with additional hard plate padding in these areas.

Of note, the amount of contact to the back of an athlete increases as you move further outside the Center position. Therefore Wide Receivers receive the most contact to the back in terms of frequency, while Centers receive more contact to the upper body.

NIKE PRO COMBAT HYPERSTRONG 3.0

Over the years athletes have said that they want lightweight padding that isn't distracting – without sacrificing speed or performance. Pads have gone from "big and bulky" to "fast and flexible," just like the athletes. Originally launched in 2009, Nike Pro Combat Hyperstrong is ergonomically designed to provide sport-specific protection to athletes without restricting flexibility or speed. Today, Nike has re-engineered its Nike Pro Combat HyperStrong collection to be stronger, more breathable, and 30 percent lighter than before. Hyperstrong is designed to integrate seamlessly into the football uniform as a lightweight extension of the body.

Lightweight DeTech padding integrated directly into the baselayer by strategically placing it in areas of high impact such as hips, shoulders, knees, thighs, ribs and back.
30 percent thinner DeTech foam with the ultimate in lightweight protection.
Ultra-durable mesh for better breathability and lasting strength.
Compression fit for a flexible locked-in feel.
Siping within the padding provides contoured body mapped mobility and flexibility.
360 degree stretch mesh for added ventilation.
Dual-density EVA foam for added impact absorption while offering a PE foam grid for additional impact coverage. In addition, Nike Pro Combat is made with Nike Dri-FIT performance fabric to help wick moisture and provide superior air permeability.

Nike Pro Combat HyperStrong product can be found on www.Nike.com.
>>>
BMF Gridiron: Bringing you the best and latest footwear, sportswear, and equipment in collegiate and NFL football – only at Baller Mind Frame.