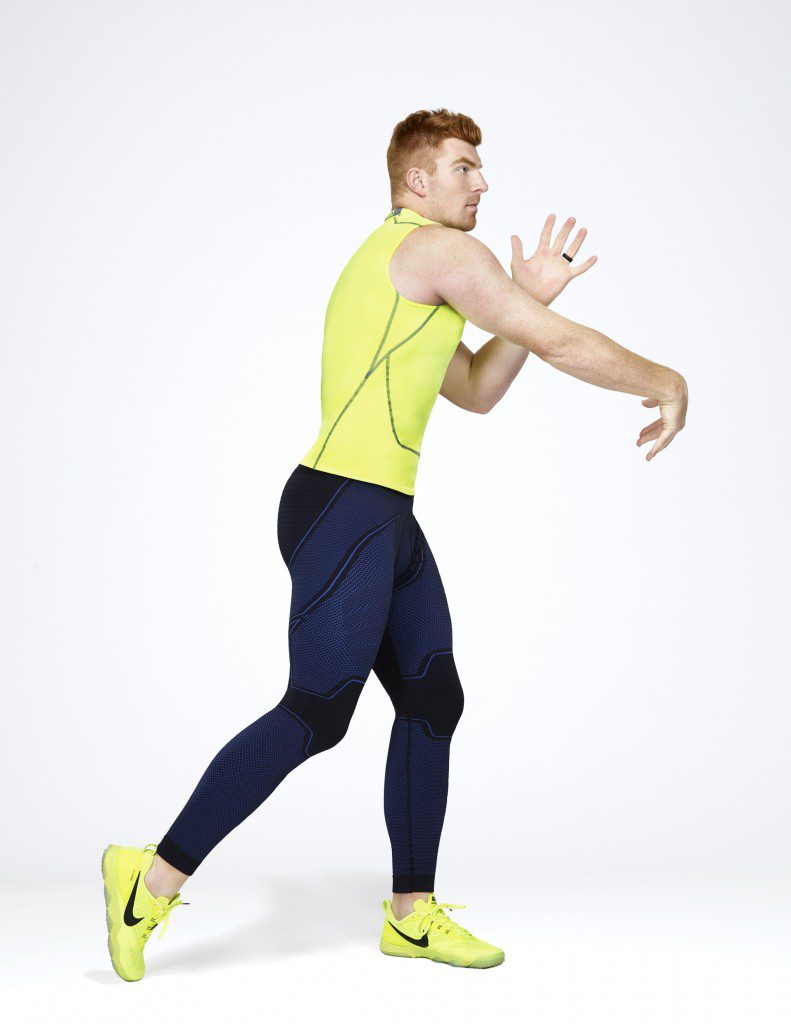 Athletes encounter opposition in many forms – both on the field and in training. The elements — extreme heat and cold, wind and precipitation – also prove to be worthy competition during morning runs, playoff runs and athletic feats in-between. Additionally, the impact athletes endure from outside forces is another barrier on the road to success.

Quarterback Andy Dalton, snowboarder Sage Kotsenburg, hurdler David Oliver and hockey captain Dion Phaneuf, with their varied competitive and training performance needs, are prepared for the challenge.

Based on data-driven athlete insights from the Nike Explore Team Sport Research Lab, Nike Pro Combat baselayer innovations protect athletes from the inside-out in every condition, locking out the elements to lock in performance. Through key insights on thermoregulation, physiology, sensory perception and recovery, a number of key innovations help athletes to win the day:
The Nike Pro Combat Hyperwarm Flex Tight is engineered for warmth and moisture-wicking. Dri-FIT pods are strategically placed for zoned warmth where you need it most. Breathability-variant mesh areas provide strategic ventilation for optimal thermoregulation. Seamless knit construction adds mobility and flexibility while also eliminating distraction in cold-weather conditions.

The Nike Pro Combat Hyperwarm Dri-Fit Max Shield Fitted Mock keeps out rain and wind through a stretch-woven overlay in the chest and sleeves.  Dri-Fit Max fabric wicks sweat for comfort in the cold.  Mesh back pods increase airflow to keep you cool.

The Nike Pro Combat Hyperwarm Dri-Fit Max Mock implements a Dri-FIT Max twill interior to accelerate the pull of moisture away from the skin's surface, keeping the body dry and eliminating the chilling effect. Side mesh gussets allow for extra breathability and full range of motion, while lightweight jersey panels help reduce bulk and lock in warmth.

The Nike Pro Combat Hyperstrong 3.0 Compression 4-Pad Top and ¾ Pant is part of Nike's sport-specific range that includes strategically placed padding for impact protection. With newly-designed, ultra-flexible 7mm DeTech foam padding at the shoulders and ribs, it provides maximum protection and less bulk than its predecessor.  Dri-FIT fabric wicks away sweat as four-way stretch material provides enhanced range of motion and optimal breathability when the action heats up.

The Nike Pro Combat Hypercool Fitted Sleeveless 3.0 Top features open-mesh zones for ventilation and Dri-Fit fabric to help keep athletes dry and comfortable.  Warp-knit material in the back creates tear-resistant durability.

The Nike Pro Combat Recovery Hypertight is designed to be worn during active recovery, in between competition. The graduated compressive design strategically targets different zones of the leg at different pressures to reduce muscle swelling — firmest at the ankle where swelling can be the most severe. Foot stirrups are integrated for a secure fit. Dri-FIT material assists in keeping athletes warm and dry.
>>>
BMF Training: Being a baller isn't just about what you've done in the box score – it's about how you prepare to ball when you're away from it. BMF Training is about bringing you the latest in training footwear, apparel, and equipment that can help you raise your game and also give you insight into what the best athletes are wearing in preparation for their battles on the big stage.