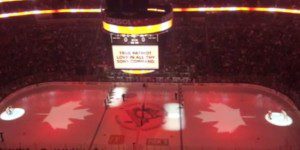 In the national capitol of Ottawa, Ontario Canada there was a shooting on October 22nd 2014. An army reservist from Hamilton Ontario was killed as he was on duty as part of a ceremony. This has nothing to do with sports.
Later that day the Pittsburgh Penguins played host to the Philadelphia Flyers. In a true showing of class the Pittsburgh arena was draped in white and red and the Canadian national anthem was sung, despite no Canadian team being present. This has nothing to do with sports.
I am a Canadian. I live in Toronto, and while these events were not too close to home they certainly caught my attention and impacted me as a human being. I am not sure how much media coverage these events have received down in the United States. I am not sure if many of the people (fans, players or coaches) in Pittsburgh were even aware of events that happened earlier that day. I am sure that to the Canadian players on both teams (including captains Sidney Crosby and Claude Giroux) that this act meant something, something that has nothing to do with sports.
Sport is meant to drive the best out of you through competition. You are supposed to run your fastest, skate your hardest, throw and pass and catch to the best of your ability. We often overlook the team aspect, and that sometimes your best is being supportive of your team mate, on the playing surface and off it. On behalf of all Canadians I wanted to thank the Pittsburgh Penguins for their kind and supportive act last night. It had nothing to do with the sport, and at the same time reminded us that we are all part of the same team.