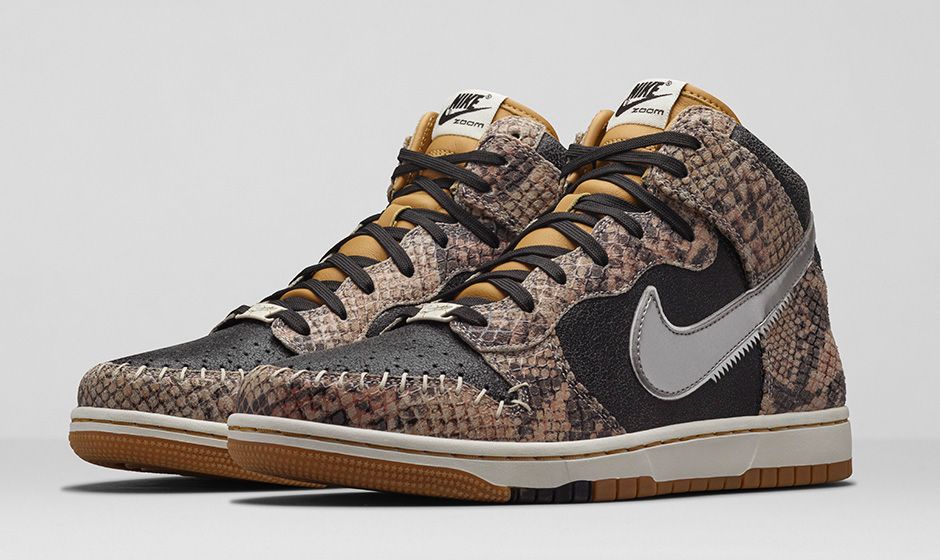 DUNK CMFT PREMIUM: COMFORT DOWN UNDER

The Dunk CMFT PRM goes down under for inspiration with a retooled silhouette that offers unprecedented comfort. The design employs a molded Ortholite sock liner–7mm thick–inside a slimmer last, reducing bulk to highlight only what's essential. Comfort is further emphasized with a lightweight Phylon midsole—showcased within a cutout rubber outsole—and a Zoom Air unit in the heel. Additionally, memory foam in the collar and tongue conforms to your foot, allowing the Dunk to further form to your every step.

Design-wise, the Dunk CMFT PRM has also been reimagined. Featuring a distressed black leather upper, the shoe is wrapped in reptile-inspired overlays, mimicking a crocodile wrangler's tonal, leather-clad outfit. Stitching along the reflective toe box and a bone-tinted dubrey reflects the jagged contours of a crocodile's piercing teeth and powerful bite. A serrated metallic Swoosh cuts across the medial and lateral sides of the design, making the legendary profile as dangerous as the wrangler himself.
>>>
BMF Style: The Baller Mind Frame is more than the ball – it's the lifestyle that surrounds the ball. BMF Style brings you the best styles in sportswear, fashion apparel, and accessories for when you're away from the venue of play, whether you're checking for new gear or for your favorite athletes' pieces outside of the locker room.