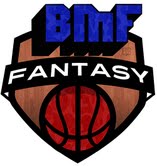 We're two weeks into the 2014-15 fantasy basketball season. Most players have now logged anywhere between five to seven games. While that is a very small sample size, relative to a full 82-game regular season, there have been enough games played for us to begin assessing players' current progress and shed some insight as to their potential production moving forward. To help you out in this analysis, Baller Mind Frame is proud to announce the launch of its NBA Player Rater for fantasy basketball. It's the brainchild of a former co-blogger of mine, Patrick Madden. The rating system he developed is called "WARP," which stands for Wins Above Replacement Player and is a measure of the number of wins a player is better (or worse) compared to the average replacement – or waiver wire – player in a head-to-head fantasy leagues. The Rater is a tool which is best used to assess players for leagues playing in the head-to-head format, but can also be utilized by team managers who play rotisserie as well. Aside from the player rater itself, which ranks the top NBA players, there is also a Team Analyzer, which lets you input your league's settings and see how your team stacks up. It can also help you assess your team's category needs and guide your trades and free agent add-drops accordingly.
Here is a link to Baller Mind Frame's awesome Player Rater.
Guided by our Player Rater, I made some assessments of players per position. I have to repeat. though, that these early ratings are based off a small sample size. That said, I felt it was time to weigh in on the fantasy basketball action.
Point Guards
There's no surprise that Stephen Curry is leading in the rankings so far. His 27.6 points, 7.2 rebounds, 6.6 assists, and insane 3.2 threes per game are enough to make him a excellent asset in fantasy. But if you factor in his ridiculous 49.5 field goal percentage (for a shooter), then he's just over the top!
Brandon Knight is ranked sixth among all point guards. His ranking is currently bloated by his uncharacteristic 6.4 rebounds per game. Don't expect his 0.73 WARP score to hold up for the entire season. He is a definite sell-high candidate right now.
Owners should expect the "three is a crowd" situation in Phoenix to frustrate them every now and again. It is clear that there aren't enough opportunities for Eric Bledsoe (0.42), Isaiah Thomas (0.37), and Goran Dragic (0.04) to all produce at great levels while they share the team's backcourt. Dragic initially was getting the losing end of the three-way time-share, but his last couple of games showed signs of his return to 2013-14 form (or close to it). Thomas, who came from a wake, suffered in the first outing, while Bledsoe was the one who ended up disappointing owners in the second. Despite the inconsistencies, which these players may end up bringing to the table, their positives still make them must-own and must-start assets in fantasy.
Both Tony Wroten (0.62) and Donald Sloan (0.34) are taking advantage of injuries to the primary starters of their teams. Expect their production to take hits once Michael Carter-Williams and George Hill return to action, respectively. Until then, enjoy the brief increase in their production.
The recent injury to Minnesota Timberwolves point guard Ricky Rubio, who is expected to miss seven to eight weeks,  has sent managers to the free agent pool in search of both Mo Williams and rookie Zach LaVine. LaVine drew the start over Williams, and managed to play 26 minutes. He's going to provide some inconsistent production, as most rookies do, but his youth and athleticism give him a higher upside than the veteran Williams. I went and grabbed LaVine in several leagues, but I am not expecting him to wow me from the get-go, and I do know owning him will require some patience on my end. That said, I'm ready to drop him for a hot free agent who shows off a good four-game run.
Shooting Guards
James Harden (1.21) is killing it in fantasy and his production has translated into the Houston Rockets' impressive start this season. So far, so good for The Beard.
Both J.J. Redick (0.09) and Arron Afflalo (-0.04) got off to rocky starts, but they should come around soon enough. They are both legit buy-low candidates at this point.
Jeremy Lamb (0.05) has logged his first two games of the season and considering the Oklahoma City Thunder's current injury woes, he's worth a short-to medium-term add, at least until the gets more warm bodies on his roster. He should produce some points and a some threes, but be warned that he has had a history of inconsistency and should be assessed on a weekly, if not daily, basis.
Garrett Temple (0.43) had a few good games in the absence of the injured Bradley Beal. However, Temple burned his owners over the last couple of games. With Beal expected back some time in late November, feel free to drop Temple for a hot free agent.
Speaking of hot free agents, Tim Hardaway Jr. has put together a couple of good games as a starter for the Knicks. He's still more of a three-point specialist, but could be a more stable alternative to, say, a frustrating Dion Waiters (who said spot-up shooting was not his thing).
Small Forwards
So far, three-point shooters are dominating this position in fantasy. Kyle Korver (0.94) and Trevor Ariza (0.79) are doing serious damage from beyond the arc. The fact that they contribute in other statistical categories, just serves to raise their value.
Both Chandler Parsons (0.30) and Carmelo Anthony (0.19) are off to slow starts. Parsons is still acclimating to his new team, while Anthony doesn't seem able to adapt to New York's new triangle offense. Both forwards should end up performing better, albeit probably not up to 2013-14 season levels.
The return of Rajon Rondo and the improvement of his teammates, appears to have been a boon to Jeff Green (0.82), who is flourishing right now. As long as he doesn't have to carry the entire load of scoring and doing everything else, Green should remain a solid across-the-board stat contributor for the rest of the season.
Charlotte's Michael Kidd-Gildchrist (0.02) has been a pleasant surprise, showing improvement that his cult fans in fantasy (all three of them) have been waiting for all these years. Because of the small sample size, it's still hard to tell whether or not MKG can sustain this new-and-improved version of himself. He's worth an upside-add for now, but be ready to cut him if he regresses.
Power Forwards
It should come as no surprise that Anthony Davis (1.66) is competing neck-and-neck with Curry for top player honors in fantasy basketball. His well-rounded game makes him an incredibly valuable asset in both head-to-head and rotisserie formats.
Jared Sullinger (0.63) looks like he has put his 2013-14 injury woes behind him and is off to an excellent start this season. The addition of the three-point shot to his arsenal has only served to boost his value.
Paul Millsap (0.21) is disappointing owners who drafted him in the second round this year (yours truly among them). He's likely still adjusting to the return of Al Horford, with whom he now has to share the paint. Paul is still a good source of steals from the power forward position and is capable of bouncing back. For those reasons, Millsap is a worthwhile buy-low candidate. Find a disgruntled owner and you might just be able to get him at a discount.
Both Shawne Williams (0.43) and Ed Davis (0.32) have emerged as functional plug-in power forwards, depending on your team needs. Don't expect them to keep you smiling all season, so enjoy their production for now. Williams' value should steadily decline as Josh McRoberts gets back into playing shape.
Centers
DeMarcus Cousins is currently the best center in fantasy in basketball with his WARP score of 0.84. He's coming in averaging 23 points, 11 rebounds, 1.4 steals, and 1.4 blocks per game. Love it!
Marc Gasol (0.72) is enjoying a bounce-back season so far. He's been solid pillar for both the Memphis Grizzlies and his fantasy owners. If he stays healthy, he should be able to remain a top-20 player in fantasy for the remainder of the season.
Roy Hibbert (0.58), notorious for his good starts and penchant for disappearing on his owners in the second half of the season, is at it again. The hope that he can maintain his current level of production definitely makes it tempting to keep him on your roster for as long as possible. That said, if someone comes knocking with an offer too good to refuse, then you probably shouldn't.
Joakim Noah (0.25) has not impressed his owners this season, but that's because he was dealing with an injury. Once back to 100 percent, he should be a good source of assists, boards, and blocks once again. That is, until he goes down again with another random injury.