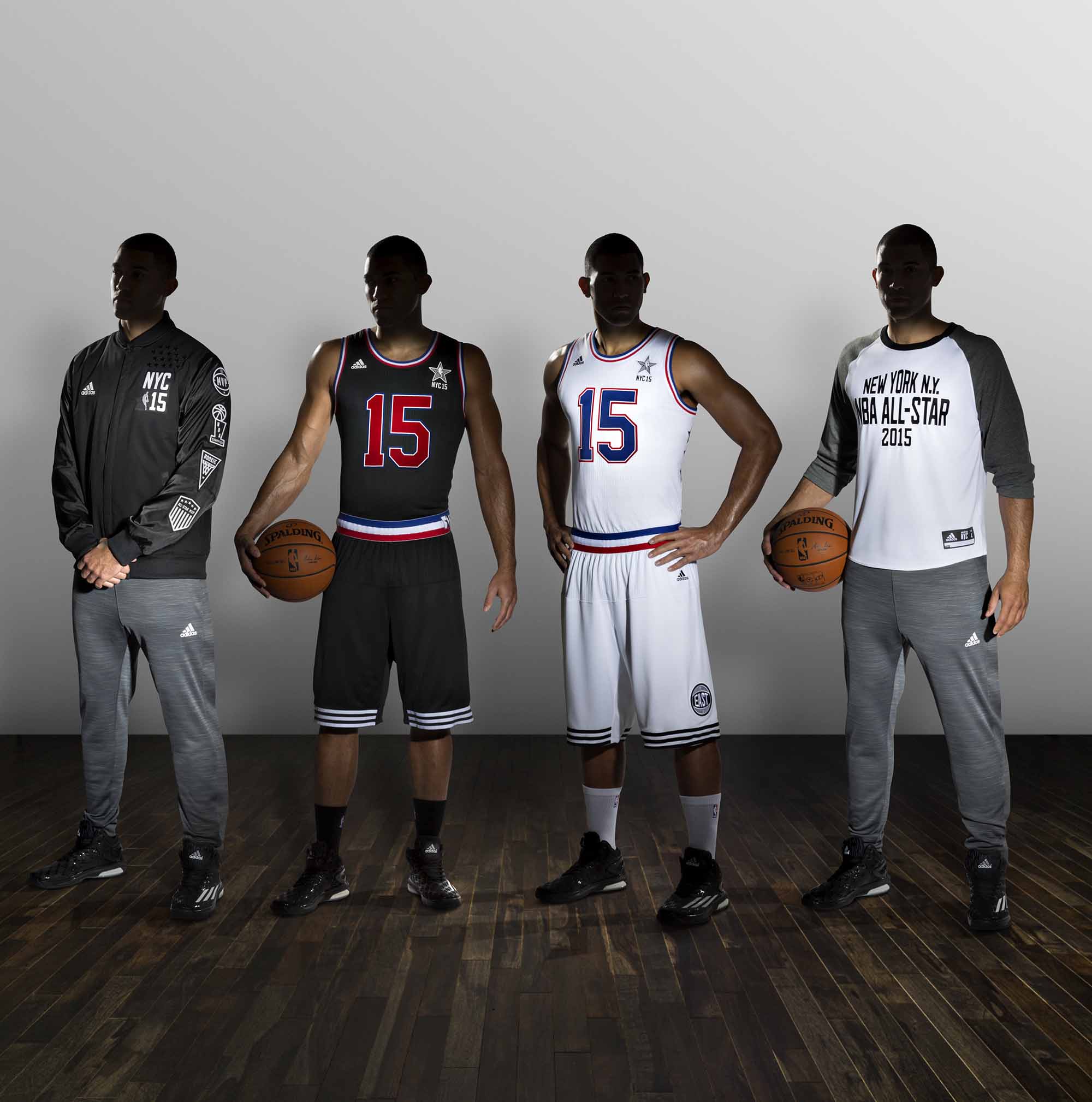 Courtesy of adidas
adidas, the official on-court apparel provider for the National Basketball Association (NBA), today unveiled the uniforms and apparel for the 64th NBA All-Star Game on Feb. 15 in New York City.

Designed by adidas, the uniforms pay tribute to New York City's basketball history and unique boroughs while personifying the city's legacy as the mecca of sports, music and fashion. The clean, timeless design is inspired by classic sports uniforms and barnstorming basketball teams from the early 20th century.

The jerseys feature a side panel of five stars, each representing New York City's five boroughs with a unique pattern:

o Queens: a pattern inspired by the stainless steel orbit rings of the borough's iconic Unisphere that was built for the 1964 World's Fair at Flushing Meadows – Corona Park

o Staten Island: a wave pattern to signify its surrounding waters

o Manhattan: a taxi-cab checkered pattern represents the pace and energy of the world's most cosmopolitan city

o The Bronx: a vinyl record pattern to pay homage to the birthplace of hip-hop and the rich musical legacy of New York City

o Brooklyn: a brick pattern inspired by the iconic brownstone houses and buildings that make up the neighborhoods of the city's most populous borough

"The NBA All-Star Game is a celebration of the host city and basketball culture, and this year we created our most detailed and sophisticated uniforms to date that pay homage to New York and All-Star weekend," said Chris Grancio, adidas global basketball general manager. "We took inspiration from all five boroughs, in addition to the rich basketball and cultural heritage of the city, to provide a memorable collection for players and fans."

The Eastern Conference NBA All-Star uniforms feature black name lettering and blue numbers while the Western Conference uniforms bear white name lettering and red numbers. Herringbone detail on the East/West patch and jock tags pays homage to the Barclays Center court, and the New York Knicks font is used for player name and number. For the first-time in an NBA All-Star Game, player first and last names are featured on the back of the jersey.

The All-Stars will wear black, gray and white fitted warm-ups that feature satin accents and military-style star patches to celebrate the number of NBA All-Star appearances for each player. Each player's jacket will be customized with patches to represent the game's top individual accolades including NBA Most Valuable Player, NBA Rookie of the Year, NBA All-Star Game MVP and NBA Championships. The on-court warm-ups also include a three-quarter-sleeve shooting shirt and tapered pant.

NBA All-Star jerseys ($80 – $110) will be available on NBAStore.com and NBA Store on Fifth Avenue in January in addition to a full range of NBA All-Star apparel from adidas including adult and youth t-shirts ($22 – $30), track jackets ($80 – $250) and headwear ($16 – $26). Select NBA All-Star merchandise will also be available internationally on NBAStore.eu, NBAStore.cn, NBA.JD.com and LojaNBA.com.
---
BMF Hoops: Bringing you the best and latest in basketball footwear, sportswear, and equipment in amateur, NBA, and world pro hoops – only at Baller Mind Frame.