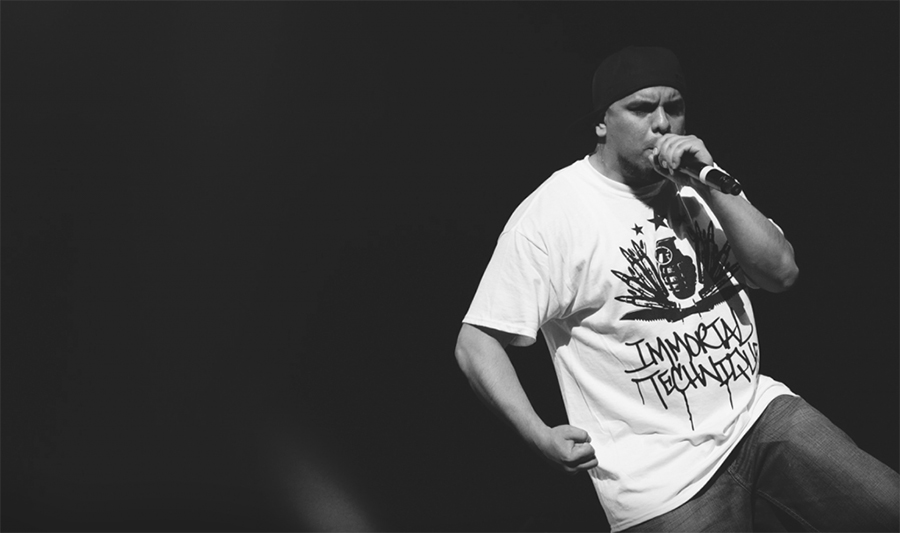 Underground rap is a term whose definition shifts depending on who you ask. Generally, however, it's a subset of hip hop that features gritty, lyrical content that relies more on the quality of the lyricism than the radio value or catchy nature of the beat. Compared to mainstream rap, the underground sound has an aggressive edge. A certain hunger and ferocity is present. In this subset, here's a look at ten of the best underground rappers out there.
Immortal Technique
This beast is possibly the most recognized rapper in the underground. Born in Peru and raised in Harlem, New York, his social justice message and anger toward the broken system glare on each song. In the early 2000s, Technique rose to fame with his two albums, Revolutionary Vol. 1 and Revolutionary Vol. 2. The level of lyricism is remarkably high on these albums. Since these legendary underground songs dropped, Technique's remained steady with The 3rd World and The Martyr. He's also a reliable feature on underground tracks of fellow artists. Technique's a mainstay in the industry who has maintained popularity since breaking into the game.
Vinnie Paz
The primary member of underground group staples, Jedi Mind Tricks and Army of the Pharaohs, the heavyset Paz has pipes capable of striking fear in the devil himself. His voice commands every track and his intricate rhyme schemes provide fans with unmatched quality. Most of his body of work has been produced with his respective groups. Over the last few years, Paz has used his popularity to break through with individual music. 2010 saw the release of Season of the Assassin, a perfect showcase of Paz's wordplay and hunger. In 2012, he dropped God of the Serengeti, which proved this group legend can also kill it independently.
Apathy
Arguably the second most followed figure of Jedi Mind Tricks and Army of the Pharaohs behind Paz, Apathy is known for a fast-paced style. Hailing from Connecticut, the witty Apathy gained fame with 2006's release of Eastern Philosophy, a brilliant solo record. He recently came out with Connecticut Casual, another independent album release that was scheduled around that of In Death Reborn, an Army of the Pharoahs CD that showed Paz and Apathy in top form. While not as monstrous independently as Paz, Apathy's solo content is enjoyable. He works better though in a group where his machine gun flow can bounce off other fast-paced rhymers.
Diabolic
Diabolic might be the most formidable rapper in the underground. Brought into the game partially through Immortal Technique, Diabolic is another New York rapper who achieved status in the battle scene. He comes from a freestyle era where battles were more improvisational than rehearsed. Nowadays, he's viciously producing independent music. He put out The Foul Play Mixtape in 2006, but Liar & A Thief and Fightin' Words are more recent releases. Both can make a claim as the top underground album of the 2000s. His lyricism even surpasses Immortal Technique's and his delivery holds its own with the likes of Paz.
Tech N9ne
This inclusion could warrant debate as Tech N9ne's level of success might deem him out of the underground. However, it can be reasonably argued that his sound, commitment to lyricism, and lack of play on the radio make him an underground rapper. The Missouri-raised musical lunatic has a lightning style that makes Apathy look cautiously deliberate. His live shows are considered outrageously entertaining and he's released 14 overall albums since 1999. That makes him the most consistent rapper on this list in terms of regular content. Tech N9ne's hardcore style has solidified him a committed following of loyal listeners.
G-Mo Skee
This Bay Area rapper hasn't developed a cult following quite yet, but the inappropriate and unafraid G-Mo Skee is on his way to becoming an underground staple. With a series of explicit and lyrical music videos running through YouTube, plus a collection of impressive cyphers also flooding the web, G-Mo Skee is an underground gem. He leads Inf Gang, an underrated Bay Area group who have performed live alongside Apathy and Celph Titled. G-Mo Skee has also produced music with Paz and Paz himself has stated his admiration of the upcoming star. G-Mo Skee is a simple YouTube search away from becoming one of your favorites.
Ill Bill
Another New York artist, Ill Bill is still killing songs even into his 40s. A legend with album features including Raekwon, Tech N9ne, and Immortal Technique, Ill Bill has maintained consistency for years. Two of his better solo albums are The Hour of Reprisal and The Grimy Awards. He also has various YouTube videos pushing millions of views. From songs that are soulful to straight up bizarre, Ill Bill never lacks for creativity. He's possibly the most dynamic and lyrically diverse rapper out of anyone on this list. On top of his abilities with a mic in his hands, he's also a businessman who owns a record label, Uncle Howie Records.
Andre Nickatina
Nickatina has been ferociously active since the 1990s. Previously rapping under the name Dre Dog, Nickatina released gritty music in the early 90s to get his career started. A few years down the road, he changed his name to Andre Nickatina and is now regarded as a Bay Area legend with a following that has national reach. Tears of a Clown, his 1999 release, is one of the greatest albums in underground history. Featuring beats that suit his style and channeling a laid-back delivery, Nickatina flows with ease. His songs have replay value because they have the underground sound without the need for relentless aggression.
Jus Allah
Jedi Mind Tricks and Army of the Pharaohs haven't been the same since Jus Allah left for unknown reasons. With public denouncement of his former groups on Twitter though, it's clear that a rift caused the split. Make no mistake, despite being in the shadows the last couple of years, Jus Allah remains a monster. His violent and forceful style combines nicely with a detailed rhyming ability. The world is waiting on Meanest Man Alive, his long rumored second solo album following the staying power of his first, All Fates Have Changed. Until then, his old stuff can be bumped as we hope he drops fresh content in the near future.
Sean Price
Price is another one of the multiple rappers on this list doing damage in his 40s. As a member of groups Boot Camp Clik and Random Axe, Price has a mixture of independent content and collaborative gems. He's also the kind of name who creates excitement when featured on other songs. Some rappers pack it in and don't put forth maximum effort on features, but Price has equal hunger no matter what verse he's choosing to bless and destroy. Mic Tyson is Price's strongest independent work, but don't sleep on Monkey Barz, his debut album. With the lyricism of Apathy and flowing style of Nickatina, Price is a well-rounded rhymer.