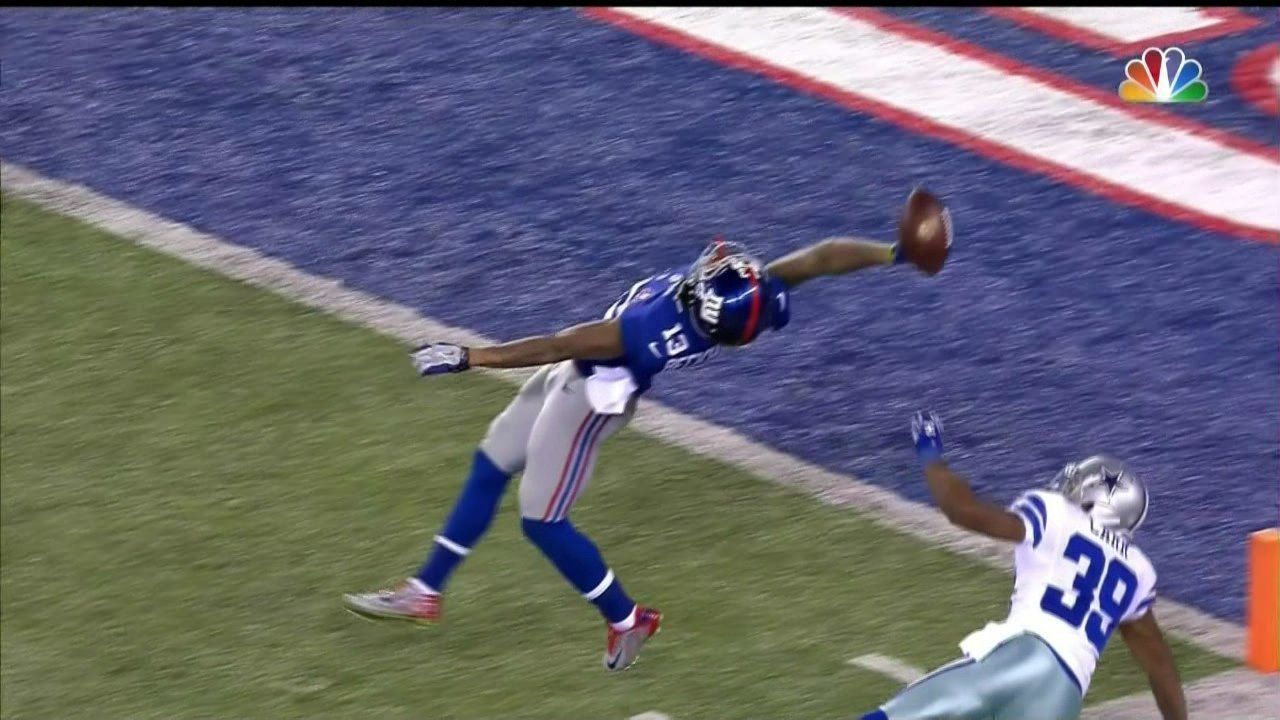 The NFL season has wound down and now only one week remains. If you pay any attention to my NBA journalistic endeavors, you'd know that last week I broke down the NBA's MVP race in completely premature fashion. Well, before the NFL season began I promised myself that I would patiently wait for the end of the year to make any award proclamations. O.K., that's a lie. The only thing I promised myself before the season was that if the Chicago Bears made the Super Bowl, I would get tickets regardless of how much they cost. That would turned out really well, didn't it? Anyway, I just never mentioned any of my imaginary votes for real or imaginary awards throughout the season, so now seems like as good of a time as any to do so.
Most Valuable Player: Tony Romo
Tom Brady could win. J.J. Watt would win this if quarterbacks weren't held in such high regard. Aaron Rodgers will win. And Tony Romo should win. Don't get caught up in the fact that Romo is 14th in passing yards going into the week. That number is deceiving. Here are the figures to pay attention to for Romo's MVP case:
11-3 as a starter
32 touchdowns (tied for 5th best in league)
4 to 1 touchdown to interception ratio (2nd best in league)
8.0 touchdown percentage (best in the league)
8.5 yards per attempt (best in the league)
70.3 completion percentage (best in the league)
114.4 Quarterback Rating and 82.3 QBR (both the best in the league)
Three 4th quarter comebacks and four game-winning drives
The numbers are all fine and good and they paint a picture that should justify why Romo should win the MVP. You also have to consider the expectations many had for Dallas before the season. You can't forget that Romo has played through the majority of the season with a screwy back, or that he's a perfect 7-0 on the road—including a win in Seattle—and has an 18 to 1 touchdown to interception ratio in those seven games.
Romo's case is obviously strengthened because he finally has a semi-consistent defense, a consistent offensive line and more important than anything else, the best running game, spearheaded by DeMarco Murray, that keeps defenses on their toes and unable to key in on Dallas' passing game. But none of that should take away from the fact that Romo has been MVP worthy all season long and Dallas definitely wouldn't be the NFC East champions if nearly any other quarterback were under center this season.
Defensive Player of the Year: J.J. Watt
This is the NFL equivalent of LeBron James' 2013 NBA MVP season. The vote should be unanimous in favor Watt, and yes, the MVP talk is justified. Quarterback is the glory position, but J.J. Watt is a top five candidate in any world where rational human beings are living.
Rookie of the Year: Odell Beckham Jr.
A case can be made for Derek Carr, Jeremy Hill, Sammy Watkins, Teddy Bridgewater, Mike Evans, Chris Borland or Johnny "Arena Football" Manziel (just kidding), but not one of those guys did this:
https://www.youtube.com/watch?v=sEb4hK73OoQ
Game of the Year: Denver Broncos at Seattle Seahawks
This game was the one that we wanted in their Super Bowl XLVIII matchup. Denver's offense was all bottled up in the 1st half and Seattle took a 17-3 lead at CenturyLink Field. Denver scratched and clawed their way to a comeback in the 2nd half that was capped off by a Peyton Manning touchdown pass to Jacob Tamme, along with a two point conversation pass to Demaryius Thomas with 18 seconds left in the game. Marshawn Lynch ended up finishing Denver off with a relatively anti-climactic six-yard touchdown run.
That description is hardly dramatic but the closing few minutes of regulation were drama packed. It was a rare regular season matchup that not only featured a Super Bowl rematch, but also one that definitely exceeded the hype. The narratives coming out of the game were that Denver established themselves as a legit contender once again for pushing the Seahawks to the limit in Seattle, and that the Seahawks, despite allowing Denver to find a way back into the game, were still the top dog in the league. Collectively, any fan without a rooting interest agreed that a third matchup between the two teams in February wouldn't be a bad option.
Comeback Player of the Year: Rob Gronkowski It's good to see a healthy Gronk back this season and transforming the New England Patriots, a perenial AFC East champion, to a full-blown Super Bowl favorite. If we're talking about non-quarterback MVP candidates then Gronk needs to be considered one. He makes life so much easier for every single individual on the Patriots offense. If there were some sort of plus/minus stat like there is in the NBA, Gronk would be near the top. The problem has been injuries for the big tight end, but at least we know that if Rob Gronkowski continues to struggle with staying healthy he has a future as a bouncer.
The Roger Goodell Award: Roger Goodell
This is the award for the worst thing about the NFL and we could certainly go down a number of different avenues here. But really, the root of nearly all of the league's problems can be traced to Commissioner Roger Goodell, arguably the most inept professional sports commissioner in power today. Goodell has been a punching bag for the media all season long to the point that unless you really pay attention to the situation you can find yourself feeling bad for the guy. Dig a little deeper and you'll start reading about all of the flip-floppiness and truth-bending that occurred in the Ray Rice debacle and the potential of the league extending the regular season, a move that would flagrantly say that the league doesn't give a shit about player safety. Then you'll remember that Goodell not only deserves the award, but he also deserves to be the namesake of said award.
Coach of the Year: Bruce Arians
Not only is Arizona Cardinals coach Bruce Arians a pretty easy choice for Coach of the Year, but he might as well be an illusionist for all we know. Arians made us think, "Well shit, maybe the Cardinals could actually win a Super Bowl with Carson Palmer as their quarterback." When Palmer went down with a torn ACL and Arians so firmly supported Drew Stanton, he actually made us think, "Well shit, maybe the Cardinals could win a Super Bowl with Drew Stanton." When Drew Stanton went down, the 128 people who still believed in the Cardinals stopped believing in them, and only will I change my mind when Arians comes out and so confidently says, "We can win the Super Bowl with Logan Thomas."
The Samurai Mike Award: Marc Trestman
This one is named after Mike Singletary, a truly atrocious NFL coach who stuck around in the league for too long (yes, I am award Singletary was the head coach of the San Francisco 49ers for only two and a half seasons). I decided to unearth this award—an honor that was created by my cousin Paul Clark and I back in 2010 after Singletary got fired— because the coach who took over for Singletary is on his way out of San Francisco, and I'm hopeful that he'll replace this year's winner. It's a long shot that Jim Harbaugh finds his way to Chicago. The Michigan coaching job seems like the favorite and if Harbaugh stays in the NFL it seems like the Oakland Raiders are on his radar.
But I can't sit here and pretend like I wouldn't be hopeful that my favorite team, the Chicago Bears, would pursue Harbaugh if/when they fire Marc Trestman. Now since it's Christmas Eve and I'm a pretty jolly guy around this time of year, I'm not going to trash Trestman too bad. All I'll say is I hope he loses his job within the next week. Merry Christmas everybody! Even you Marc Trestman.
The Picks (Home Teams in CAPS)
BALTIMORE RAVENS over Cleveland Browns
Dallas Cowboys over WASHINGTON REDSKINS
Indianapolis Colts over TENNESSEE TITANS
HOUSTON TEXANS over Jacksonville Jaguars
KANSAS CITY CHIEFS over San Diego Chargers
MIAMI DOLPHINS over New York Jets
MINNESOTA VIKINGS over Chicago Bears
NEW ENGLAND PATRIOTS over Buffalo Bills
NEW YORK GIANTS over Philadelphia Eagles
New Orleans Saints over TAMPA BAY BUCCANEERS
ATLANTA FALCONS over Carolina Panthers
GREEN BAY PACKERS over Detroit Lions
DENVER BRONCOS over Oakland Raiders
SAN FRANCISCO 49ERS over Arizona Cardinals
SEATTLE SEAHAWKS over St. Louis Rams
PITTSBURGH STEELERS over Cincinnati Bengals
Last Week: 0-16 (I forfeited my picks last week)
Overall: 130-93-1