Did you know that there are over 300 players set to become free agents this year? The number sounds staggering, but really it's no more than other year in the NFL. I've combed through the piles and come up with my picks for the best players available at each position.
Center
Rodney Hudson – Kansas City Chiefs (25) – Linemen are hard to gauge as stats for them are few and far between. Hudson was a starter before the Chiefs lost him in September. He was a part of the line that allowed Jamal Charles to run roughshod last year. I would think the Chiefs will try to sign him long term, but he did get some Pro Bowl votes last year, that may be enough for him to want big money.
Stefen Wisniewski – Oakland Raiders (25) – With a new coach on the way who knows what they will do. Wisniewski is a promising young player that excels in run blocker more so than pass blocking. The Raiders were such a waste it's hard to know what his true levels of talent are, but his age and potential will have several teams interested if he makes it to market.
Dark Horse: Nick Hardwick – San Diego Chargers (33) – Hardwick is on the decline at 33, and likely won't be resigned with the Chargers, unless he's willing to take a big pay cut. A team looking to make a short term push may pay for his experience and consistency, even if he's lost a step.
Corner Back
Darrelle Revis – New England Patriots (29) – Not a misprint, Revis is not even 30. He has shown a lot of ability coming off the surgery, certainly worth above average money for a corner. I'm not sure New England can afford to keep him at this cost, but also not sure they can be as successful without him.
Brandon Flowers – San Diego Chargers (28) – Flowers was a special player when he played for the Chiefs, but got lost in the shuffle when he moved to sunny San Diego. The lack of a true pass rush left Flowers trying to cover amazing receivers for far too long, but he'd be a great fit somewhere that needs a dependable corner. The knock here is the fact that his last complete season was in 2011, he's missed at least one game every year since.
Dark Horse: Antonio Cromartie – Arizona (30) – You don't hear too much about AC these days, the rest of the defense has been stealing his thunder. Really Antonio is a really good corner. For the right price just about any team would be happy to have him as a starter for the next three years.
Defensive End
Greg Hardy – Carolina Panthers (26) – He's a beast, but he's a problem. With the legal issues looming some teams are going to be keeping a very close eye on how it all plays out. Expect him to find a home no matter what happens. The outcomes of Hardy's court case will have a huge baring on his going rate.
B.J. Raji – Green Bay Packers (28) – Raji had to deal with some injuries and is really better suited to play as a tackle in most schemes, but either way he's an elite player when healthy. I expect the Packers to let him go as they are stretched trying to keep the offense together financially.
Dark Horse: Jason Pierre-Paul – New York Giants (26) – JPP is an athletic freak of nature, but that doesn't mean he's a brilliant football player. When he's on his game he is virtually unstoppable. When he's off of his game than JPP is worse than average. The right team will pay large for his potential, but should understand full-well that he is a project player.
Defensive Tackle
Ndamukong Suh – Detroit Lions (28) – He will command the largest defensive contract in the league if his agent truly does get to pick where he lands. Best guess is somewhere like Oakland.
Nick Fairley – Detroit Lions (26) – He's likely to be resigned as he's so much more affordable and the team can't let both of their starting tackles walk away in free agency, can they? If not that he's a plug-and-play starter for any team willing to work with him as his technique still needs refinement.
Dark Horse: Karl Klug – Tennessee Titans (26) – Klug was the victim of a poor team season and constant double attention in the trenches. Still a bit of a project his solid size and speed have him as someone that can make a move in terms of production next year. He is a run stuffer, not a pass rusher, and that may limit his market value.
Full Back
Henry Hynoski – New York Giants (26) – Yes, teams still use fullbacks. Hyno-the-ryno is a very solid player, able to block, run and catch. Great for the Giants in short yardage he will find work right away if he's not resigned.
Jed Collins – Detroit Lions (28) – Collins did a great job of blocking on individual linebackers and helping getting the run game going. His youth and the system he played in make him a value piece for several teams, particularly in the NFC.
Dark Horse: Tyler Clutts – Dallas Cowboys (30) – The Cowboys are likely to resign him for roughly what he was making this past season, but Clutts may opt to gamble for the market. Being the leading FB rusher in the NFL could have people looking at him differently than they have in the past.
Guards
Mike Iupati – San Francisco 49ers (27) – He will be the top guard if you're looking for one, and likely command one of the leagues top salaries for the position. He's strong, fast and only 27. If you could ever build a line around a guard he would be the guy.
Orlando Franklin – Denver Broncos (27) – Franklin was a low round draft pick that has emerged as an all-star. He's large and physical, and has held up amazingly for the Broncos. The Broncos will be forced with a hard choice of where to spend their money as many of their key players are potential free agents this season. I expect to see Franklin go elsewhere as he's more expendable than many of the skill players.
Dark Horse: Ronald Leary – Dallas Cowboys (25) – He is one of the two offensive lineman from Dallas that didn't make the Pro Bowl. Leary is far younger than you'd have suspected, and given how solid his line play is he would be welcome anywhere in the league. Dallas will want to keep him, it all depends on his agent how affordable that would be.
Inside Linebacker
Rey Maualuga – Cincinnati Bengals (27) – There was an injury that had Rey sidelined for the playoff loss to the Colts, but otherwise he's been everything you could ever ask of an inside linebacker and a leader. If the Bengals can't resign him, they may opt to franchise tag him. Either way, he will get top dollar on the open market.
Rolando McClain – Dallas Cowboys (25) – The former top five pick was cut Oakland Raiders in 2013. In the comeback he's been nothing short of amazing. McClain replaced Sean Lee, who sat out the year, and already has a big contract. Do you drop Lee and sign McClain based on one year of great work, or do you continue to deal with the injury riddled Lee and let McClain go?
Dark Horse: Brandon Spikes – Buffalo Bills (27) – Spikes put up good numbers, but a lot of that has to do with how great the defensive line is. He has good speed for a man his size, and has above average coverage skills. Someone might be willing to spend more than they should because of how well Buffalo did as a whole, rather than how Spikes played as an individual.
Kicker
Justin Tucker – Baltimore Ravens (25) – Tucker is one of the better young kickers in the game, and expect the Ravens to offer him reasonable money to stick around. Since the Ravens seem to always content I'd expect him to sign.
Dark Horse: Stephen Gostkowski – New England Patriots (30) – for any other position 30 is a prime age. An age where a long term contract isn't what you want, but one year doesn't really work either. For a kicker this is young, but the problem is that the Patriots were taking the hit for $3.8 million for Stephen this year. $3.8 million for a kicker! He'll be back if both parties find a reasonable number.
Left Tackle
King Dunlap – San Diego Chargers (29) – More size that skill, Dunlap has secured the blindside for Philip Rivers for a long time. Sunny California is a tough place to leave, but I feel like if the Chargers were willing to pay him they'd have done it already. He may be a steal on the market, but he may get more than he's worth as the left tackle pickings are rather slim.
Byron Bell – Carolina Panthers (25) – Bell is a slightly above average player that could use a little work. Having to block for a quarterback who scrambles more than eggs at brunch isn't an easy thing though. The Panthers have some cap space and may be able to re-sign him if he doesn't think he can do any better as a free agent.
Dark Horse: Michael Roos – Tennessee Titans (32) – He's been a starter forever, but you never here his name. At 32, Roos is likely setting up for a pay cut. The Titans would likely be happy to have him back and be the most likely to pay Roos fair value, but another team looking for a one or two year stop gap at the position may offer him just enough to make the move worth while.
Outside Linebacker
Brian Orakpo – Washington Redskins (28) – He wasn't healthy this year, but teams know what he can do with he is. There are those who might see him more as an end then an OLB but he is a capable pass rusher. I'm not sure he gets the $11.4 million he was making this past year with the Redskins thanks to injuries sustained during last season.
Justin Houston – Kansas City Chiefs (25) – One of the most dynamic young defenders in the game Houston will likely be franchised if he's not resigned. Another player that is more pass rusher than he is a specific position player he would likely command the top contract for an OLB if allowed to get to free agency.
Dark Horse: Jason Worilds – Pittsburgh Steelers (26) – Yet another tweener sort of player that has great speed and size, making him a nightmare to block. The Steelers are getting really old on the defensive side of the ball so letting go of such a young player seems silly. With a 2014 cap hit of nearly $10 million, the Steelers may want to save that cap space for other moves.
Punters
Brett Kern – Tennessee Titans (28) – Punters are players too you know! Kern was in the top five in terms of average punting distance, and top nine in terms of landing the ball inside the 20. He only hits touchbacks 10 percent of the time. He's a solid punter. But really, this is never a position people clamour about.
Dark Horse: Chris Jones – Dallas Cowboys (25) – Dallas is likely to resign him as his salary shouldn't be insane even if he views himself as the best punter in the world. In looking at his numbers they are average, but from a percentage standpoint of putting the ball inside the 20 and touchbacks he's elite. Part of that is likely Dallas having such good offensive numbers, but you can only kick the ball as best you can when given your opportunities.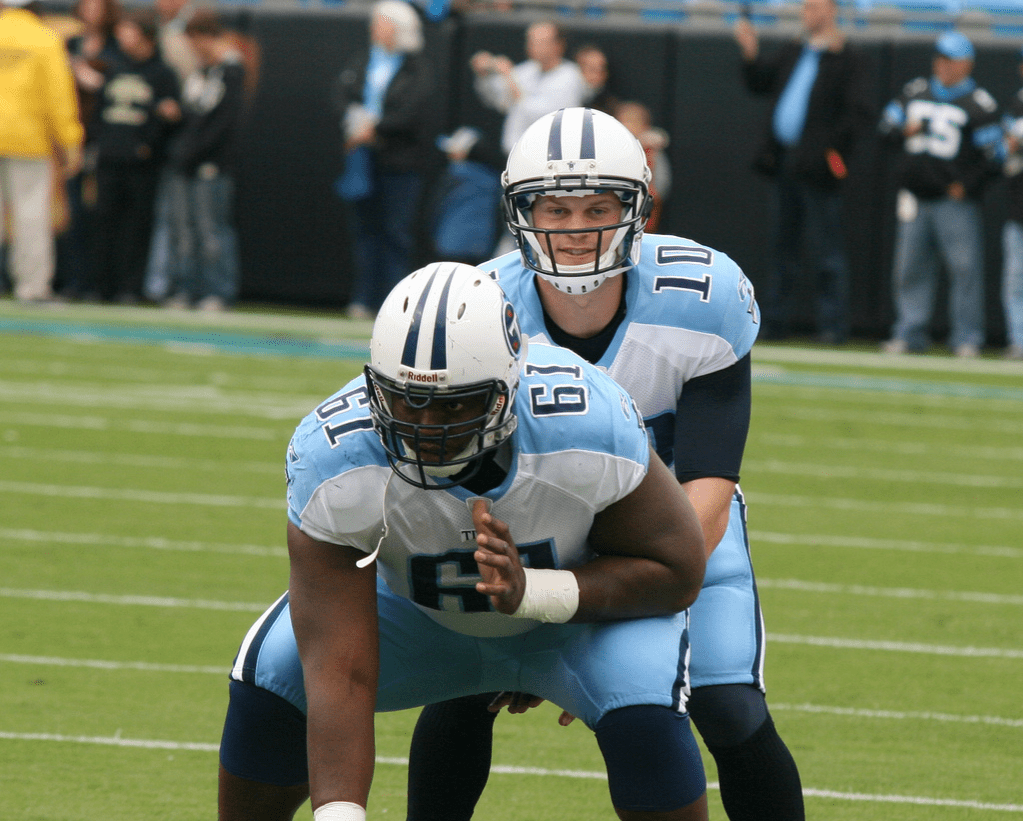 Quarterback
Jake Locker – Tennessee Titans (26) – coming off a horrible year Locker is still that quarterback that everyone looks at and thinks they can do something with. Some teams will want him to be their starter, and if not there is absolutely someone willing to have him around as a backup, maybe just not at four million a season.
Mark Sanchez – Philadelphia Eagles (28) – Do not adjust your computer screen, Sanchez is only 28 years old. He is one of those guys that is actually really meant to play for a team that wants controlled run-first offensive numbers. He'll never put up big numbers, but he's also not a gambler either. The new management in New York might even pay to get him back as a Jet.
Dark Horse: Brian Hoyer – Cleveland Browns (29) – Hoyer looked solid at times as the main signal caller for the Brownies. The issue with him is that he's almost too conservative. If you're a Browns fan than I'm sure you're torn between consistency and flash, and at the same time thinking that neither one of the years starters is the long-term answer. Some teams will drool over Hoyer as a backup, and others may just be willing to gamble on him as a starter.
Running Back
DeMarco Murray – Dallas Cowboys (26) – He's the leagues top rusher, and played a full season. The real knock is he carried the ball more times than Taylor Swift has carried a tune and he hasn't played a full season until this year. The running back position has decreased in value more than an opened toy that took a dive in the toilet. If you're looking for a gauge of what top dollar for a running back is than see what Murray ends up signing for.
Darren McFadden – Oakland Raiders (27) – McFadden was a top tier back not too long ago, and then the wheels fell off the Raiders and he's be mired in mediocrity ever since. There is still some life left in his legs and he can pound the rock, so teams looking for grit will have to take three looks at him.
Dark Horse: Mark Ingram – New Orleans Saints (25) – Ingram has enjoyed limited success with the pass happy Saints. He is a thumper, and really works in a power run game. He's still very young and hasn't been overworked, a team with a great line could make him into a star.
Right Tackle
Bryan Bulaga – Green Bay Packers (25) – He's been a solid starter since he was a first round pick. The Packers need to keep the line going to ensure Aaron Rogers stays healthy, so unless they think they can do better for less he will be resigned.
Jermey Parnell – Dallas Cowboys (28) – Parnell has played really well for Dallas, but it's been in relief for Doug Free, the Cowboys' starting right tackle. There was no drop off when Parnell came in and given he was making less than two million last year, I see Parnell seeking max money.
Dark Horse: Doug Free – Dallas Cowboys (30) – This is a really fun scenario. Free once played left tackle (before Tyron Smith was moved there), but is really best suited to play on the right side. At the beginning of the season he was as good as you could ask for, but injuries had him sidelined for the Wild Card game, and the team didn't miss a beat with Parnell filling in. Dallas will not pay him $6.5 million (his cap number from this past season), and I'm not sure any other team would either, but he's been good enough that other teams would covet him. Dallas is unlikely to let both tackles go, but if both players are looking for max money they are both going to look for new places to play.
Safety
Nate Allen – Philadelphia Eagles (27) – Allen has good speed, range, awareness and hitting power. He's not a superstar, but he's reliable. Philly is likely to let him leave as Kelly is likely to try and build through the draft. Allen will get looks from teams needed defensive help.
Rahim Moore – Denver Broncos (25) – One of the few young guns on the Broncos this year Moore showed some good coverage skills. He benefits from a defensive line that gets more pressure than deep-sea diver, but he belongs in the discussion of top safeties in the game. As mentioned; Denver has a ton of really good players available to be free agents. Too tough to gauge where they will want to spend their money.
Dark Horse: Chris Conte – Chicago Bears (25) – For every play that Conte gets posterized on, there is another that makes you want to put him on a poster. He's got smarts more than anything else, and in some schemes that is exactly what you need. The Bears need him back, but can't afford top dollar. Depending on the new coach and GM they may not see the brilliance in this young player.
Tight End
Jermaine Gresham – Cincinnati Bengals (26) – He's one of those new breed tight end's that is better suited running routes than they are blocking. However, that is exactly what the open market wants, and the Bengals likely won't care for the price tag that comes along with it. He was making just shy of five million this past year.
Julius Thomas – Denver Broncos (26) – Speaking of a route runner this guy is going to likely get a contract that makes Jimmy Graham jealous. If it's not Denver than it will be someone who values offensive ability over all else.
Dark Horse: Bear Pascoe – Atlanta Falcons (28) – Bear was originally a Giant, and is the throw-back tight end that does all things well, but no one thing amazing. He's a much better blocker than either of the guys above, but his lack of speed and quickness make him less attractive to most teams. He deserves to be a starter in this league. Someone will find room for him.
Wide Receiver
Demaryius Thomas – Denver Broncos (27) – Is every player on the Broncos that made the Pro Bowl over the last few years a free agent? Thomas is among the league elite in every category. He'll want big money, and he'll get it, the question is where.
Dez Bryant – Dallas Cowboys (26) – He's been one of the top receivers in the game for the last few years, has missed all of one game since entering the league and has no relationship issues with quarterback Tony Romo. The Cowboys will resign or francize him. Either way Dez is getting paid.
Dark Horse: Hakeem Nicks – Indianapolis Colts (26) – Nicks is not a burner, or an overly big guy. He has big hands, catches everything, and punches his time card. The injury this past season might keep some teams away, but he's good enough and young enough that someone will want him for around the four million a year he was making with Indy.