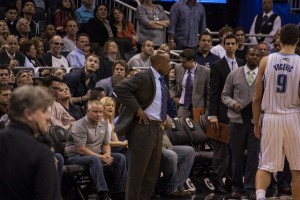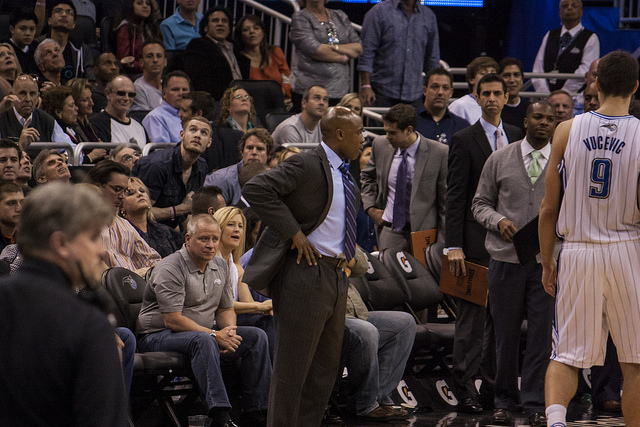 The Orlando Magic hosted the Dallas Mavericks on Saturday evening. Amidst the circus, with Jacque Vaughn in the center of it all, the Magic would crumble once again at home, losing 108-93.
As the saying goes: different night, same story, the Magic were once again got off to a poor start in the first quarter. Unable to get any rhythm going on the offensive end of the floor, the Magic would shoot a miserable 26.9 percent on the floor. On the defensive end, they were unable to stop the Mavs, as the Magic would surrender 34 first-quarter points on a red-hot 63.6 percent shooting from the floor. Orlando also turned the ball over four times, leading to nine points for the Mavs. The Magic trailed by 17 after the first.
Dallas continued to dominate the Orlando in the second quarter with impressive ball movement, tallying 16 assists on 27 field goals. With the ball moving well for the Mavs, they actually raised their shooting percentage for the game to 64.3 percent. The Mavs also forced the Magic into five more turnovers, leading to four more points. Things were starting to get way out of hand for the Magic as they gave up 66 first-half points to the visitors, trailing by 25 at the end of the first half.
The Magic came out of halftime with a bit more pep in their step, cutting the Mavericks lead to under 20 a few times throughout the quarter. Even though the Mavs cooled down a little from the first half (57.6 percent shooting),  their three-point shooting percentage nearly matched it, connecting on 11-of-20 makes from deep. The Magic would trail 88-70 at the end of the third.
With the game seemingly in the books, the Magic would prepare to go on a spirited, fourth-quarter run. Led by Willie Green, Aaron Gordon, Maurice Harkless, Channing Frye, and Evan Fournier, the Magic would knock down some big shots while slowing down the Mavericks with solid defense. After being down 27, the Magic would cut the lead all the way down to five, but Monta Ellis put his foot down and made some clutch baskets for the visiting Mavericks. The Magic would ultimately fall to the Mavs 106-93
Monta Ellis led the way for the Dallas Mavericks with a double-double of 25 points and 13 assists. Tyson Chandler had an efficient 20 points on 9-of-12 shooting from the field. Richard Jefferson had 14 points. Devin Harris, playing in place of Rajon Rondo, had 12 points and five assists. Dirk Nowitzki had 11, and J.J. Barea chipped in 10.
For the Magic, Nikola Vucevic led with a 17-point, 16-rebound double-double. Evan Fournier and Willie Green both had 15 points apiece. Aaron Gordon had 11 points, with Channing Frye finishing with 10 points on the night.