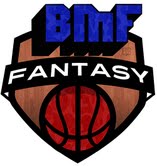 The NBA All-Star Weekend is just around the corner and we're all excited to watch some of our favorite players hit the hardwood for what should prove to be a thrilling and entertaining game.
The player selection process for the game, however, was not so thrilling for some. It's a subjective process. The starters are the players who receive the most votes by the fans. That makes their selection purely a popularity contest.
The reserves were selected by coaches of their respective conferences. Again, a process that may be performance-based, but in the end still a very subjective thing. And with all the subjectivity involved you can expect that not everyone will be happy, as there will always be a few "deserving" guys who were snubbed in the process.
From a fantasy basketball perspective, however, we don't care how many shoes you've got named after you or how many fans you have. We just care about your stats, plain and simple. Using Baller Mind Frame's Player Rater we looked at the players who have consistently been killing it (statistically) so far this season. We filled out the starters by listing the best player per position from their respective conferences, while the reserves were chosen based on their WARP scores, filtered by cumulative wins.
So here are your NBA All-Stars, Fantasy Basketball Edition:
Eastern Conference All-Stars
Starters
PG: Kyrie Irving (CLE) – 21.6 PPG, 5.2 APG, 2.1 3PPG, 1.5 SPG
SG: Jimmy Butler (CHI) – 20.3 PPG, 6.0 RPG, 1.8 SPG, 1.4 TO/G
SF: LeBron James (CLE) – 26.1 PPG, 5.4 RPG, 7.4 RPG, 1.7 3PPG, 1.5 SPG
PF: Pau Gasol (CHI) – 18.1 PPG, 12.0 RPG, 2.1 BPG, 48.1 FG%, 80.8 FT%
C: Al Horford (ATL) – 15.7 PPG, 7.2 RPG, 3.3 APG, 1.4 BPG
Reserves
Kyle Lowry (TOR)
Paul Millsap (ATL)
John Wall (WAS)
Kevin Love (CLE)
Nikola Vucevic (ORL)
Jeff Teague (ATL)
Brandon Knight (MIL)
Western Conference All-Stars
Starters
PG: Stephen Curry (GSW) – 23.6 PPG, 8.1 APG, 3.1 3PPG, 48.9 FG%, 2.1 SPG
SG: James Harden (HOU) – 27.0 PPG, 5.6 RPG, 6.0 APG, 2.7 3PPG, 2.0 SPG
SF: Rudy Gay (SAC) – 20.2 PPG, 5.9 RPG, 3.9 APG, 1.0 3PPG, 1.1 SPG
PF: Anthony Davis (NOP) – 24.5 PPG, 10.4 RPG, 2.8 BPG, 1.6 SPG, 55.1 FG%
C: Marc Gasol (MEM) – 18.9 PPG, 8.1 RPG, 3.9 APG, 1.7 BPG, 49.5 FG%
Reserves
Chris Paul (LAC)
Damian Lillard (POR)
Klay Thompson (GSW)
LaMarcus Aldridge (POR)
Draymond Green (GSW)
DeMarcus Cousins (SAC)
Eric Bledsoe (PHO)
So how did our selection compare to the real-life selectees? Did anyone surprise you on our lists?