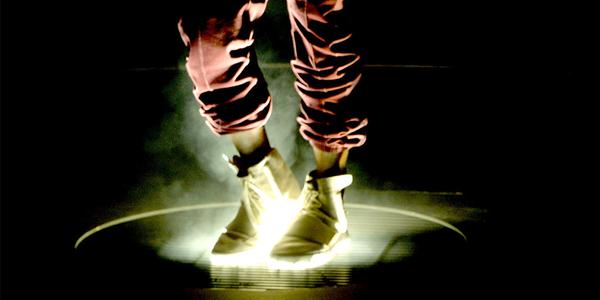 On the Friday before the Grammy Awards, the new adidas Yeezy sneaker was spotted (and has seen debuted officially by Kanye West at the Grammys), while worn by the man himself during the award show rehearsals with Rihanna and Paul McCartney.
And yeah, it's a casual men's boot with a strap. No lie. The adidas Yeezy 750 Boost (the name rumored for the model) happens to be a casual men's BOOT with a sneaker sole and a strap thrown on. It has a suede upper in grey and a white thick sole. Ta-daaaa! I'm disappointed for several reasons.
First of all, the past Kanye West x (enter brand and/or designer) used to be sneakers — sneakers that looked unique and always brought something new to the sneaker game. The Nike Air Yeezy 2s even looked awkward in their silhouette, but got doper as we, the viewing public, started to get used to them. Okay, the signature crossing strap stayed, but really adidas and Yeezy? REALLY? You had one job — to bring out a dope, unique-looking shoe, which you are obviously able to do if we have a look at the Y-3 Collection — but why a men's boot?
I keep the hope alive that that is just any piece of the collection which will be presented during New York Fashion Week and there will be a dope SNEAKER in the collection that will make the sneakerheads go crazy and the ladies go wild.
See more of the Yeezy 750 Boost below, courtesy of our friends at Complex.