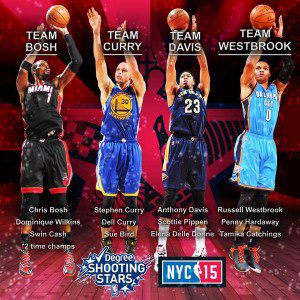 It began with a flurry and ended with a soft and subtle whimper when the 2015 NBA Shooting Stars Challenge showcased both the most impressive first round and least suspenseful final round in its short history.
Team Bosh — Chris Bosh, Swin Cash, and Dominique Wilkins — had the stage set for their three-peat when the graphics ate the court and a Blue Man Group concert broke out for a second.
Over the glowsticks and new age music Reggie Miller explained the "new wrinkle" for this year that competitors must team rebound which may have accounted somewhat for the breakneck pace of the first round.
The two teams who did not advance — Team Curry and Team Millsap — ended with times that would have won the final round. It took Dell Curry fewer attempts to make his half-court shot (2) than his shot from the top of the key (3) for an excellent time still dwarfed by Team Westbrook who saw Penny Hardaway hit his first two shots attempted including his first from half-court.
But none of that matters because apparently Chris Bosh is some kind of alien who excels at this particular odd event. He, too, hit his first two shots including his first from half-court and vaulted the defending champs into first place after round one despite three scores that could have come in first in almost any other competition.
Then the final round happened and Penny's magic was gone. In fact, pretty much all the touch in the building left as half-court shot after half-court shot rimmed out and Team Westbrook finished their minute and a half of time without even completing the course. Dominique Wilkins would hit the pressure free half-court shot for team Bosh and they marched off into the sunset. Or something.
Team Bosh's third win in a row proves two things; this event is really weird, and having the WNBA player (Swin Cash) take the top-of-the-key shot must be the trick.