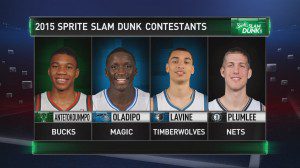 The only thing more tired than the NBA All-Star slam dunk contest are writers, media, and fans' annual overreaching declarations that the contest is either "dead" or "back."
The quality dunk contest is almost entirely determined by the competitors themselves — though turning off Kenny Smith and Reggie Miller would go a long way toward improving it — and last night Victor Oladipo and Zach LaVine put on a show.
If there were any NBA fans who didn't know Zach LaVine before the contest began, they surely know him now. The 19-year-old ran away with the competition, mostly sealing it after his first two dunks.
Zach won at least one new fan over (guessing I wasn't alone here) when he first stepped onto the court to the titular track from Space Jam, complete with Jordan's No. 23 Toon Squad Jersey. He then casually proceeded to execute a reverse, between-the-legs windmill dunk as though he was ordering lunch.
His second dunk was equally as stunning and a throwback to one of my favorite underrated JR. Smith Dunks from slam dunk contest history. The difference, though, is that LaVine threw himself a bounce pass and went behind his back entirely while in the air before slamming this one down.
Perhaps the most impressive aspect of LaVine's performance to that point was that he was nailing these on his first try. Giannis Antetokounmpo and Mason Plumlee actually purported themselves well, though few may remember. They each needed multiple attempts, y'know like humans do, to accomplish their impressive feats.
And still, I think my favorite dunk of the night belonged to runner-up Victor Oladipo, who needed three tries to throw down this beauty:
Despite Reggie and Kenny's #newmaths, this dunk is still just a 360. Well … not just a 360, one of the craziest 360s I've ever seen with a sick reverse windmill finish.
But LaVine had three great dunks to Oladipo's one and so was rightfully crowned the champion. When you can do the Andre Iguodala but between your legs without even looking like you are trying, you win:
The dunk contest has not been dead, and it is no more officially back than it was when John Wall lept over a guy in spandex or when Blake Griffin jumped over a car. The dunk contest remains an event with potential, and Zach LaVine proved that having the right attitude — and also the ability to jump out of your skin — can make the evening a blast even if and when the TNT personalities just won't stop talking.
Congratulations, young sir, that was quite the show.