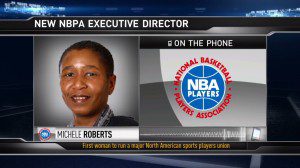 The NBA and NBA Players Union found themselves in a unique conundrum this past week.
Unlike so many situations in years past where teams and players struggled with the financial burdens, the NBA has been enjoying a boom of prosperity. All of it has come to a fork in the road with the new revenue from the new television rights deal (9 years, $24 billion) going into the 2016-17 season. Money has a funny way of screwing everything up.
The NBA asked the NBAPA to allow teams to keep the salary cap numbers low, growing it slowly over time. The league would give the players 51 percent of the revenue from the new distribution agreements, but asked that the Union take it as a lump sum payment and distribute it to the players. The union didn't like this approach to business and felt like it was not in the best interest of the players, many of whom took shorter contracts hoping to cash in (LeBron James).It's also expected many free agents this year will be seeking one year deals in the hopes of cashing in next year.
So it now appears as though in 2016 the league will see the salary cap jump as much as $22 million dollars in a single year. To put that into some perspective the cap next year is $63 million (that's a jump of over one third of the entire cap), and the largest single year-to-year raise in the cap in league history has been $7 million. Not that any of this information impacts the fans or the product on the floor, or will it? Based on the two sides being unable to come to an amiable agreement, it now appears as though the potential for players to opt out of the CBA in 2017, likely resulting in a lockout, is a real possibility.