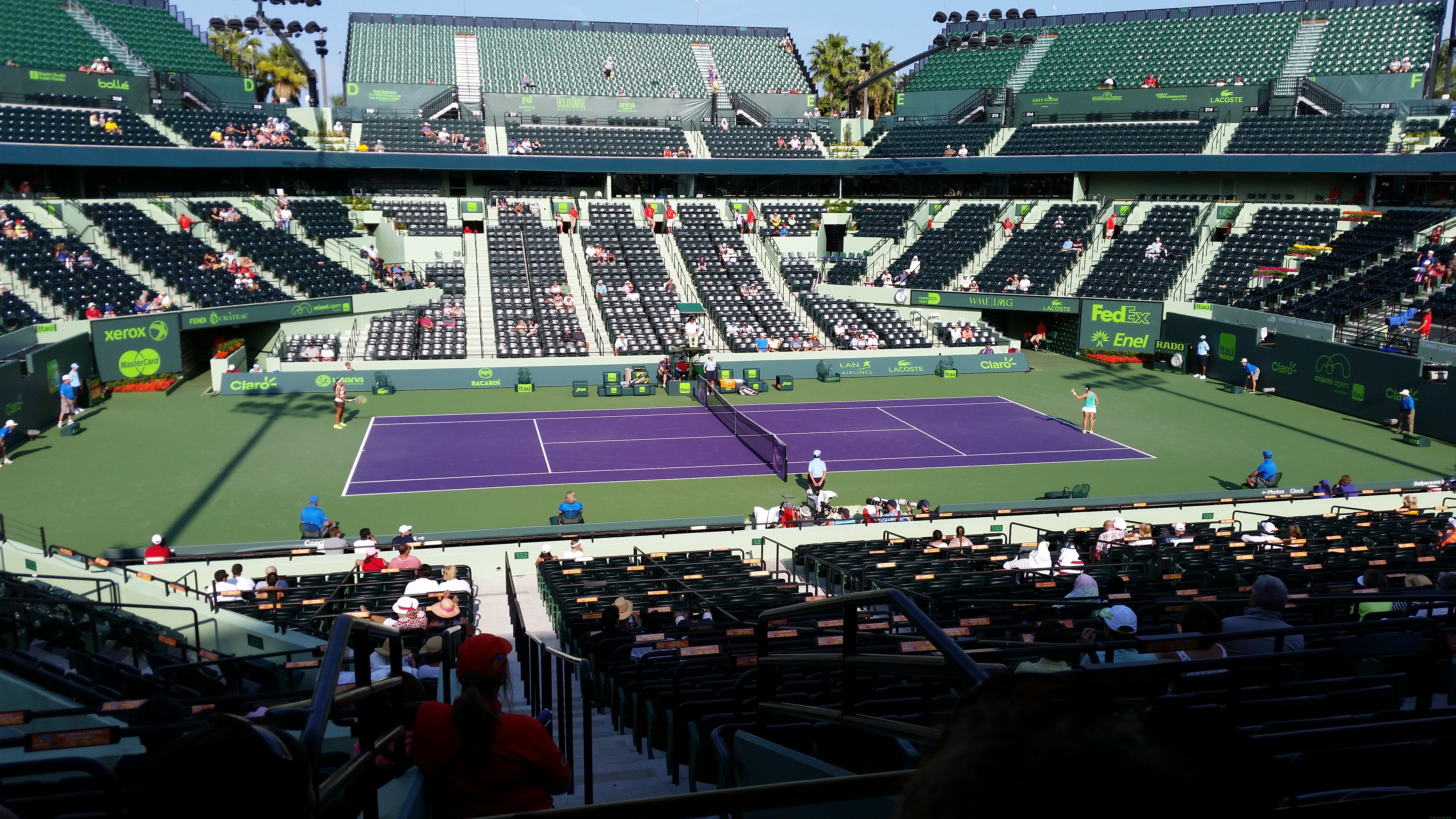 When you think of Miami, you may think of palm trees and art deco buildings; perhaps you think of tan-sunned men and women on the beach; heck, you may think of nothing other than "Miami Vice". In sports, you're probably more apt to immediately recall the Miami Heat (and LeBron James, still), and the University of Miami Hurricanes, or whatever action movie that Michael Mann has directed or produced in the last 20 years — but do you ever think of tennis?
Fortunately, Your Friendly Neighborhood Spider-M-, err, I mean, Senior Editor, me, Sandy Dover, had the opportunity to catch the 2015 Miami Open and capture the moods and sounds of the city. Hosted by New Balance, I was able to document to the top tennis players sponsored by the Boston-based brand, people like Milos Raonic and Heather Watson, train like the pros train, preview the new product, and be able to also capture the opening festivities that would break open the Open for the city from March 24-25 — and this was all seen through through the lens of Twitter.
See the sights and sounds!
Time to get to it. #MiamiOpen #TrainStronger @NBTennis @newbalance pic.twitter.com/wFc2sGeYHD

— S A N D Y D O V E R (@San_Dova) March 24, 2015
.@jen_ator in the @NBTennis 996! #MiamiOpen #TrainStronger pic.twitter.com/EvGBrlgPQn — S A N D Y D O V E R (@San_Dova) March 24, 2015
The men's @NBTennis 996. #NB10S #MiamiOpen #TrainStronger pic.twitter.com/Er3Rnbh6tE

— S A N D Y D O V E R (@San_Dova) March 24, 2015
Private tennis lessons with @NBTennis @newbalance. M-I-YAYO. #MiamiOpen #TrainStronger #NB10S pic.twitter.com/Fj2qkdQ11C — S A N D Y D O V E R (@San_Dova) March 24, 2015
Squad. #MiamiOpen #TrainStronger #NB10S pic.twitter.com/QSjKCkGGuS — S A N D Y D O V E R (@San_Dova) March 24, 2015
.@milosraonic at the @MiamiOpenTennis Intro. #NB10S @NBTennis @newbalance @BallerMindFrame #BMFsports pic.twitter.com/I9LjCaxYRI — S A N D Y D O V E R (@San_Dova) March 24, 2015
More Milos. @milosraonic @NBTennis @newbalance @BallerMindFrame #BMFsports pic.twitter.com/IWeRzeWkfA

— S A N D Y D O V E R (@San_Dova) March 24, 2015
.@NBTennis Press Box Squad for @MiamiOpenTennis. #MiamiOpen #NB10S #TrainStronger #BMFsports pic.twitter.com/nqZ7Xh8RoH — S A N D Y D O V E R (@San_Dova) March 24, 2015
.@shauntfitness doing fitness things at the @MiamiOpenTennis. #BMFsports #NB10S #MiamiOpen @BallerMindFrame pic.twitter.com/V1VC59HLmN

— S A N D Y D O V E R (@San_Dova) March 24, 2015
All is come. The @MiamiOpenTennis. #MiamiOpen #BMFsports × @BallerMindFrame pic.twitter.com/KYxQcsiOhT — S A N D Y D O V E R (@San_Dova) March 25, 2015
Serves up. #MiamiOpen #BMFsports pic.twitter.com/yEaTisLt4F

— S A N D Y D O V E R (@San_Dova) March 25, 2015
On the hunt for Maria Sharapova… #MiamiOpen #BMFSPORTS pic.twitter.com/P2Zsw0wwPy — S A N D Y D O V E R (@San_Dova) March 25, 2015
The official vehicle of the #MiamiOpen. @Lexus. // @MiamiOpenTennis @NBTennis @BallerMindFrame #BMFsports pic.twitter.com/Gor77kXRsM

— S A N D Y D O V E R (@San_Dova) March 25, 2015
.@HeatherWatson92 forthcoming. #MiamiOpen #NB10S #TrainStronger #BMFsports pic.twitter.com/09E8ckirLj — S A N D Y D O V E R (@San_Dova) March 25, 2015
Ms. @HeatherWatson92 has arrived. Warming up for match play. #MiamiOpen #NB10S #TrainStronger #BMFsports @NBTennis pic.twitter.com/AJ3UOgBWiZ

— S A N D Y D O V E R (@San_Dova) March 25, 2015
"I went up two shots to Love on that…" #UNFORGIVABLE #thingsyouwonthearatanOpen pic.twitter.com/cWPR5kdEe4 — S A N D Y D O V E R (@San_Dova) March 25, 2015
Look at that booty. By @Lexus at @MiamiOpenTennis. #MiamiOpen #BMFsports pic.twitter.com/etDJVc5lnI

— S A N D Y D O V E R (@San_Dova) March 25, 2015
Oh. Hi, @Fendi. 》#MiamiOpen #NB10S #TrainStronger #BMFsports pic.twitter.com/BIlC0dDyCT — S A N D Y D O V E R (@San_Dova) March 25, 2015
.@milosraonic in prep at @MiamiOpenTennis. #MiamiOpen #NB10S @newbalance @NBTennis #BMFsports @BallerMindFrame pic.twitter.com/vpe7JzDFat

— S A N D Y D O V E R (@San_Dova) March 25, 2015
Here with @HeatherWatson92 at @MiamiOpenTennis! #MiamiOpen #NB10S #TrainStronger pic.twitter.com/u0cgzZWRCn — S A N D Y D O V E R (@San_Dova) March 25, 2015
Interviewing with @NBTennis' @milosraonic at @MiamiOpenTennis! #MiamiOpen #NB10S #TrainStronger pic.twitter.com/5wuO6fOkwR — S A N D Y D O V E R (@San_Dova) March 25, 2015
Milos with the "Where is Ja???" face, lolz pic.twitter.com/cXCAPBd6Ro

— S A N D Y D O V E R (@San_Dova) March 25, 2015
All photos and video courtesy of Sandy Dover