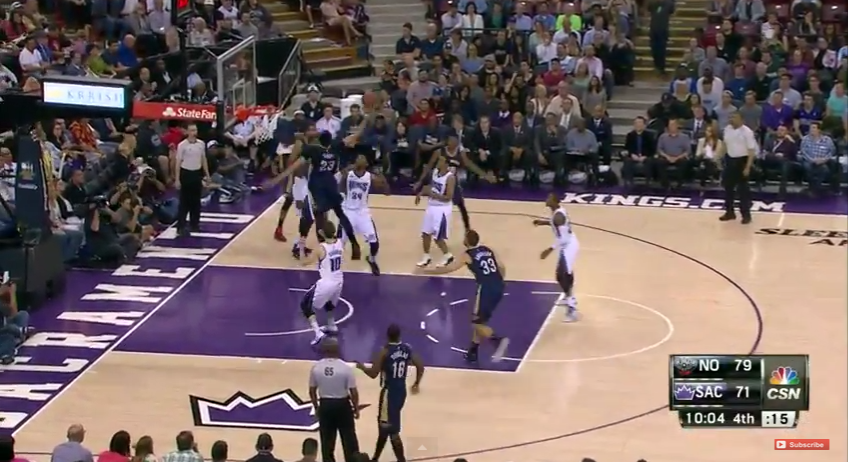 The Sacramento Kings have now lost four straight games, further solidifying their role as a lottery-pick team with hopes of improving a roster in search of continuity.
A secure playoff spot has eluded the New Orleans Pelicans all season, as their continuing battle to stay within a top-eight seeding was aided in this 101-95 win.
"New Orleans showed their desperation that they have to win some games," said George Karl. "They're on the road, and they knew that this was one of those games that they'd have to get if they want to stay close with Oklahoma City."
Anthony Davis' case in the MVP conversation became increasingly legitimate in his 20-point, 10-rebound performance. Davis kept Jason Thompson and DeMarcus Cousins occupied defensively, earning himself 10 trips to the free-throw line, making eight of his attempts.
New Orleans held an 18-point lead early in the third quarter, but Ray McCallum and Cousins fueled a 16-0 run to close the gap to just two points. McCallum scored 10 points within the stretch, and Sacramento's defense halted all attempts at the basket for the Pelicans. Even Anthony Davis, whose scoring had been steady throughout, was stopped at the rim by Thompson and Cousins.
"In the first half, our personality was kind of soft and finessed," said Karl. "They picked us apart and made the three-ball and got into great rhythm and momentum. It's hard sometimes to take momentum away from a team, but I thought we did. We made it a game."
Tyreke Evans gave New Orleans life offensively. He attacked the basket each time Nik Stauskas was given the task of defending him. Evans had 19 points, 12 rebounds, and nine assists.
The Pelicans shot 48.3 percent from three. Quincy Pondexter shot 6-of-9 from long range for 18 points. Eric Gordon contributed 21 points on 4-of-8 from long-range.
With Sacramento losing by eight in the fourth quarter, Derrick Williams and Omri Casspi pushed the ball in transition to take scoring pressure off of Cousins and give the Kings a chance at winning. Williams continued his recent impressive play off the bench, contributing 10 points. Casspi has 17 points and three rebounds, starting in place of the injured Rudy Gay.
The Kings would slowly lose grip after mounting two comebacks. New Orleans had more trips to the free-throw line in the fourth quarter, and they capitalized. Sacramento, however, shot just 60 percent from the stripe. Coach Karl felt that the officiating was unfavorable for the Kings.
"We [weren't] getting any free-throws," stated Karl. "The lopsidedness of the fourth-quarter free-throw line probably lose us the game.
DeMarcus Cousins tallied his second straight triple-double in the loss to the Pelicans. While Karl's team has struggled to put together spans of winning basketball, he feels that his players have bought in and are committed to the process of improving a franchise.
"This has been a mentally draining and physically and emotionally draining year for the players mores than me," said Karl. "I haven't gone through the first 50 games of the season. There are games that you're always disappointed in, but for the most part this team has deserved a high praise."