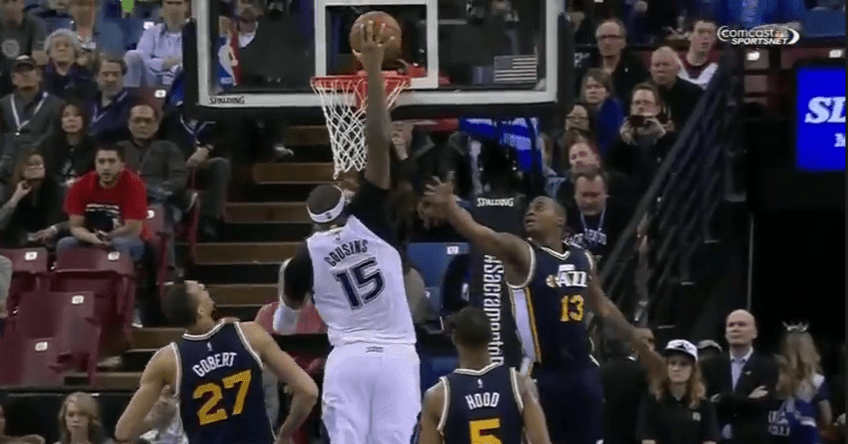 The Sacramento Kings gave up 24 fast-break points to the Utah Jazz, a team comprised of developing, perennial stars with something to prove to the NBA.
"Offensively, we never could find a flow against a pretty good defensive team," said George Karl. "We continued to play in a crowd and turned it over. We never could get any good energy offensively."
The offensive struggles brought forth eerily familiar emotion from the Kings.
Cousins was given a technical foul with just under three minutes left in the first quarter while arguing a call. It wouldn't be the last for Sacramento; Derrick Williams received a technical in the fourth quarter, which would shift all focus away from winning and toward frustration.
"I don't think there's any question that this season is obviously very frustrating to a lot of players," said Karl. "When you lose on your home court, there's a little extra energy in the disappointment."
Utah out-rebounded the Kings on the night, and Karl credits much of his team's late-game struggles to the second-chance points they gave up.
"Us giving them [33] extra possessions.. you're going to have some, but you can't have [33]. Utah's not a great offensive team but we gave them enough possessions to score [over] 100 points."
While the Jazz's inexperienced team has struggled to score this season, the lacking transition defense from the Kings opened the door for offensive opportunities. Rodney Hood set his career-high in scoring with 25 points, shooting 9-of-17 from the floor.
Sacramento's 20 turnovers gifted Utah easy fast-break points, and defined the fourth-quarter struggles that gave the Kings a loss.
"Our defense had its flaws at times, but more than anything our offense created bad defense," added Karl.
Karl's pre-game goal for his team was to score at least 100 points, a reasonable feat which the team failed to reach. While Cousins' output was unsurprisingly strong with 26 points, 12 rebounds, and four assists, Sacramento's team-wide scoring is as bad as ever.
"We missed some open shots, we shot poorly from the free-throw line," said Karl. "I believe a missed free-throw is a half a turnover… so that's another five turnovers in my mind."
The Kings went 14-of-24 from the free-throw line.
Ben McLemore had a welcomed performance for Karl; His 20 points, five rebounds, four assists, and four steals were indicative of his improved play as of late.
Utah's franchise-player, Gordon Hayward, struggled from the floor. He shot 2-of-11 from the field for five points.