Baller Mind Frame's No Layups brings you the hottest NBA stories on the web mixed with personal opinion from our very own Aaron Lanton. Check it often and absorb the knowledge we're dropping on you!
"I guess that's possible, but we are not here trying to squeeze in, we are not here trying to go from 15 to 36," said Fisher, whose Knicks currently have 15 wins. "That's just not who we are. So it can turn around quickly. It will turn around quickly."

"But we don't really have to put a number on it," Fisher continued. "We are 6-21 in games [decided] by six points or less this year. So we lost 21 games on two possessions. So we don't have go from 15 to 36 next year. We can go from 15 to 63 if we really want to. But that is up to us." – April 10, 2015, courtesy of ESPN
I'll have whatever that's gentleman's smoking. The Knicks' front office, ownership, and coaching staff are opining about the correct method to win basketball, and the bright future for next season as they do every April. Only Mike D'Antoni has reprised his role for more than two full seasons since 2004. The list is actually pretty crazy.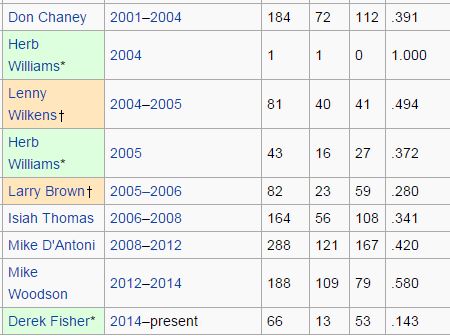 There are some great coaches on that list and none of them could right the ship. That's what Phil Jackson came to the organization to do as President of Basketball Operations. Sure, Jackson hired a head coach with zero experience in the field at any level instead of coaching himself, but he's one of the greatest coaches of all-time so he must know something we don't, right?
The Phil Jackson era has been a disaster so far. The other moves weren't great either, but the haul received for Iman Shumpert, J.R. Smith, and Tyson Chandler was abhorrently short on gains for the Knicks. The Cleveland Cavaliers and Dallas Mavericks were vastly improved by both moves and are set to make strong playoff pushes. Things are bad when your resident superstar player stops playing in February so you can tank your way to a Kentucky Wildcat in June.
Coach Fish is saying what he needs to say to himself for sanity's sake. Yes, the New York Knicks are basically going to replicate the success of this year's surprising Atlanta Hawks by getting something around 63 wins.
Good luck with that.
Meanwhile on the opposite coast, Los Angeles Lakers head coach Byron Scott can't even fake the funk anymore.
Lakers Coach: If I was in foxhole with my players, some would 'end up shooting me in the back' http://t.co/DgLasFwZvN pic.twitter.com/fxwXi1ipJb

— Post Sports (@PostSports) April 7, 2015
Is Scott still the Lakers' head coach? That's the kind of quote you expect from a pissed off player. Even Goran Dragic stopped simply at, "I don't trust them," when talking about the Phoenix Suns' front office before being traded to the Miami Heat.
Scott is understandably frustrated. Unlike Fisher, Scott has at least one more year of unmitigated ineptitude to endure. The Lakers have tanked as hard as they could because their 2015 first-round pick is only top-5 protected. While they are doing their absolute worst to draft a Kentucky Wildcat, Julius Randle, the Wildcat they drafted in 2014, broke his right tibia in the first game of the season. Kobe Bryant is too old to carry the team anymore but continues to berate teammates like it's 1999. No free agents want to come to the Lakers right now(who to blame for that depends on who you ask). The current roster lacks talent and passion. On top of all of that, he was a freaking Showtime Laker, and now he's coaching what will be remember as the worst Lakers team ever. Listen to his preseason comments.
[youtube]https://www.youtube.com/watch?v=r5KkehVOn0U[/youtube]
This season is eating at Scott. He is a Lakers legend who is failing the purple and gold.
Fisher and Scott are both having hard seasons, but their responses about their respective team's shortcomings tell us who is suffering more.