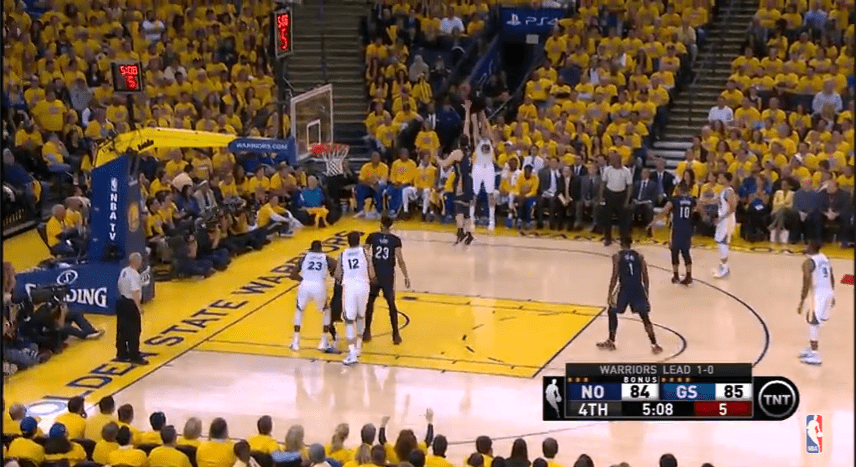 For the second straight contest, the Golden State Warriors didn't come close to playing its best game. Yet the Bay Area squad still managed to defeat the New Orleans Pelicans by a 97-87 score, giving the Warriors a 2-0 lead in the series. This victory was largely influenced by Klay Thompson. The Washington State product notched 26 points on 11-17 shooting. Thompson also committed zero turnovers and played consistently strong perimeter defense.
As Thompson and Stephen Curry combined for 48 points, the Oracle Arena crowd buzzed with each shot. Pelicans' head coach Monty Williams stole headlines for his comments on the Oakland crowd being illegally loud. The home fans lived up to that billing tonight, exclaiming in excitement for not only the Splash Brothers, but also for the Warriors' surprisingly effective bench. They were also appreciative of a Draymond Green double-double. The Defensive Player of the Year candidate scored 14 points and grabbed 12 rebounds.
Golden State's bench benefited from Leandro Barbosa having 12 points on 5-8 shooting in his 15 minutes. Shaun Livingston had four assists, no turnovers in limited action. Marreese Speights drilled a couple of momentum-building jumpers, and Andre Iguodala had six dimes as he successfully pushed the tempo. This collection of statistics isn't overwhelming, but it's a definite improvement from Game 1. The second unit allowed Steve Kerr to buy his starters some minutes.
Concerning the Pelicans' side of the equation, New Orleans will leave the Bay Area with plenty of disappointment. They jumped on the Warriors early, leading 28-17 after the first quarter. Anthony Davis became a volume shooter, going 9-22 to earn his 26 points, while Eric Gordon banged five triples on the path to dropping 23 points. As a team, New Orleans totaled just 35 points in the second half, a number far too low to upset the Western Conference one-seed.
The Pelicans do deserve credit for the start they hit Golden State with, and the fact that this game hung in the balance with under five minutes to go. As was noted on the national broadcast, the Warriors haven't lost at home to a Western team since November. This young, scrappy Pelicans unit only shot 37.8 percent from the field, and received essentially no bench production aside from Norris Cole. With all that accounted for, New Orleans still hung around until the end.
The Warriors are a battle tested road team, but it will be curious to see how they perform without the luxury of its amazing home environment. Golden State was sluggish in the first quarter of Game 2, and also followed a 38-point second quarter with a 16-point third quarter. In each game, Golden State was susceptible to taking a loss. They'll have to play a cleaner, more complete game to command a 3-0 lead over New Orleans. Game 3 will be in New Orleans on Thursday, 4/23 at 9:30 pm ET.