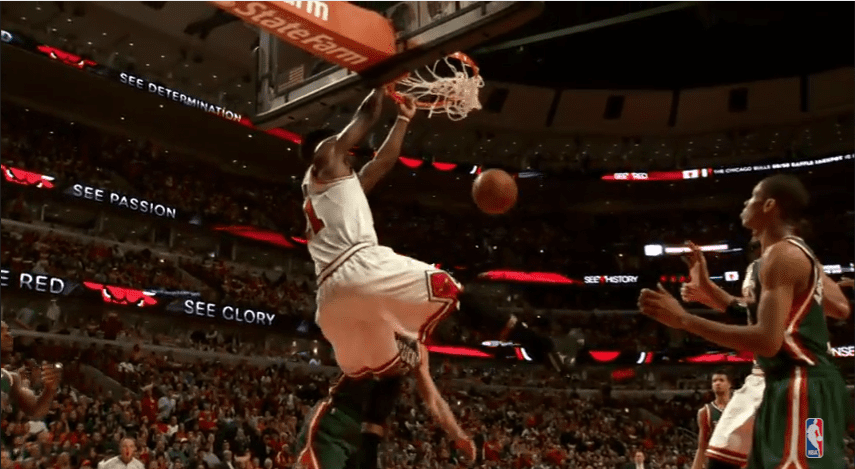 Game 2 of the Chicago Bulls vs. the Milwaukee Bucks went to the Bulls, as they are now up 2-0 in the series. The defensive battle made for a closer game than the last outing, but Jimmy Butler's big game pushed the Bulls to get the win.
Butler dropped in a team-high 31 points with 9 rebounds on the side. Derrick Rose went scoreless in the first half, but ended the night with 15 points, 9 assists, and 7 rebounds. The one-two punch of Rose and Butler in the backcourt is looking to be one of the best knockout combos, so far. Pau Gasol and Joakim Noah cleaned the glass, combining for 35 of the Bulls' 64 rebounds.
Early in the fourth quarter, the Bulls were trailing 74-71, but a 13-0 run was sparked by a three-pointer from Butler. To top it all off, Butler slammed home a ferocious two-handed jam on Zaza Pachulia and also drew the foul for the three-point play. Pachulia was later ejected with less than three minutes left on the clock in the fourth quarter after he and Bulls' Nikola Mirotic got into a little shoving match.
Khris Middleton poured in 22 points for the Bucks, and Michael Carter-Williams added 12 points in the contest, but the Bucks just couldn't stop the stampede. The Bucks shot poorly all night, with an overall team field goal percentage of 35.6. Despite their solid defense, their limited firepower cost them the game. Other Bucks need to step up their offensive game to give this team a chance.
The Bulls survived a horrible shooting night, but managed to get their act together early enough to snatch the victory. The series is starting to get physical, and will probably continue to be that way. However, the Bulls are a gritty team, and if it continues to be a physical series, they'll be right at home.
We'll see if the Bulls can make it 3-0 on the road, when they head to Milwaukee on Thursday.
[youtube]https://www.youtube.com/watch?v=7OGZRwr4lvQ[/youtube]