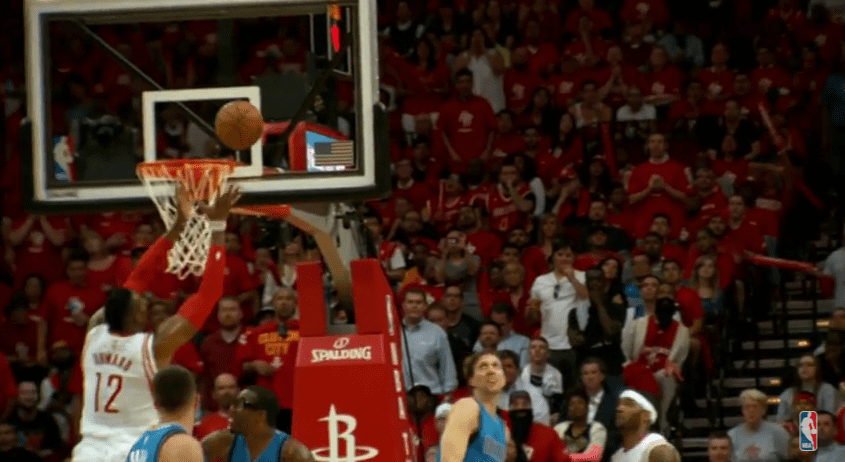 It was announced shortly before tip off of Game 2 of the Dallas Mavericks, Houston Rockets series of the NBA playoffs: Former Rocket and now terrifyingly brilliant Maverick Chandler Parsons would not play on Tuesday night. In fact, he may not even play the rest of the entire series against Houston due to pestering knee issues.
That, my friends, is considered "Oh s**t" factor number one.
Next up, Devin Harris would be out with turf toe (an injury that fans have long considered a mystical myth, much like a unicorn or a legit, non-flop James Harden foul) – "Oh s**t" factor number two.
Enter the fourth quarter of Game 2. Held at a very vocal Toyota Center in downtown Houston on Tuesday evening, the Mavericks were trailing 81-80, neither team shooting over 40 percent from the field, which made for a rather low scoring game. James Harden, the Rockets' main course, was just 5-of-15 from the field while Dirk Nowitzki and Monta Ellis combined for 10-of-29 from the field for Dallas. A somewhat lackluster Ellis (regardless of a dazzling 30-foot buzzer beater at the close of the third) opened up the fourth quarter with a basket, followed by an quick Amar'e Stoudemire hoop which pushed the Mavs ahead 84-81.
Then, while taking all the hopes and dreams of Mavs head coach Rick Carlisle, a peering Parsons, and a hostile Mark Cuban, the Rockets went on a 11-0 run, lobbing all over the mannequin-like Dallas defense, leaving them to drown in a puddle of their own sweat and desperation. The exasperated Mavericks would end up falling to the Rockets 111-99.
Despite strong performances by Dwight Howard, Harden, Josh Smith, and Jason Terry, other components came into play during the tug-a-war game, mainly involving a bullet from the Mavericks' gun to their very own foot. After a lopsided performance by Dallas point guard Rajon Rondo in the first quarter (managed to mess up a 2-on-1 fast-break before missing a layup in under two minutes before achieving the most absolute moronic eight second violation that a corpse with a blindfold could have avoided. And while he was busy screaming at his teammates, he managed to miss Terry lay down a trey. Really?), the troubled Rondo was pulled and replaced by Raymond Felton at the start of the second quarter with Dallas leading 24-23. Yes, they would lead even after committing six turnovers.
Rondo was brought back in at the start of the third, only to commit childish fouls against Harden by shoving him unnecessarily, and eventually getting a technical foul called on him with 11:50 remaining in the quarter. Rondo, who only played a total of 10 minutes and scored 4 points, was benched for the remainder of the game, while Felton played 18 minutes and scored 9.
In classic Rondo style, he refused to speak with the media following the loss.
Ellis lead Dallas with 24 points, followed by J.J. Barea's 13 points, and Tyson Chandler's 11.
The series moves back to Dallas on Friday evening for Game 3.